Mark Doyle


Italy Expert

Follow on

COMMENT
"We deserved to win,"
Italy
boss
Cesare Prandelli
declared after Sunday's penalty shoot-out success over
England
. No arguments there. "We had so many chances to score." Agreed. "We played a great game." Hmm, perhaps a tad over the top, but we'll allow it in light of their almost exclusive ownership of the ball. "We did well against a great side." Nope, not having that.
That Italy were dominant in their quarter-final victory over the Three Lions is beyond dispute, that they did so against a "great" side, however, is simply untrue. Prandelli was either being magnanimous in victory or downright delusional.
One suspects the former, because the
Azzurri
did not overcome what could even be construed as a
good
side in Kiev. It was assumed that Greece were the poorest nation to reach the last eight - in every sense - but, in hindsight, it was clearly England, the poverty of their performance as bankrupt as their footballing philosophy.
Italy undoubtedly began to run out of ideas in Kiev, but England never had any to begin with. Roy Hodgson's side were bereft of imagination, adventure and technical ability. So what, then, does it say about Italy that they failed to score a single goal against such a limited, one-dimensional outfit over 120 minutes of play?
MATCH FACTS | England 0-0 Italy


Shots
On Target
Possession
Corners
Bookings
Red cards

ENGLAND
8
1
32%
3
0
0
ITALY
36
9
68%
7
2
0
Well, clearly they have problems of their own. The
Azzurri
have played four games at Euro 2012. They have won only one in 90 minutes, against Republic of Ireland, one of the worst teams the tournament has ever seen, and scored just four goals.
Significantly, three of those strikes have come from set-pieces. In the game against England, they had 36 strikes on goal, only nine of which hit the target. Evidently, Italy are both inaccurate and profligate.
In such circumstances, the finger of blame must always be pointed at the forwards, though Daniele De Rossi did miss a sitter early in the second half.
Certainly, Antonio Cassano continually took the wrong option against England: shooting from distance when he had runners in support; trying ridiculously ambitious through-balls when he would have been better served retaining possession. Meanwhile, the Barese's striker partner, Balotelli, squandered a succession of opportunities to break the deadlock.
The Manchester City striker has numerous Didier Drogba-like attributes, but what he does not seem to possess yet is the Ivorian's ruthlessness in front of goal.
Balotelli's mix of arrogance and nonchalance allowed him to convert the highly pressurised opening penalty in the shoot-out and control Andrea Pirlo's first-half through-ball with staggering ease. But, in the latter instance, it also resulted in him taking far too long to get his shot away. He had committed the same crime, of course, in the 1-1 draw with Spain in the group stages.
Still, the 21-year-old deserves to retain his place up front against Germany, having caused John Terry and Joleon Lescott plenty of discomfort with his movement and pace. Antonio Di Natale is also an intelligent forward and a more instinctive finisher but he cannot lead the line like Balotelli can. Nobody can, in truth. Italy do not have another player capable of challenging the German defence in the air, on the deck and in behind.
Changes do need to be made, though. The same changes we were talking about after the Ireland game. As already stated on these pages, playing 4-3-1-2 does not make any sense if you do not have a
trequartista
of any note. Prandelli seems intent on playing someone in the hole.
That the hole is round and he only has square pegs has done nothing to dissuade him from continuing this most futile pursuit. Despite their best efforts, neither Thiago Motta nor Riccardo Montolivo are up to the task. In fairness to the latter, he showed flashes of potential against England but he never really looked like easing the load on
Pirlo
, Italy's principal (only?!) creative force.
However, if Prandelli must persist with a
trequartista
, why not select Alessandro Diamanti? The Bologna man is frustrating and inconsistent, but also fearless and inventive, as he underlined during a lively and ultimately game-winning cameo in Kiev.
Diamanti, of course, will dominate the headlines after slotting home the decisive penalty but Antonio Nocerino made just as big an impact on the game. Prandelli's reluctance to make more use of the AC Milan midfielder has been one of the more baffling aspects of Italy's campaign to date. However, the hope must be that his energetic display after coming on as a substitute - he had the ball in the net but was marginally offside - will at least result in him being considered for a starting berth against the Germans.
Of course, there is a slight chance that he could be called on to replace minor injury doubt De Rossi, but it would be far more preferable if the pair lined up in the same side, with Nocerino on the left-hand side of the midfield three and the versatile Roman redeployed at the back.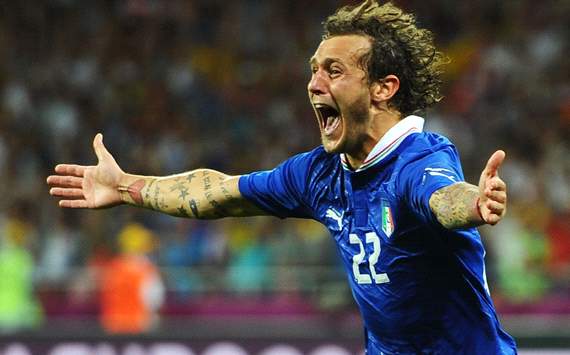 Diamond Geezer | Former West Ham man Diamanti is now pushing for a starting berth
As well as bringing Nocerino into the fold, the other obvious advantage of switching back to 3-5-2 would be greater width, which was a massive problem in the opening quarter of the England game.

The advancing Glen Johnson caused Federico Balzaretti all sorts of problems early on and Italy cannot afford to offer Philipp Lahm the same open invitation to attack the opposite side of their defence. For that very reason, if the Azzurri do employ 3-5-2 against Germany, Prandelli will hope that injury doubt Abate can overcome his muscle problem, with Christian Maggio suspended following his yellow card for a foul on Ashley Young.

Prandelli can obviously claim that the return to the 4-3-1-2 formation he used for the majority of the qualification campaign has been a success, with Italy having defeated the Irish and overcome the English in successive games. However, they won those matches in spite of the formation, and because of the quality - or lack thereof - of the opposition. They were fortunate enough to run into an Irish side that could not defend and an England team incapable of keeping possession or their composure.

The fact remains that the best football Italy have produced so far in this tournament came during the first halves of their clashes with Spain and Croatia, games in which they were set out in a 3-5-2 system. They deserve credit for the way in which they held their nerve against England and Prandelli was right to praise them for their fighting spirit after the game. However, if they are to have a fighting chance against a mightily impressive Germany side, the Azzurri coach must not allow a shoot-out success to cloud his judgement.