Qualifying for the 2014 World Cup gets underway in Africa over the weekend but
Goal.com
takes this opportunity to highlight some of the most impressive players and teams from the first and second rounds of Caf Champions League action, as well as those who impressed in their domestic leagues in the month of May. Some of these players will be in action in qualifiers, seeking to lead their team to world football's showcase in Brazil.
African Player of the Month | Emmanuel Clottey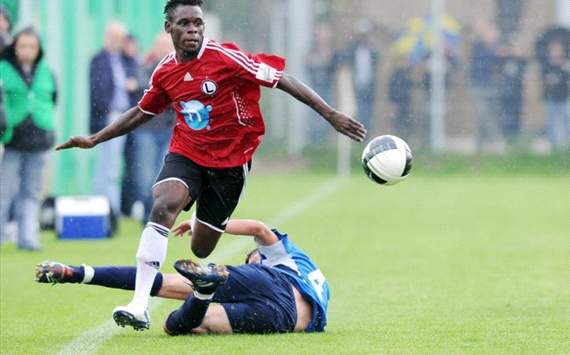 Country:
Ghana
Club:
Berekum Chelsea

Age:
24
Role:
Striker
While Berekum Chelsea's unprecedented progression to the group stages of the 2012 Caf Champions League cannot be pinned down to one player, if we were forced to pick one then Emmanuel Clottey would undoubtedly be the star. The striker leads all African goals-scorers in the competition with six strikes, and each one of them has powered the Ghanaians to one improbable win after another.
Following their goalless home draw against their most recent opponents, Coton Sport, Clottey's side travelled to Garoua where they took an early lead through Mohammed Abdul Basit but a late equaliser from Jacques Haman brought the locals level and another goal would have finished the reigning Ghanaian champions. However, with pressure mounting, Clottey got his sixth continental goal to seal the victory for the Blues and send his club to the last eight of the Caf Champions League for the first time in their short history.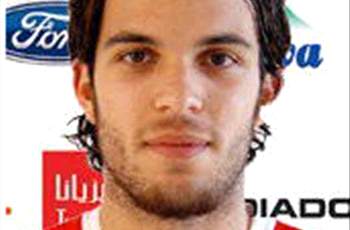 Nour Hadhria (Tunisia & CA Bizertin)
The former Tunisia Under-17 midfield maestro lost some of his swagger through years of neglect at Club Africain, but is back to his play-making ways after being reunited with coach Maher Kanzari at CA Bizertin. Hadhria had languished on the bench for much of his senior career due to what coaches perceived as physical frailty and a lack of defensive rigour but the youngster has scored nine goals already for the high-flying northern Sharks this season to prove his doubters wrong.
Finally given the license to roam that he requires, the 22-year-old is not just scoring but is also setting up many of Bizertin's strikers with intelligent passing and precise set pieces. His form has earned him his first call-up to Tunisia's senior national side just in time for the 2014 World Cup qualifiers.
Mohamed Aboutrika (Egypt & Al Ahly)

With his embattled team on the verge of a premature elimination from the 2012 Caf Champions League following an early Stade Malien goal that gave the west Africans a 2-0 aggregate lead, Al Ahly needed a minimum of three goals to secure progression to the group stages. Right on cue, the 'Smiling Assassin' struck three in a row in minutes 54, 82, and 88. At the ripe age of 33, there is seemingly nothing that the Egyptian legend cannot do. It's no wonder that Pharaohs coach Bob Bradley went from ignoring the midfielder to relying on him heavily in friendlies during preparations for the 2014 World Cup qualifiers which begin this weekend.
Izu Azuka (Nigeria & Sunshine Stars)
Though he is only 22-years-old, Izu Azuka has already plied his trade for four clubs, with his career taking him from Sharks FC to JS Kabylie, then Al-Ittihad Tripoli before a return to the Nigeria Premier League where he has well and truly found a home at Sunshine Stars. The Agagu Boys are not doing so well in their local league this season but Azuka's goals have fuelled wins over Angola's Recreativo do Libolo and Mali's Djoliba in continental matches. The young striker has scored four goals, including one at home and another away in a 2-1 aggregate win over Djoliba that secured their passage to the elite eight group stage, where Sunshine face all north African opposition in the form of Esperance, Etoile, and ASO Chlef.
African Team of the Month | Berekum Chelsea

Though they were not incredibly impressive in their local league, finishing in seventh place after last year's title win, the Ghanaian Blues have gone on to do something that is arguably more important by advancing to the last eight of the 2012 Caf Champions League a mere 12 years after their foundation.
Berekum Chelsea's latest victim were none other than Cameroonian champs Coton Sport, whom they beat 2-1 away in Garoua on May 13. After a goalless draw at Golden City Park in late April, it seemed that the recently-established west African side's fairytale may have been coming to an end but Hans van der Pluijm side took the opportunity to create yet another surprise.
The Ghanaian team's excellence has earned them a place in an intensely difficult group composed of former winners of Africa's ultimate club prize. Facing names such as TP Mazembe, Al-Ahly, and Zamalek, will Berekum Chelsea's fairytale continue?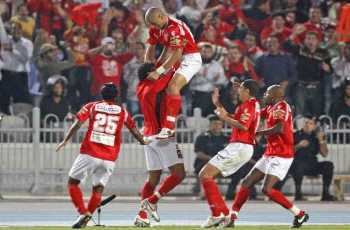 Al Ahly

Even with the odds heavily stacked against them, the Cairo giants always seem to conjure a win. Despite having been stranded in Bamako for days due to political strife after their 1-0 loss to Stade Malien, the Red Devils bounced back on May 14 with a win for the ages with no fans there to support them. Al Ahly conceded what looked to be a killer away goal after just 17 minutes but Mohamed Aboutrika's hat-trick saved them from a last-16 exit.
CA Bizertin

When CA Bizertin began the season in blistering form following the recruitment of Maher Kanzari, many pundits were sceptical as to whether they could continue to outpace African champions and domestic league title-holders Esperance. The sceptics looked to have been vindicated when away losses in Sfax, Gafsa, and Kairouan allowed the Blood and Gold to overtake the northerners. However, two consecutive draws and an Esperance loss recently gifted a reinvigorated CA Bizertin side a golden opportunity to cut the deficit to one point in a direct confrontation with their rivals from the Tunisian capital. Playing away at El Menzah stadium on May 27, Kanzari's side fought their way to a tense 1-0 win, thaks to Hatten Baratli's penalty kick strike.
Zamalek

With the Egyptian Premier League cancelled, Zamalek players have nothing else to play for but the 2012 Caf Champions League. The desperation has quickly made way for a sense of urgency that is powering the White Knights to fantastic continental results despite domestic trouble both within and outwith the club. Facing the 2011 Caf Confederation and Caf Super Cup champions, Maghreb Fes, in the previous round, the Egyptian club posted a 2-0 victory over the Moroccans in the first leg and followed it up with another 2-0 win at home on May 13. For a club with barely competitive players, that is no small feat. A turbulent month did see Hassan Shehata resign over a rift with star winger Shikabala, but 'the master' has returned to guide Zamalek once more.
Do you agree with Goal.com's African Player and Team of the Month awards for May? Leave your comments below.