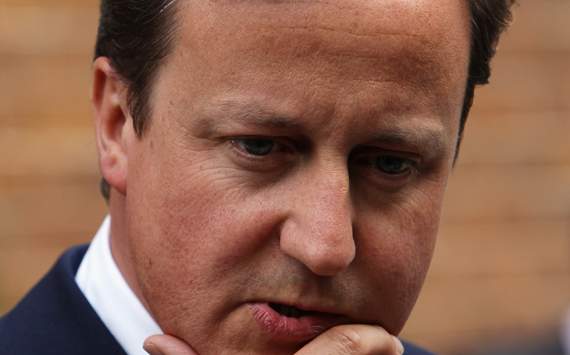 British Prime Minister David Cameron has been caught on camera discussing
Chelsea
defender
John Terry
with German chancellor Angela Merkel ahead of the
Champions League
final.
The west London outfit face Bayern Munich at the Allianz Arena aiming to win the competition for the first time in their history and secure qualification for next year's tournament.
The fixture cropped up in conversation between Cameron and Merkel at a G8 meeting, perhaps after the pair placed a wager on the clash.
Merkel seemed to suggest that the Englishman's absence could be a problem for Roberto Di Matteo's side, saying: "John Terry is not there."
Cameron, however, is evidently not the 31-year-old's biggest fan. He replied: "That's good."
Understandably confused by this lack of patriotism, Merkel quizzed the Tory party leader further, adding: "Don't you like him?"
Then, Cameron dropped a bombshell, saying: "He's said some bad things."
Now, now Mr Cameron, you should know better. Terry has, of course, so far denied the allegations he faces - much like your friend Rebekah Brooks...
Plus, surely any English football fan would rather have the nation's hopes of success against the Germans being defended by the capable, if hate-able, Terry rather than the rash David Luiz?
The Chelsea defender is set to face trial nine days after Euro 2012, on July 9, after allegedly racially abusing Anton Ferdinand during the Blues' match with QPR in October 2011.