ANALYSIS
By Clark Whitney
In football, individual head-to-head match-ups often decide the results. The duels between a strong point in one team and that of another can make all the difference between a win and a loss. This year's Champions League has seen plenty such clashes: Cristiano Ronaldo v Philipp Lahm, Didier Drogba v Carles Puyol, Lionel Messi v Alessandro Nesta, and many more.
However, Satuday's final between Bayern Munich and Chelsea may be an altogether different case. Due to a lengthy list of absentees from both teams, in many instances, the strengths of one may not be put up against those of the other.
The game instead may well be decided by the clubs' respective weaknesses: how well a backup player can handle the pressure, and whether the opposite side can exploit his position. With David Alaba, Holger Badstuber and Luiz Gustavo suspended for Bayern, and Chelsea set to miss Branislav Ivanovic, Raul Meireles, Ramires and John Terry, both teams will have soft spots that could tip the scales.
Below,
Goal.com
profiles the key head-to-head match-ups that could decide which team is crowned Europe's best.
Didier Drogba v Anatoliy Tymoshchuk
At 34 years of age, Drogba is not the athlete he once was. His explosive acceleration and scintillating sprinting speed have now declined to more worldly levels, and he has had to adapt his game accordingly. To his credit, he has done just that.
Even in the twilight of his career, the veteran still knows how to decide matches, as he has proven in the Champions League this season. He scored a brilliant goal against Napoli in the Round of 16, and shocked Barcelona as he found the net in the first leg of the semi-finals. His physicality may not be where it once was, but his sharpness and lethal finishing remain ostensible. It may be cliche, but Drogba has proven that class is permanent.
On Saturday, Drogba will face a weakened Bayern central defensive pair of Jerome Boateng and Anatoliy Tymoshchuk. The latter, Ukraine's most-capped player, was never known for his pace. And at 33 years of age, he too has slowed. The veteran was part of Bayern's nightmare defence under Louis van Gaal, and is naturally not a centre-half: he is a defensive midfielder. Even when he was used regularly in the back four he struggled. Now with minimal practice heading into the match, he could be in serious trouble.
As this will realistically be Drogba's last chance to impact a Champions League final, he will be desperate to get his name on the score sheet. And if he takes aim at Tymoshchuk, he has a very good chance of making his mark.
Mario Gomez v David Luiz & Gary Cahill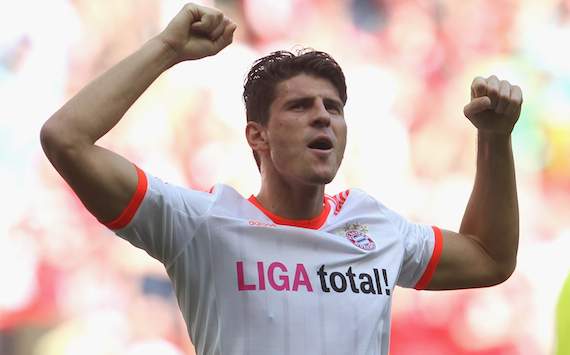 Having scored 12 goals in 11 Champions League games this season, Gomez has been outstanding for Bayern, inspiring his side throughout the tournament. Yet, his class is still often called into question.
With Terry and Ivanovic suspended, Chelsea will have to rely on Luiz and Cahill to mark Gomez. The pair have been questionable at best this season even when fit. And now, having both missed a month of action and only resumed training in recent days, they will jump into a real pressure-cooker.
It appears that both Cahill and Luiz are fit to start, but if there is any doubt, they could be in real danger: Gomez will be keen to push them to the physical limit, testing the elasticity and strength of his opponents' hamstrings, which only recently healed.
One thing is for sure: Gomez has never had a clearer opportunity to put his name in shining lights. It is now up to him to deliver.
Juan Mata v Diego Contento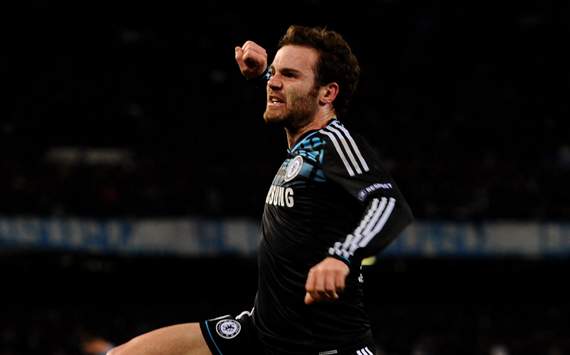 Always considered a top talent during his time at Valencia, Mata has taken the next step in his development, following his move to Chelsea. In his first season at Stamford Bridge, the Spain international has injected the creativity his team so sorely needed, offering 19 assists in addition to his 12 goals in all competitions.
Mata will switch flanks during Saturday's game, but he would be wise to focus his operations on the right, where Diego Contento will be his opposite. The 22-year-old left-back made his Bundesliga debut two seasons ago, but has since been largely ignored. He rarely featured at all during the current campaign before David Alaba's suspension for the final was confirmed.
To his credit, Contento appears to have beaten Rafinha in a head-to-head to decide who will play against Chelsea. However, his minimal Champions League experience - he has played just seven games on Europe's grandest stage - makes him a real question mark for the final. Mata would be wise to test him early and often.
Franck Ribery v Jose Bosingwa
Ribery has experienced the best season of his career, and there could be no better end to 2011-12 than a virtuoso performance against Chelsea. He missed out on the 2010 final due to suspension, and that will provide extra motivation for the creative winger.
Matching up against the Frenchman will be Bosingwa, Chelsea's €20 million signing from the summer of 2008. After being a regular fixture for CFC in his first season, persistent knee problems have stifled his form. He remains a danger in attack, but when facing Ribery, that will not be his primary goal. Bosingwa was never the greatest in defence, and the loss of pace that has come with his injuries means that he will have to be very careful when faced by his explosive counterpart.
Bayern prefer to attack down the left, meaning plenty of touches for Ribery, and many opportunities for the crafty winger to trouble Bosingwa. Of all the head-to-heads in Saturday's match, theirs may be the most telling.
Follow Clark Whitney on