COMMENT
By Mark Doyle
"There will be not be any surprises in the squad,"
Italy
coach
Cesare Prandelli
said of his soon-to-be-announced Euro 2012 selection. He then proceeded to reveal that three of his probable five striking berths will be filled by a 34-year-old who has not represented his country in two years; a player who has only just returned to action after heart surgery; and a youngster with a chip on both shoulders. So, no surprises then, only gambles?
Well, not quite, because Antonio Di Natale, Antonio Cassano and Mario Balotelli are all undeniably worthy of their places in the Azzurri squad.
In truth, that Di Natale's participation in Euro 2012 was ever in doubt is actually farcical. Indeed, if we are to embrace the rationale that strikers should be judged solely on their goalscoring record, the Udinese captain is the best forward Prandelli currently has at his disposal, having netted 79 times in his past three Serie A campaigns.
ITALY'S ATTACKING OPTIONS

Player

Balotelli

Borini

Cassano

Di Natale

Giovinco

Matri

Osvaldo

Pazzini
Games

22

24

15

35

35

31

26

32
Goals

13

9

3

22

15

10

11

5
Di Natale is versatile, elusive, quick and, most importantly of all, clinical. His age, therefore, should not even come into the equation – and yet this is a player who has been in international exile since the 2010 World Cup. The obvious issue now is that he will have little time to build up an understanding with his potential strike partners, but this is a problem all of Prandelli's making, given that he ignored the Udinese hitman's claims for the best part of two years. Still, what's done is done and Azzurri supporters should just be grateful for the fact that the best finisher in Italy has finally earned a recall. Better late than never, as they say.
Of course, part of the reason that Di Natale was overlooked for so long was that Italy were doing just fine without him. Prandelli knew that he needed to rebuild after the country's disastrous World Cup campaign in South Africa and he wisely elected to construct his side around the mercurial talents of Antonio Cassano, who was so stubbornly omitted by predecessor Marcello Lippi.
The much-maligned Barese responded wonderfully to his return to the international fold, putting in a succession of stellar showings as the Azzurri clinched qualification for Euro 2012 with two rounds to spare.
However, the most fruitful spell of Cassano's eventful career to date was cruelly interrupted by illness, the AC Milan forward suffering a minor stroke after a Serie A clash with Roma last October which necessitated an emergency heart procedure.
It was assumed for months that his season was over but the 29-year-old made a rapid recovery and returned to action at the start of April, turning in three encouraging cameo appearances before marking his first start for the Rossoneri in nearly six months with a goal and two assists in a 4-1 win at Siena.
He clearly remains short on match fitness – a constant problem for Cassano during his lost years - and it is telling that Milan coach Massimiliano Allegri only used him as a substitute in Sunday's Derby della Madonnina against Inter. However, he effectively sealed his place in the squad that day in Tuscany because Prandelli simply does have another player with the same invention and ingenuity within his ranks. Cassano's is a talent which simply cannot be overlooked.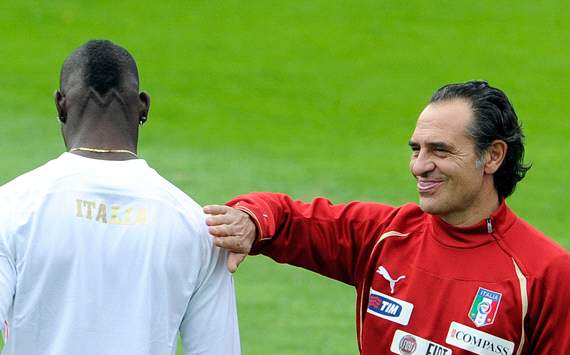 Welcome back | Prandelli is to recall Balotelli for Euro 2012 after dropping him in February
The same could also be said of Balotelli. Barring a complete mental breakdown, which, admittedly, was not beyond the realms of possibility, the Manchester City striker was always going to be included in Prandelli's panel. Yes, the 21-year-old was omitted from the squad to face the United States in February but that always looked like an obvious attempt to force the "agitated" Balotelli to get his act together. It did not really work, when one considers the player's senseless sending-off against Arsenal last month has effectively resulted in him being frozen out at Eastlands.

However, he has been making all the right noises of late about taking responsibility for his actions and making amends at the Euros. He also reportedly sent apologetic texts the way of Prandelli. But then, even if Balotelli had not expressed such remorse, it is probable that he would have been given a second chance anyway. The Palermo native boasts both power and presence, qualities not readily available to Prandelli elsewhere.

In that regard, Balotelli is just like Di Natale and Cassano in that he offers something different. It is therefore not in the least bit surprising that Prandelli has decided to pin his Euro 2012 hopes on the trio. Gambles, though? No, more like calculated risks.