COMMENT
by Patrick Lim | Goal.com Singapore
Of course Liverpool lost the FA Cup final. They only played for 30 minutes.
For the Liverpool FC fan, times like these can be excruciating. The team's performance on Saturday was insipid and ineffectual until the last half hour. Credit to Liverpool for responding after the break, but come to think of it, do the players really need a kick up their backsides and be told what to bring to a Cup final?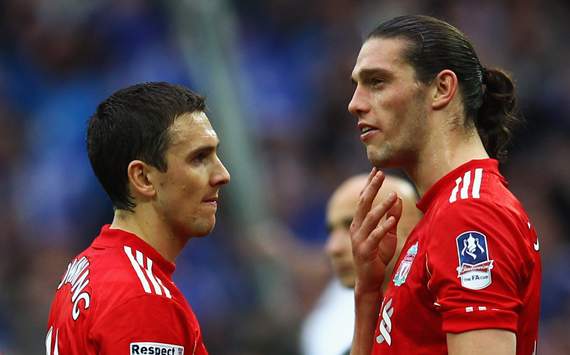 1. It's the style of play, not the players
Think about it. We may lack the creativity of the Juan Mata-s or the Robin Van Persie-s of the modern game, but to some extent, there's still Suarez. Despite all his talent, Liverpool sometimes just does not utilize him enough. This much was evident in the FA Cup final. Looking at how the two attacks built up; most of Chelsea's play came through Mata and Lampard, while for Liverpool there was Gerrard and…Daniel Agger?
Something is not right when your central defender starts coming forward to be a playmaker. Liverpool players were bouncing passes amongst themselves, playing laterally and backwards instead of forward. All Chelsea had to do was sit back and cover runs from the usual suspects (Gerrard, Suarez and Bellamy). Liverpool only looked marginally more threatening when Agger lumbered forward with the ball.
I don't know about you, but pass-and-move football this is certainly is not. I doubt the "Liverpool of old" played square. I should expect that back in the 80s, Liverpool played in the spirit of what Barcelona is today; smooth, flowing football and pushing forward as a team. Maybe a tactical rethink is in order.
Paraphrasing Jon Champion's comment on Liverpool's play, "It's all good that you get 60-70% possession in games, but with Liverpool all the possession is in their own half. It's wasted, they need to get forward."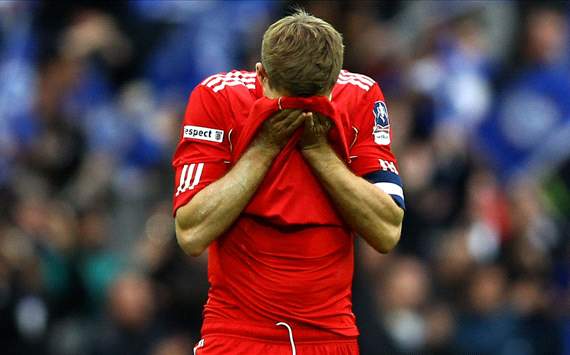 2. Maybe it is the players
I would like to point out that the Liverpool players seemed far too tentative and unsure what to do. The uncertainty was evident in how they moved the ball around and the number of touches they took. A confident player usually takes a single touch, looks for the pass and makes it or beats his man. Newcastle play like this, and even Wigan played like this. Their players are confident on the ball and are able to execute one-touch passing which is easy on the neutral eye.
On the other hand, Liverpool players especially the midfield (except Suarez), take too many touches on the ball. It is not very noticeable at first, but then you start to realize how much the midfield dwells on the ball, allowing opponents to close them down.
Perhaps they lack the technical ability to control the ball well. Compare Andy Carroll's strike to Drogba's strike. One was rushed, frantic and somewhat fortunate, the other was composed and clinical. With the amount of touches Carroll needed to get the ball into a good position for himself, you worry the chance would be squandered. At least he scored in the end.
If the Liverpool players are truly not technical enough, then that is a genuine problem for Dalglish.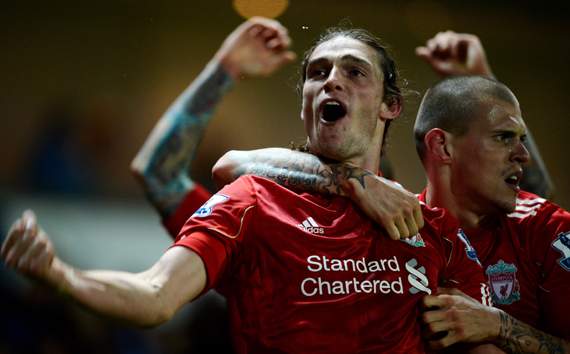 3. Investment returns?
I'd have to say the single redeeming factor of Liverpool's play was, Andy Carroll. He definitely made an effort today, as opposed to the majority of the season. Here he was chasing down wayward passes and, dare I say, winning headers. When he is in that kind of mood, it actually makes the long ball tactic work. Not very aesthetic but effective.
His knock-downs to the runners were good, making Liverpool much more threatening and his headers were on target. Perhaps "on target" is an understatement; he nearly saved the game for Liverpool if not for the brilliance of Petr Cech, pulling a save out of nowhere.
Carroll may be nowhere near the technical ability of great target-men like Drogba or Klose. Hopefully that will come with experience, but what matters now is his mentality. It has been a rare occasion when we see Carroll play with such fire. Perhaps the FA Cup semi-final, where he scored the winner, really was the turning point. Too many times, he has been criticized for not doing enough, but on Saturday I feel that perspective has definitely changed.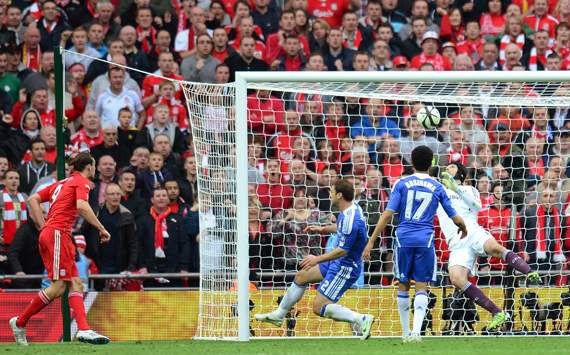 If Andy Carroll continues to improve, as any young player should and Suarez remains at his imperious best, I firmly believe that Liverpool will have some real teeth in their attack. How Dalglish intends to leverage on his attacking options remains to be seen, but here's to hoping they'll go forward instead of backwards.