As the European Championship draws closer, Goal.com looks at how the four nations in Group D are shaping up as they prepare for the finals
While France and England will be looking to make amends for their horror shows at the 2010 World Cup, Group D's third and fourth favourites for progression to the knockouts - Ukraine and Sweden - cannot be underestimated either.
The co-hosts enter the tournament as one of the lower-ranked nations, and the recent political instability and violence in the country has only detracted the focus away from their preparations. A good start in the group opener against Sweden is vital, before they go up against France and England. The Swedes came through qualifying as the best runner-up amongst the nine groups and they will be angling for top spot in this section should Les Bleus and the Three Lions continue to fumble in international tournaments.
Laurent Blanc's side have been one of the form teams in the lead up to the finals and have gone unbeaten in almost 20 months. England are still besieged with problems, but the appointment of Roy Hodgson as their new manager should stabilise the squad in the build-up to the championship.
With the tournament proper only a month away,
Goal.com
posed a series of questions to our team experts - Michael Yokhin (Ukraine), Svend Bertil Frandsen (Sweden), Robin Bairner (France) and Wayne Veysey (England) - to see how the preparations are unfolding for their respective countries.
| | |
| --- | --- |
| | UKRAINE |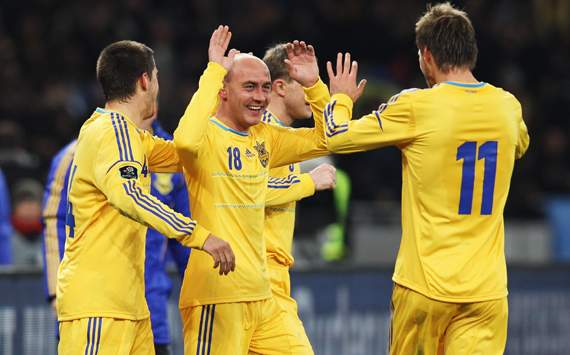 LAST FIVE
PROBABLE FIRST XI

| | | | |
| --- | --- | --- | --- |
| 29 Feb 12 | Israel | 2-3 | Ukraine |
| 15 Nov 11 | Ukraine | 2-1 | Austria |
| 11 Nov 11 | Ukraine | 3-3 | Germany |
| 11 Oct 11 | Estonia | 0-2 | Ukraine |
| 07 Oct 11 | Ukraine | 3-0 | Bulgaria |

4-2-3-1

Pyatov
Gusev - Kucher - Rakitskiy - Selin
Tymoshchuck - Rotan
Yarmalenko - Aliyev - Konoplyanka
Milevskiy

How are Ukraine preparing for Euro 2012?
Coach Oleh Blokhin wanted to take his team away from the pressure at home, thus planning a training camp in Turkey, and then going to Austria to complete the preparations. Ukraine face Estonia (May 28) and Austria (June 1) in friendlies while camping in the picturesque Tirol, before tackling Turkey in Augsburg on June 5. They return to home soil just before the start of the tournament.
What is Ukraine's realistic target for Euro 2012?
KEY PLAYERS
Form Check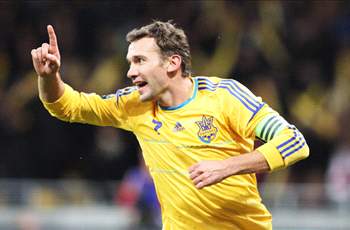 Some of Blokhin's star performers are not expected to arrive to the tournament in their best shape. Midfield stalwart Tymoshchuk spent most of the season on the bench at Bayern, while defender Chygrynskiy is only just gaining fitness after a long injury. Voronin, who was the biggest star of the Russian Premier League in 2011, enjoyed his best-ever personal season but lost his place in Dinamo Moscow's starting line-up in 2012. Shevchenko's infamous back problems might prevent him from being in top form in his swansong tournament.
As hosts, Ukraine's minimum target is to get out of the group and qualify for the quarter-finals, although the expectations are not sky-high at the moment. Anything beyond the last eight will be a bonus.
What is Ukraine's toughest group game?
France and England in the final two group matches look very difficult, especially as Wayne Rooney will be back from suspension for the last Group D clash against the Ukrainians.
Are there any injury or fitness concerns?
Ukraine are facing a terrible goalkeeping crisis, as the three first-choice keepers are ruled out of the tournament. Oleksandr Shovkovskiy injured his shoulder while playing for Dynamo Kyiv, Spartak Moscow veteran Andriy Dikan suffered broken facial bones, while Oleksandr Rybka received a two-year ban for a positive doping test. Centre-back Taras Mikhalik's persistent injury makes him a huge doubt.
Could there be any surprise call-ups for Euro 2012?
Young full-back Bohdan Butko, who plays for unfashionable Mariupol on loan from Shakhtar Donetsk, impressed in some of the friendlies and could be included in the squad. Creative playmaker Roman Bezus of Vorskla Poltava is also in with a shout.
What is the biggest issue for the coach to resolve?
With the tournament fast approaching, it seems that Blokhin doesn't really know his ideal line-up. It's still uncertain who will play up front, the inconsistent Artem Milevskiy being the favourite over the less flamboyant Marko Devych. The playmaking position is up for grabs, as it's unclear whether Voronin will be used. Right-backs and centre-backs were constantly changed during the friendlies.

Follow Michael Yokhin on

| | |
| --- | --- |
| | SWEDEN |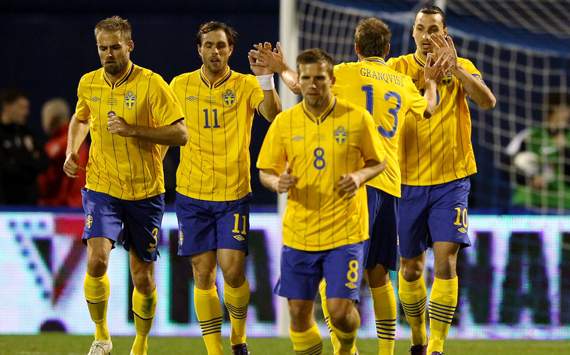 LAST FIVE
PROBABLE FIRST XI

| | | | |
| --- | --- | --- | --- |
| 29 Feb 12 | Croatia | 1-3 | Sweden |
| 23 Jan 12 | Qatar | 0-5 | Sweden |
| 18 Jan 12 | Sweden | 2-0 | Bahrain |
| 15 Nov 11 | England | 1-0 | Sweden |
| 11 Nov 11 | Denmark | 2-0 | Sweden |

4-2-3-1

Isaksson
Safari - Antonsson - Mellberg - Lustig
Elm - Kallstrom
Elmander - Toivonen - Larsson
Ibrahimovic

How are Sweden preparing for the tournament?
Erik Hamren will announce his squad on May 14 and will set up their basic training camp in Visby on the island of Gotland on the Swedish east coast. Sweden will play two friendlies before the tournament, against Iceland in Gothenburg on May 30 and Serbia on June 5. The squad will then depart for Ukraine the day after and set up their base just outside Kiev in the luxurious Hotel Platinum.
What is Sweden's realistic target for the tournament?
KEY PLAYERS
Form Check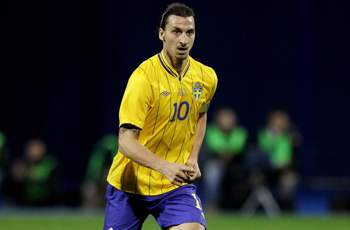 Sweden have a host of players earning their bread and butter outside of their home country, who have performed consistently at a very high level throughout the season. Ibrahimovic, Elmander, Kallstrom, Toivonen, Larsson and others have been key figures for their respective clubs during the campaign, and if they avoid injuries Sweden could turn into this tournament's dark horse. It will be pivotal for Ibrahimovic to take his Milan goal-scoring from into the finals.
It could work in Sweden's favour that they enter the finals without any pressure as few expect them to make it to the knockout stages. At the same time, with so many of their overseas stars having performed well over the season it could prove a costly mistake to underestimate Hamren's troops. If anything, history has proven that small football nations like Denmark in 1992 and Greece in 2004 can go all the way if everything falls into place.
What is Sweden's toughest game in the group?
Hamren has publicly said that even if Sweden play three phenomenal matches, they could still struggle to make it past the group stage. The Swedes have in the past struggled against technically stylish sides like France. Fans will hope that Ibrahimovic & Co. secure their passage to the next round before the final group match against Les Bleus.
Are there any injury or fitness concerns?
With the exception of Daniel Majstorovic, who suffered a cruciate knee ligament injury in training leading up to the friendly against Croatia at the end of February, Hamren should have the luxury of selecting his squad from a fairly injury-free group of players. Sebastian Larsson has undergone a hernia operation, Ola Toivonen has slight shoulder problems and Mikal Antonsson has been troubled by a thigh injury but everyone should be fit to take part in the friendlies before the tournament.
Are there any surprise picks who could go to the Euros?
The Swedish wonderkid John Guidetti, 20, could be given a chance on the back of his hugely impressive season at Feyenoord where he has scored 20 goals in 23 matches. What might go against his possible inclusion is that he has only one senior cap under his belt and Hamren already boasts a squad full of attacking options. Alexander Gerndt, currently under contract with FC Utrecht, is also an option but he would be an unpopular choice with the Swedish public. Gerndt was given a suspended jail sentence in December 2011 for assaulting his ex-wife and was banned by the Swedish FA. The suspension, however was lifted on April 27, leaving Hamren free to select him.
What is the biggest issue for the coach to resolve?
Hamren must get the team into the right frame of mind and make all the players in the squad prepared for the Euros with the same preconditions. Some players such as Johan Elmander have not been in competitive action for a while and others like Kim Kallstrom of Lyon will need rest as the French season will finish late. But with no major injuries, and the squad in perfect harmony, Hamren seems to have an easier task at hand than some of his peers.
| | |
| --- | --- |
| | FRANCE |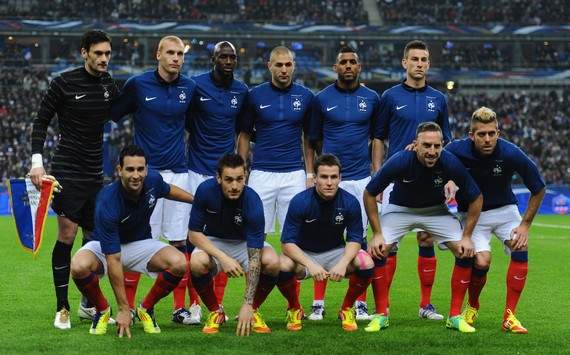 LAST FIVE
PROBABLE FIRST XI

| | | | |
| --- | --- | --- | --- |
| 29 Feb 12 | Germany | 1-2 | France |
| 15 Nov 11 | France | 0-0 | Belgium |
| 11 Nov 11 | France | 1-0 | USA |
| 11 Oct 11 | France | 1-1 | BiH |
| 07 Oct 11 | France | 3-0 | Albania |

4-2-3-1

Lloris
Debuchy - Mexes - Rami - Evra
M'Vila - A. Diarra
Valbuena - Nasri - Ribery
Benzema

How are France preparing for the tournament?
The squad's preparations have been marked by the dispute between Laurent Blanc and the FFF over the coach's contract, although these have at least publicly taken a back seat for the time being. Les Bleus' preliminary squad will be named in two stages due to the fact that the Ligue 1 season is the latest to finish in Europe; another issue that has caused some fracture between the national team and the local FA. Blanc will name the foreign-based players from his roster on May 9, with the domestic players to follow on May 15. The fixture against Iceland in Valenciennes on May 27 may well be a chance for the overseas contenders to shine as a result, with the Ligue 1 stars integrated for matches against Serbia and Estonia on June 1 and 5 respectively. Les Bleus have made their initial headquarters in Donetsk, where they will benefit from Shakhtar's training facilities.
What is France's realistic target for the tournament?
KEY PLAYERS
Form Check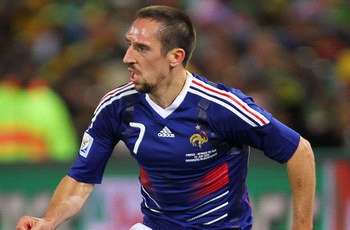 While Ribery may shine at club level for Bayern Munich, he has not really done likewise on the international stage under Blanc, while Nasri hasn't been at his best for Manchester City this term either. Indeed, many of France's expected attacking starters are struggling a little for form at the present time, with the exception being Menez, who has been in excellent touch for Paris Saint-Germain of late. Up front Benzema is in his best shape since joining Real Madrid, while Giroud has impressed for Montpellier in Ligue 1.
Blanc has said that outdoing the France team that went to the 2010 World Cup in South Africa is his primary goal, but that seems a little modest. Winning the group is certainly not beyond Les Bleus, who have beaten both Ukraine and England in recent friendly matches. But progression to the quarter-finals is probably what's expected of this group as a minimum.
What is France's toughest game in the group?
France have not faced Sweden under Blanc, so that will be an entirely new challenge for the coach, while meeting Ukraine in a competitive environment in front of their own fans will bring its own challenge. Even England, despite their somewhat bedraggled state, possess a problem that Les Bleus cannot write off, so France will not see any one of their rivals as a particular danger.
Are there any injury or fitness concerns?
With the exception of Eric Abidal - who has had to undergo a liver transplant - and the injured Bakary Sagna, France should be able to select all of their big guns for the tournament, although Loic Remy has been troubled by some persistent minor problems of late and Abou Diaby, who has barely been fit all year, is considered a doubt for the opening match against England due to a thigh problem suffered with Arsenal when playing against Stoke.
Are there any surprise picks who could go to the Euros?
Hatem Ben Arfa has not been involved in action for France since Blanc's very first game in charge, when he selected a side deprived of any of the 23 players who travelled to the World Cup to Norway and lost 1-0 in a friendly. In stellar form with Newcastle, though, he is going to be a hard player to overlook. Yoann Gourcuff, meanwhile, is a real favourite of the coach, so despite a couple of mediocre campaigns with Olympique Lyonnais, it's not completely unthinkable that the former AC Milan playmaker could travel.
What is the biggest issue for the coach to resolve?
Gelling the team into a competitive unit is a key concern. France undoubtedly have a batch of high-quality individuals, particularly offensively, but too often in recent seasons they have not formed a cohesive unit for their country. This was most starkly apparent when the squad revolted against Raymond Domenech at the World Cup, and Blanc must now look to forge the kind of team spirit that champions possess. It is, however, an unenviable task.

Follow Robin Bairner on

| | |
| --- | --- |
| | ENGLAND |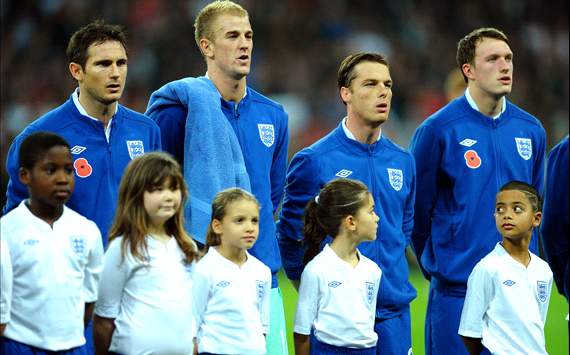 LAST FIVE
PROBABLE FIRST XI

| | | | |
| --- | --- | --- | --- |
| 29 Feb 12 | England | 2-3 | Netherlands |
| 15 Nov 11 | England | 1-0 | Sweden |
| 12 Nov 11 | England | 1-0 | Spain |
| 07 Oct 11 | Montenegro | 2-2 | England |
| 06 Sep 11 | England | 1-0 | Wales |

4-2-3-1

Hart
Johnson - Terry - Cahill - Cole
Parker - Barry
Sturridge - Gerrard - Young
Welbeck

How are England preparing for the tournament?
England's preparations for the Euros have been mangled by the wrecking ball of Fabio Capello resigning four months beforehand and his successor being appointed just 40 days before the team's campaign opens against France. Yet the FA is convinced everything will be alright on the night. Manager Roy Hodgson will wave goodbye to West Brom on May 13, providing his full attention on England a day later before taking the squad to a training camp in Spain ahead of friendlies against Norway in Oslo on May 26 and Belgium at Wembley on June 2. England fly to their Krakow base on June 6 before facing France on June 11. It is not yet known when Hodgson will name his squad but, because of the disruption, it is likely to be closer to the Uefa deadline of May 29.
What is England's realistic target for the tournament?
KEY PLAYERS
Form Check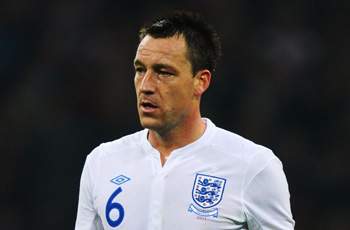 Chelsea's surge to the Champions League final has been copperbottomed by impressive performances from Terry, Lampard and Cole, while Rooney came second in the voting for Football Writers' Association Player of the Year after scoring 34 goals for Manchester United this season. Hart and Barry have been instrumental in Man City's title challenge and Ferdinand has been outstanding in the second half of the term. But others have either faded (Parker, Sturridge) after impressive starts to the season or blown hot and cold, such as Walcott, Gerrard, Johnson, Cahill, Young and any striker you care to mention.
For the nation that gave football to the world, ridiculous expectation goes with the territory. But there is a growing sense of realism - albeit at the distance of four weeks away from tournament time - given the last-ditch appointment of Hodgson, the injury to Jack Wilshere and Wayne Rooney's suspension for the first two matches. Hodgson, the anti-Keegan and a master of making the most mundane task appear a mountainous one, says he would be "bitterly disappointed if we didn't get out of the group", claiming "England were not dealt a pleasant card" by being pitted against France, Ukraine and Sweden. Should Hodgson's side fail to progress to the knockout stage, it would be regarded as a considerable failure.
What is England's toughest game in the group?
On paper, an improving France on June 11 is the toughest match but the final group game against host nation Ukraine on June 19 will be a nervy one if England require the minimum of a draw to qualify.
Are there any injury or fitness concerns?
Jack Wilshere, who many rate second only to Wayne Rooney in terms of importance to the team, has been ruled out of the tournament after missing the entire season with ankle injuries. Darren Bent, who might have been expected to lead the front line in Rooney's absence against France and Sweden, has been out since early February and is not expected to play again for Aston Villa this season but he is ahead of schedule in his rehabilitation. Theo Walcott damaged his hamstring that will keep him out for the rest of the season but he is expected to recover in time for the late May friendlies. There is also a question mark over the fitness of Danny Welbeck, who limped away from the Manchester derby and did not feature against Swansea City at the weekend. First-choice midfield anchorman Scott Parker has also suffered hamstring pain in recent weeks.
Are there any surprise picks who could go to the Euros?
Alex Oxlade-Chamberlain, the Arsenal proidgy, has been mentioned in some quarters as a wild card and a centre-forward like Bobby Zamora, who played under Hodgson at Fulham, could yet pop up on the radar. But the squad is expected to be made up mostly of the players who helped England stroll through a relatively easy qualifying group.
What is the biggest issue for the manager to resolve?
Where do you start? Hodgson can pencil in very few players as definite starters against France, fitness permitting. Perhaps only Joe Hart, Ashley Cole, Steven Gerrard, Parker and, at a push, Gareth Barry, Walcott and Ashley Young. He must address the John Terry-Rio Ferdinand spat and settle on a centre-back pairing. The wide midfield positions are up for grabs but, perhaps most significantly, Hodgson must find an answer to England's dilemma on how to score goals in the absence of Rooney for the opening two matches. There is no obvious A-list centre-forward replacement, perhaps not even a B-list alternative.

Follow Wayne Veysey on