ANALYSIS
By Miles Chambers
Roy Hodgson's appointment as England boss will inevitably have repercussions for potential players across the country.
Supporters have been split: some believe the choosing of the former West Brom boss to be a stroke of genius, some are willing to reserve judgement until after Euro 2012, and some are fuming that the supposed favourite - Harry Redknapp - was ignored.
The players, however, are the ones who will have to deal with the Football Association's decision. Below is our look at the winners and losers on the back of Hodgson's Wembley arrival.
He may have had a torrid time at QPR since his transfer in January, but Bobby Zamora was one of the crown jewels in Hodgson's Fulham team.
An injury ruled him out of a deserved place at the 2010 World Cup after an excellent season involving a Europa League final appearance orchestrated by the former Inter coach.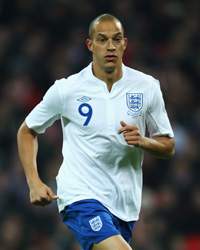 This summer's European Championships provides the once-capped England striker with a platform to make his major tournament debut, and with Hodgson at the helm, his chances of being on the plane have shot up enormously.
Ben Foster has been superb on loan at the Hawthorns this season, and he publicly congratulated Hodgson on securing the Three Lions position.
The former Manchester United shot-stopper retired from international football under Fabio Capello's reign but his recent manager might be able to lure him back. Joe Hart - who has had a fantastic season - is not going to be usurped at the moment but Foster would provide proven cover for the Manchester City goalkeeper.
For years he was the established left-midfielder for England, but Joe Cole has plummeted down the pecking order. After being released from Chelsea two summers ago, Cole was signed by Hodgson during his unsuccessful tenure as Liverpool boss but failed to find his footing at Anfield.
Cole has spent this season at Lille and, although he has had a good year of Ligue 1 football, he is not on many people's radar. Maybe the former Switzerland and Finland coach will give him another chance this summer and make it five successive major tournaments in the Three Lions' team for the 30-year-old.
Many do not remember his roots, but Chris Smalling was signed by Hodgson during his time at Craven Cottage before he was sold for a reported £8 million to Manchester United.
His huge price tag proves the coach valued the defender. Defence is by far the most competitive position in the national side at the moment - already being admired by Hodgson cannot hinder his chances of a call-up later this May.
Scott Parker is the sort of player the new England boss builds his most successful teams around. A player who knows his strengths, his weaknesses, and understands the importance of combining tactics and passion in his performances.
As the most recent skipper for the country in their friendly match against the Netherlands, the Tottenham man is practically guaranteed a place on the plane to Poland in June. With Hodgson as his head coach, expect Parker to become an even greater focal point in the Three Lions' midfield.
Of all the players who will potentially feature at Euro 2012, Steven Gerrard's predicament is most intriguing. Earlier this year he was ignored as England captain by caretaker coach Stuart Pearce and now he will have to perform under a manager he did not seem overly keen on during Hodgson's period at Liverpool.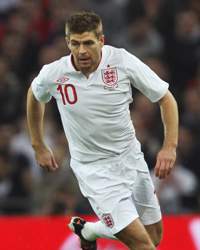 Could his appointment pave the way for an immediate international retirement? Unlikely. More probable is that this summer's European Championships will be his last major tournament for the Three Lions then he will turn his focus to the Reds for good.
With his trial for racially abusing Anton Ferdinand coming up after Euro 2012, John Terry's involvement in the England squad this summer was always uncertain. However, Hodgson's four-year contract means he is no short-term solution and is in it for the long haul.
As a result, the old guard who might destabilise squad harmony will surely be filtered out. Terry is a magnificent defender and his quality is without question, but off-the-field problems could cost him his international future.
His Chelsea team-mate Frank Lampard is another player whose England future is limited, plus he has not been a Wembley favourite over the last 12 months.
Under uncle Harry Redknapp he could have lasted until the 2014 World Cup finals should England have qualified. Under Hodgson, being ushered out is a more realistic outcome. Euro 2012 could be his bow out of the international arena.
Glen Johnson is another Liverpool player who will not have happy memories from Hodgson's spell on Merseyside. He has been England's first-choice right-back for years but the Reds' deflated league campaign and unremarkable form have led to question marks over whether he will be in the No.2 shirt much longer.
The electric emergence of Kyle Walker, the growing popularity of Micah Richards and the flexibility of Manchester United duo Phil Jones and Chris Smalling mean his days as a permanent fixture in the Three Lions side could be dwindling.
Andy Carroll may have joined Anfield after Hodgson but it would be interesting to see who holds higher esteem among their supporters now. The £35m man has flopped considering how much he cost and his sporadic performances this season have not made his claim for a trip to Euro 2012 any greater.
With Wayne Rooney banned for the first two matches and Darren Bent probably injured, Carroll had a gilt-edged chance to make the Euro 2012 squad. But as Zamora's chances have increased with Hodgson's Wembley arrival, the probability the ex-Newcastle United striker will play in Poland and Ukraine this summer has decreased.
Follow Miles Chambers on