ANALYSIS
By Ben Hayward | Spanish Football Editor
Teams that Jose built. "No other coach has ever beaten Barcelona twice in the same week," a Mourinho parody account wrote on Twitter at the weekend, in the aftermath of Real Madrid's unexpected Clasico win at Camp Nou.
Three days earlier, Chelsea had been praised for their resilience and disciplined defending in a performance reminiscent of the Portuguese's best Blues sides of several seasons back. Their showing at Stamford Bridge in a hard-fought win had been brave, heroic, and notably Mourinho-esque.
And now they need to do it again.
Chelsea travel to Camp Nou on Tuesday for a return leg as an ageing Blues side attempt what is quite possibly a final fling on Europe's premier club competition - at least for the likes of John Terry and Frank Lampard. And as they seek to inflict a third-straight defeat on Barca for the first time in almost a decade, they will look to their former coach for inspiration.
Mourinho's memorable moments at Camp Nou

April 2012



Madrid




W 2-1

The Portuguese secured his first-ever win at Barca's famous home as the capital club triumphed thanks to Cristiano Ronaldo's winner on Saturday
April 2010

Inter


L 1-0



After winning the first leg 3-1 in Milan, Mourinho's Inter held on for over an hour with 10 men to seal a place in the Champions League final, which they won by beating Bayern in Madrid
Oct 2006

Chelsea
D 2-2

Didier Drogba's injury-time strike shocked the Catalans and gave Chelsea a precious point in the group stages following an intense battle

Feb 2005



Chelsea
L 2-1

Mourinho's Chelsea lost 2-1 at Camp Nou in the first leg of the side's last-16 tie, but advanced to the quarter-finals thanks to a 4-2 win at Stamford Bridge.
Mourinho may have come off worse overall in his battles with the Blaugrana, but the Portuguese has now beaten Pep Guardiola's current crop three times including Saturday's success, his first at Camp Nou and a timely tonic for Chelsea, as well as Real.
Arguably aided by Guardiola's strange selection in the Clasico, Mourinho nevertheless came to Camp Nou and claimed victory when it mattered most, with a result that sees La Liga looking likely to head back to the capital for the first time since 2008 and duly denying the Catalans a fourth straight success under their brilliant coach.
Mourinho's men had actually performed better at Camp Nou than at the Santiago Bernabeu in the Clasicos this term, having been edged out 3-2 by the eternal enemies in the second leg of the Spanish Supercopa, before a 2-2 draw in the Copa del Rey return in January. On both occasions, however, the Catalans laughed last, coming through as aggregate winners each time.
On Saturday, though, the smiles were on the faces of those in white as Mourinho masterminded a monumental moment for Madrid - one many believed had been a step beyond his spectacular side. Real relinquished the ball to Barca for the most part, much as Chelsea had done three days earlier, but began with a swagger as they defended with a high line and refused to be intimidated by their rivals' possession play.
When they didn't have the ball, there was tremendous discipline. Madrid defended as a unit, with the forwards dropping deep to crowd a congested midfield and close the spaces in which Barca can be so devastating. That was why Guardiola had opted for youngster Cristian Tello instead of Alexis Sanchez (still struggling with an injury incurred in London) - he knew the Catalans would need natural width to hurt Mourinho's men.
Tello failed to find the target with two great chances but this time, Madrid created just as many opportunities as Barca ... and had more shots on goal than the Catalans. When possession was regained, the visitors were quick to break and Cristiano Ronaldo's winner - shortly after Alexis had levelled after coming on - was the fruit of a devastating counterattacking move.
For the second time in a week, Javier Mascherano was caught out of position and exposed by a brilliant breakaway. The Argentine is not a central defender and is unlikely to feature on Tuesday as Gerard Pique returns from a surprise sojourn on the Barca bench. But whoever is playing at the back, counterattacking football at its finest is almost impossible to defend against - and Barca struggle against high-tempo opposition. Give them the ball and they can destroy you, but attack them with pace and power and they are liable to suffer.
Mourinho had celebrated at Camp Nou before, of course, The Portuguese led Inter to a 3-2 aggregate win over the Catalans in the Champions League semi-finals in 2010. And following a first leg in which the Italians pressed and picked off Guardiola's side with a high-intensity display as they went behind but hit back three times with a polished performance at San Siro, their game plan in the second match was quite different.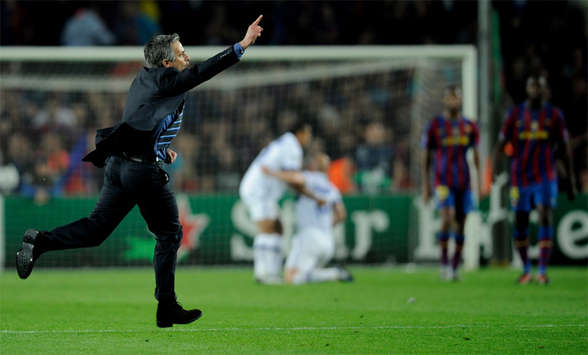 Inter the final | Mourinho celebrates as the Italians advance in 2010


Buoyed by a two-goal advantage, Inter came to defend and as the match got underway, their approach was clear. That was then exacerbated by the dismissal of Thiago Motta and with 10 men and just over an hour left to play, a backs-to-the-wall performance was needed. Attacking had been rare in the opening half an hour; now it was out of the question.
"We didn't want the ball," Mourinho explained after seeing his side scrape through thanks to a 1-0 loss. "We didn't want the ball because when Barcelona press and win the ball back, we lose our position – I never want to lose position on the pitch so I didn't want us to have the ball, we gave it away."
Simple, but effective. Barca were faced with a wall of defenders around the opposing area and were unable to break down the visitors until it was too late, although the Catalans were unlucky to see a Bojan Krkic strike ruled out right at the end. Motta's sending-off had been harsh, however, and Mourinho's men deserved to progress following a fantastic defensive display.
| | |
| --- | --- |
| "We didn't want the ball," Mourinho explained after seeing his side scrape through thanks to a 1-0 loss | |
Afterwards, the Portuguese described the loss as the "most beautiful defeat of my career". Now Chelsea will seek to stay with 11 men on Tuesday, and learn the lessons from Mourinho's most memorable moments at Camp Nou. A beautiful draw would do. Or if they score, even a beautiful defeat.
Follow Ben Hayward on