COMMENT

By Tom Webber
And so another chapter in the faltering career of Brazilian striker Adriano comes to an unceremonious end. On Monday his contract with Serie A champions Corinthians was terminated, with coach Tite unhappy with the player's attitude. However, there could be light at the end of the tunnel as Flamengo are reportedly interested in securing his signature. Adriano and Ronaldinho in the same side would surely excite the Rio de Janeiro club's fans, but could it actually work?
Adriano has been beset with alcohol, depression and weight problems since his father's premature death in 2006. He struggled to come to terms with his loss and his career derailed. In 2009, he returned to Brazil, signing for his boyhood club Flamengo. He inspired them to the Brasileirao title, earning himself a move back to Europe with Roma. He failed to impress at the Giallorossi, however, and in an injury-plagued spell, he didn't manage a single goal and made just five appearances before having his contract rescinded.
He suffered a similar fate upon his move to Corinthians. The club kept a close watch on the player's fitness levels as injury kept him out of first-team action for the first six months. The final straw for Tite came after a disappointing display from the striker in the Paulista championship loss to Santos.
Adriano reportedly missed training and refused to be weighed by the club's doctor. Unimpressed, Corinthians showed him the exit door with former Timao player, Neto stating: "Only a madman will sign him now."
That madman may well be in Rio, as one possibility being mentioned is a second return to Flamengo to link up with national legend Ronaldinho. This may well be a mouthwatering prospect for the Rubro-Negro faithful, but is it too late for these two icons to coalesce once more?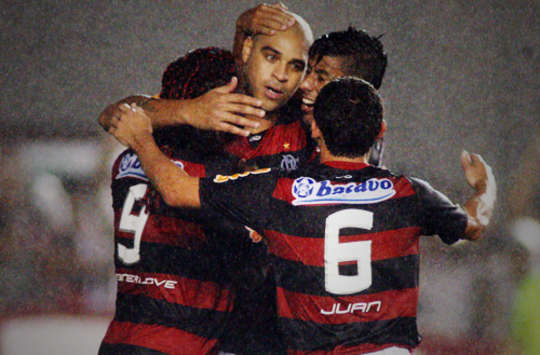 Lightning doesn't strike twice | Fans will hope Adriano's return will lead them to another title
The two played together in the Brazil national team that won the 2005 Confederations Cup. Adriano was at his peak, netting five goals and earning the tournament's Golden Ball and Golden Shoe. Ronaldinho was also close to his best and was awarded the Bronze Ball accolade. The combination proved deadly, with both players scoring in the 4-1 victory over Argentina in the final, but a reunion almost seven years later is unlikely to produce similar results.
Moving from Sao Paulo to Rio de Janeiro would likely offer more temptation for Adriano to indulge the vices that have harrowed his career in recent years. Teaming up with veteran party-lover Ronaldinho could be a recipe for disaster.
The two-time World Footballer of the Year displayed his unprofessionalism when he missed a pre-season training session in February this year, but was later pictured out partying with friends. This created a rift with boss Vanderlei Luxemburgo and the coach was subsequently dismissed.
Ronaldinho's improper behaviour is unlikely to be curbed with the introduction of a somewhat kindred spirit in Adriano and vice-versa. The former Barcelona player still lives off his reputation, but Flamengo fans are growing increasingly disappointed with his antics both on and off the field.
In his book
Barca: The Making of the Greatest Team in the World
, Graham Hunter notes how the directors at the Catalan giants decided that both Ronaldinho and Deco had to leave the club in order to provide a serene environment for Lionel Messi to bloom.
So, on the other end of the spectrum, what kind of an effect would having both Ronaldinho and Adriano at the same club have on promising youngsters such as Thomas, Muralha and Adryan? One would love to think it would be a positive impact, but their lackadaisical attitude to match preparation would suggest otherwise. The virtuoso pair from 2005 would certainly have been superb role models, but they are both shadows of those players and could create an indisciplined environment.
"Adriano is Adriano, but he is a great player who on the pitch would benefit any club in the world"




- Ronaldinho opens the door to the return of 'O Imperador'
It is not just the practical implications of the signing that need contemplation; the financial burden must also be heavily considered. Adriano has stated that he would want the same wages that he was paid at Corinthians. With Flamengo now having to cover the whole of Ronaldinho's €525,000-a-month contract after splitting from a deal with rights agency Traffic, adding Adriano to the roster may not be financially prudent.
Yet the Rubro-Negro are in need of extra quality and depth in attack. After losing out on the permanent signature of Thiago Neves to arch-rivals Fluminense, Flamengo fans will be eager for another marquee signing alongside Vagner Love. They need improvement in attack if they are to match the other forward groups of Internacional, Sao Paolo, Santos and Fluminense; all of whom have made impressive signings during the off-season. The aforementioned prospects of Thomas and Adryan could be given more time in the starting line-up, but they may not be ready for such responsibility.
All things considered, would the move be worth it for Mengao? The suggestion of the duo lining up together would have seemed like fantasy football back in 2005, but with both players now in their 30s, it would be a huge gamble.
But the biggest risks often reap the greatest rewards. It could also be a catastrophe, but a fully fit Adriano would drastically improve Flamengo's title chances and could also draw the best from Ronaldinho. The mercurial striker's return worked once in 2009, though he was in far better physical condition then. If he gets his head down and gets in shape, Flamengo could be an unstoppable force in this year's Brasileirao.
This writer, however, remains extremely sceptical. It is a reunion anyone would love to see but it could well end up as just another low-point in the decline of Adriano.

Follow Tom Webber on