Jens

Lehmann



Euro 2012 Columnist

SPAIN WORTHY WINNERS, GERMANY ANOTHER DISAPPOINTMENT
The Spaniards have once again succeeded in turning their technical superiority and accurate passing into a title win. And deservedly so.
If you give away so few chances throughout the tournament, you tend to win most of your games, even if it's only just every now and then, as we saw with Cesc Fabregas' spot-kick off the inside of the post in the semi-finals against Portugal.
Germany had to deal with another disappointment, providing plenty of discussion for any coach who saw the game. And to be honest, it's exactly that aspect that makes football such an interesting game.
The Italians deservedly beat us this time around. Unlike in 2006, they could even have defeated us by a bigger margin. It would have pleased me had we scored our goal a few minutes earlier in the game, though. I believe Germany would have been able to turn things around if we'd had a bit longer.
Aside from Spain, I also think that Portugal would have deserved it rather than the Italians. They were the only team that caused Spain all kinds of problems for the full 90 minutes. They played the game at a very high pace and impressed with their excellent technique.
Overall, I liked what I saw at the European Championship. We have seen some dramatic and very tense games. Some of the best players on the continent were present and have shown what they can do in their various own ways at a very high level.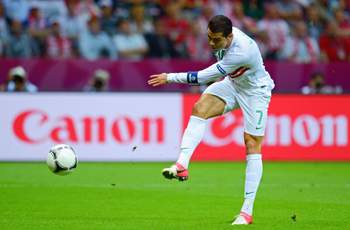 "Cristiano Ronaldo provided the greatest entertainment value for me. Not just because of his goals, but also because of his rituals before free kicks"

RONALDO DAZZLED
Cristiano Ronaldo provided the greatest entertainment value for me. Not just because of his goals, but also because of his rituals before free kicks. A lot of people criticise him for making too much of a show of it. Nevertheless, when you take a good look at why he does it, you'll see that the five steps he takes are part of his walk-up to the ball. He usually approaches the ball in full sprint, and in that situation it's best to stand up straight and take a deep breath, thus focusing on the shot and recovering at the same time.
The Greeks once again managed to impress at the most important moments, as they eliminated the Group A favourites Russia with a lot of passion and skill.
And like in the past, penalty shoot-outs were again among the highlights of the tournament. Even people who don't care too much for football are sucked in because these series of spot-kicks are a roller-coaster of emotions and the situation can change so quickly.
WHAT NOW FOR GERMANY?
It's hard to say what will happen with the
Nationalmannschaft
now. Does new Germany FA (DFB) president Wolfgang Niersbach have the right vision and determination to make the decisions that will help us become successful again? We'll have to wait and see. I wish him all the best.
The discussions about spoilt internationals is going a bit too far in my opinion. It's something typically German, though. A lack of knowledge and experience at the highest level on the side of those involved in the debate results in discussions about trivialities.
The usual reaction to just focus on the players' character and criticise them is only a sign of ignorance. Some former colleagues in particular are guilty of this.