Oliver Platt



England Expert


Follow on
COMMENT
The deficiencies of England teams of the past have been uncomfortably prominent. There is still plenty of work for Roy Hodgson to do; the tactical discipline and organisation that he has emphasised have too often been absent from a team that has been forced to partake in more last-ditch defending than they would have liked so far at Euro 2012.

There is one player, however, who delivered another performance against Ukraine on Tuesday that indicates that he has matured in the manner Hodgson will be preaching to his squad as a whole. Steven Gerrard, once again, played with a maturity and composure in central midfield that culminated in a third assist in as many games.
GERRARD GAINING MOMENTUM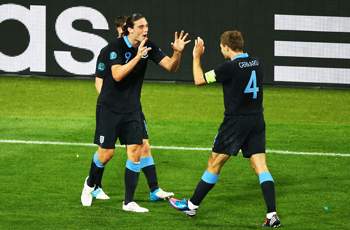 RATING VS. FRANCE

Largely resisted the urge to play the sort of Hollywood balls that have often been his downfall at this level. Magnificent delivery for Lescott's opening goal but was slow to close down Nasri for France's opener.
RATING VS. SWEDEN

Swung in an excellent cross onto the head of Carroll to see England in front, and did his best to spread play from the centre as the midfield battle was keenly contested.
RATING VS. UKRAINE

Magnificent set-piece delivery as ever and the provider of several superb raking passes. Trademark surging run and devilish cross represented a third assist of his increasingly productive tournament.
Hodgson's appointment of Gerrard as England captain has already been utterly vindicated. The 32-year-old's international career, until this point, has been dominated by debate surrounding the merits (or, more accurately, limitations) of his partnership with Frank Lampard in the centre of the park. In Poland and Ukraine, he has begun to make up for lost time.

The problem with Gerrard and Lampard was that both players thrive on the surging forward runs that they are capable of. When paired, at least one is required to shield the defence and, therefore, the most effective aspect of their game is lost.
Now, Gerrard has Scott Parker to take care of those more defensive tasks. Ironically, now that he has license to join the attack, he has shown more restraint, in terms of timing his runs responsibly, than he ever did when it was needed most alongside Lampard.

The feature, of course, of his first-round play has been the proficiency of his passing and crossing when drifting out to a right-wing position. The selection of James Milner over Theo Walcott in that regard has worked well because the Manchester City man is capable of covering for Gerrard when he bursts into space.
The cross, from a dead ball, that Joleon Lescott headed home against France was simply sublime, but it was topped by the brilliant delivery met by Andy Carroll against Sweden.

He was more fortuitous back in Donetsk on Tuesday, but the pass that reached Wayne Rooney was preceded by a moment of magic. Leaving Andriy Yarmolenko behind with a neat bit of skill, Gerrard fired in a low cross that might have caused problems even before it took a double deflection that bamboozled goalkeeper Andriy Pyatov. The ball skidded through to Rooney, who was left to convert one of the simplest chances of his career.

Hodgson will hope the goal was a sign of things to come. The Gerrard-Rooney relationship is likely to prove England's main route to goal and against opposition stronger than Ukraine, the individual moments the duo are capable of conjuring will be needed more than ever.