Ronnie Whelan

Euro 2012 Columnist

MCCLEAN IS PSYCHOLOGICALLY HURT


We had two left wingers on the bench during the game against Croatia who could get down the line, get crosses in and Trapattoni decided not to use either of them. Even before James McClean came along, we had Stephen Hunt, who causes problems with his pace and endeavour.
McClean took the Premier League by storm and did not get a game. It was very baffling. It may not have made any difference; but why bring two left wingers along if you are going to put a centre forward on instead?
Listening to the interviews with Trapattoni, I still can not get any logic out of it. Everybody looked at each other at the time and said 'what's this about?' Trapattoni's got to take some sort of a gamble. It is not going to be the end of the kid if Ireland get beaten.
It was not the greatest statement from Trapattoni to say that 'psychologically' McClean was not ready for the occasion. If it were me, I would be so fed up. To go over there as a left winger and he puts a centre forward on who has never played there before, psychologically, I think that would be more of a blow to me.
He is more psychologically hurt, now, that he did not get on the pitch.
LET'S NOT KID OURSELVES, WE WERE NOT GOOD ENOUGH AGAINST CROATIA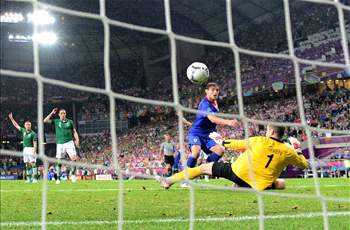 "You are going to get punished by top teams if you keep giving the ball back to them"
If we say that the reason we lost was the times of the goals, or the mistakes of the referee, we will lose the point. We are trying to kid ourselves a little bit by thinking we were good enough to win that game.
It showed that we can get through in a group against Andorra and Macedonia but not against the top top teams. Russia in the qualifiers really battered us in both games. And when you come up against better players, like the Croatians, it just shows the gulf.
Trapattoni said before the game that we cannot make mistakes. He has been around long enough to know you are going to get punished by top teams if you keep giving the ball back to them. And that was what happened. It was a very un-Irish display, letting in three goals and making so many stupid mistakes.
Leading up to the first goal, we gave the ball away in a bad position and they scored off the corner. Things like that would worry me. You hold you hands up when teams are better. But do not keep making mistakes.
DROPPING KEANE IS THE BRAVE OPTION
Trapattoni, for me, needs to pack the midfield and stop Spain playing. That means leaving one of his centre forwards out and putting in a midfielder. He has been loath to go that way before.
There are rumours that he is going to play Jonathan Walters up front - I think he will cause problems. A good, strong centre forward would upset the Spanish centre backs. But does he play Walters up on his own and does he drop Robbie Keane?
Keane and Doyle coming into midfield is not working. They do not know how to do it and they are not dropping far enough. I do not know if dropping Keane is the answer but it is an option if he was brave enough to go that way.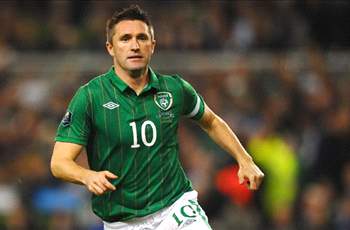 "Keane and Doyle don't know how to play in midfield"
But he is not going to go 4-5-1. He has been successful with the way he has played that 4-4-2 system along the way. It is difficult and different against top opposition but I don't think he will change it.
So they have got to show a bit more enthusiasm; get closer to people, show a little bit more endeavour. It has to be a heroic performance by everybody. And If you take a point out of it, it will be more than a good result against Spain. And then you never know going into the Italian game.
This Irish team will go out and run, battle and try. If they do that then I do not think they can have any complaints. If you are not good enough, you are not good enough so long as they go and give 100 per cent in everything they do.
Defensively, I do not think the Spanish are great. I think Sergio Ramos will give you a chance. If you have got Keith Andrews doing what he did the other night, he may get through on the end of something breaking from midfield.
Irish football has been littered with great results against top teams. So maybe this is another one when they will come back.
Ronnie Whelan scored one of the most iconic goals in Irish football history against the Soviet Union the last time Ireland qualified for the European Championship in 1988. He was instrumental during Liverpool's success in the 1980s, winning four top-flight titles and the European Cup. Whelan won 53 caps for his country and is now a regular pundit with the Irish state broadcaster RTE.