Oranje showed a lack of urgency in midfield in Saturday's loss against Denmark, but dropping one of their holding midfielders could backfire
Stefan Coerts

Netherlands Expert
Follow on

COMMENT
Although Netherlands created plenty of chances in Saturday's Group B encounter against Denmark, they were far from impressive, and the final result of 1-0 in the Danes' favour was by no means undeserved.
Much has since been said about Oranje's performance, with the composition of their midfield one of the main talking points.

National team coach Bert van Marwijk's decision to field two holding midfielders in the form of Mark van Bommel and Nigel de Jong has been heavily criticised and many have called for the introduction of Rafael van der Vaart for Wednesday's match versus Germany.
Nevertheless, many seem to forget that the former Feyenoord trainer has a very logical explanation for picking the tough-tackling duo: a very vulnerable back-line.
The likes of John Heitinga and Joris Mathijsen (replaced by Ron Vlaar at the weekend) are average at best, while Gregory van der Wiel has been struggling for form since the 2010 World Cup, and Jetro Willems is unproven at the highest level.
Admittedly, the Dutch defence was not troubled too much on Saturday aside from Michael Krohn-Dehli's winner, and there was little need for a second midfielder to protect the back-four.
By fielding both De Jong and Van Bommel in a very deep role, Netherlands were confronted with a huge gap between their six defensive minded players and their front four. Wesley Sneijder was therefore forced to drop deep very often to collect the ball, and consequently lacked freshness in the final third.
| | |
| --- | --- |
| Many seem to forget that Van Marwijk has a very logical explanation for choosing the tough-tackling duo: a very vulnerable back-line | |
Either Van der Vaart or Kevin Strootman would have been a better choice against Denmark to add some much needed creativity to the team as a deep-lying playmaker, who could support their side's attacking quartet and carry the ball forward.
Unfortunately for Oranje, they cannot afford to make use of this tactical ploy in the crucial game against Germany in midweek.

The Nationalelf possess world-class attacking talents such as Mario Gomez, Thomas Muller, Mesut Ozil and Lukas Podolski, and for once the Dutch do actually need the protection of the double pivot to take some weight off the shoulders of their shaky defence.
Van der Vaart lacks the defensive qualities to play in such a role against a strong opponent, something that was made painfully clear by Hungary in Oranje's 5-3 qualification win, while Strootman has been in far from impressive form in the past few months, and cannot be trusted yet at this point of his career.
That being said, Van Marwijk does need to make changes to his midfield in order to prevent the mistakes that cost Oranje the match against the Danes from happening again.
De Jong is the perfect candidate to sit deep and defend Germany playmaker Mesut Ozil. The Real Madrid star is the man who's pulling all the strings for Germany and De Jong's physical approach is required to keep the attacking midfielder quiet.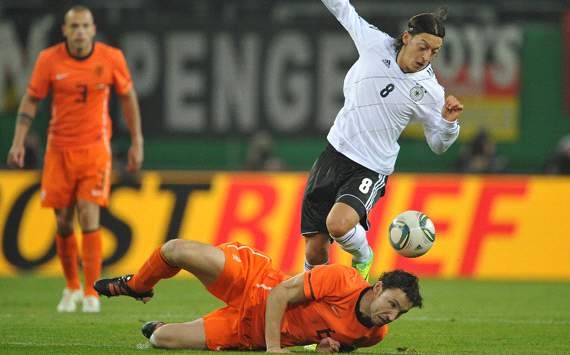 Midfield maestro | Mesut Ozil can't be allowed any space if Oranje are to get a good result

Van Bommel, however, would add more to the team if pushed slightly higher up the pitch than against Denmark. By giving the PSV-bound man a more attacking role, Holland make life a lot easier for Sneijder, without losing out defensively.
Obviously, his adjusted role would ask a lot more from Van Bommel than merely sitting in front of his defence, something he has become accustomed of in recent years. However, people often forget that the experienced midfielder has so much more to offer than just hassling opponents.

The 35-year-old netted 14 league goals in his best year at PSV, and has only been turned into a pure holding midfielder after moving abroad.
Admittedly, he is no longer the player he was back in those days, but Van Bommel should be able to take on such a role once more in what is probably his last major tournament at international level.
Only then will the Dutch have a chance to bag the full three points against their arch-rivals, and keep their chances of winning Euro 2012 alive.
Follow Stefan Coerts on