Robin Bairner


France Expert

Follow on
ANALYSIS
Franck Ribery was France's outstanding player in the preparations for Euro 2012, striking three goals in as many internationals against Iceland, Serbia and Estonia to finally repeat the outstanding form that he has often shown for club side Bayern Munich.
Indeed, he is widely seen in England as the greatest threat to the Three Lions as they approach their Euro 2012 opener on Monday night.
Strangely, though, he is not a player much-feted by fans of Les Bleus. Instead, the France crowd have often been quick to jeer the winger, particularly over the course of the last two years, during which time he has remained a mainstay of Laurent Blanc's side despite criticism from the stands and in the press.
Just as it is argued that Lionel Messi fails to produce his best for Argentina, it is equally put to Ribery that he too underperforms for his country. But the flair-packed winger's problems are more deep-rooted than that of his South American colleague.
"I feel rejected in France," Ribery has previously admitted. "And do you know why I signed for Bayern when I could have gone anywhere? Because they made me feel wanted."
Ribery was a player who exploded onto the world scene six years ago. He was little-known outside France when he was a surprising pick in Raymond Domenech's 2006 World Cup side, yet as a relative rookie of the international game, he quickly rose to prominence and was Les Bleus' outstanding player – the great Zinedine Zidane aside - as they reached the final of the competition, only to be pipped by Italy on penalties.
"I feel rejected in France. I signed for Bayern because they made me feel wanted"





- Franck Ribery

During periods in Domenech's reign, he was France's sole threat, and it is little coincidence that as his effectiveness for his country died, so too did the national team's performances, culminating in the harrowing experience of World Cup 2010.
Ribery travelled to South Africa having suffered a myriad of problems back in Europe. He had missed much of the campaign – including France's controversial play-off win over Ireland - due to injury troubles, while he was forced to watch on as Bayern Munich lost the Champions League final to Inter due to a red card in the first leg of the semi-final against Olympique Lyonnais.
Most pressingly, though, Ribery's private life was very much in the media after he was the chief antagonist in the 'Zahia sex scandal' in April.
Brows were furrowed in France as the winger turned out for the national side under a cloud, and his performances reflected the heavy weight on his mind as he struggled to spark any life in Les Bleus in South Africa. Characteristically a bubbly, happy-go-lucky player, this was never in evidence during the summer of 2010.
The Ribery drama was the first of many catastrophes to befall Domenech's men, starting the domino effect to self-destruction.
RIBERY'S THREE FRENCH FARCES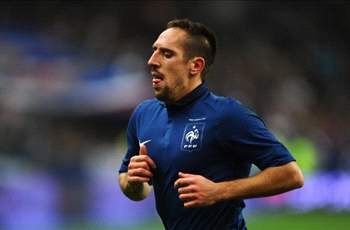 April 2010
Zahia sex scandal breaks

June-July 2010
Flops at World Cup. Accused of bullying Gourcuff

November 11, 2011
Jeered by home crowd for a wasteful performance against USA in 1-0 win in Paris
Although the scandal in late spring had sullied the player's reputation, it would be his part in the now infamous Knysna strike that really turned fans against him. The Bayern Munich man was allegedly a chief protagonist in France's ultimate implosion, while it was also claimed that his joker-personality had seen him effectively turn to bullying rising star Yoann Gourcuff.
The bright spark of the French game only four years earlier, Ribery was suddenly cast in the role of villain.
While many of the Knysna mutineers have been long since cast aside from Les Bleus – Nicolas Anelka most spectacularly – Blanc, who replaced Domenech as head coach after the World Cup debacle, appreciated that a player of Ribery's stature could not be ushered away easily.
Supporters of France, though, have maintained their misgivings. Since the World Cup, Ribery's performances have typically been sluggish for his nation; very much out of keeping with his club form.
The coach even hinted that he had his doubts over the potential star. "He can't do it for France," Blanc said in the spring. "He has a mental block."
Accusations of laziness, selfishness and carelessness have been levelled at the 29-year-old, and with some justification, as his level has barely touched even mediocre. His ego has proven greater than his talent, as he has often taken too much responsibility himself, dribbling excessively as he aims to take his place in the spotlight.
"Ribery has struggled in the past because of psychological problems," Ronan Folgoas, football writer for French daily Le Parisien, told
France 24
. "He has taken on too much pressure, and there have also been issues in his private life.
"But now he's starting to look like the player he was six years ago. The old Ribery could be back."
Perhaps it is no surprise that Ribery finally flourished in France's recent home friendlies which were played away from Paris, where he is still remembered for his time with PSG's great rivals Olympique de Marseille.
When he struck against Iceland in Reims, it ended a three-year scoring drought spanning 21 matches, and it also seems to have burst the dam for the midfielder, who followed that effort up with goals against Serbia and Estonia.
Bigger challenges, of course, lie ahead, but with Ribery finally on form, perhaps France can finally right some of the wrongs of 2010 and give their most technically-gifted playmaker the status and love that his talent frankly deserves.
Follow Robin Bairner on