On December 6, 2013, Fifa would organize the draw for next year's World Cup in Costa do Sauipe in the Brazilian state of Bahia. The 32 qualified sides, currently pooled into four pots of eight each, would be grouped in quartets during the draw, thus giving each participating country a fair idea of the extent of work required for success, at least in the first phase of World Cup action next year.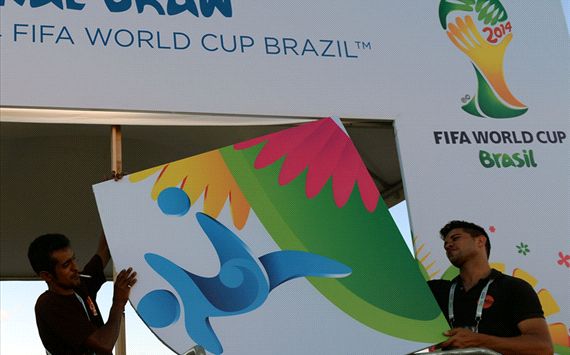 Quite reasonably, then, most national sides are hoping for kind draws, and Ghana is no different. Ahead of Friday's event, Goal sought the expectations of soccer-loving Ghanaians, specifically regarding which teams they'd rather the Black Stars, in Pot 2, draw or avoid. Below is a sample of the views obtained:
DREAM DRAWS
"I'd hope Ghana is drawn alongside Switzerland, Bosnia and the USA. The first two teams because they are comparatively weaker, and the latter due to our past pleasant experiences against them at the Mundial. Qualification from the group stage is something we simply cannot afford to miss out on" - Munkaila Mohammed.
"In a group consisting of Switzerland, Honduras and Greece as the other members, Ghana could accumulate a tally of 5 to 7 points and possibly even grab first place, thus granting us an easier fare in the tournament's subsequent rounds" - Jason Nkansah.
"Against such opposition as Argentina, Japan and Portugal, Ghana can hold its own and send a definite statement of intent, should we pull through" - Nana Korlege.
"Brazil, South Korea, and Croatia would be ideal opponents. Brazil, especially, just so we can stand a chance of becoming the first African nation to beat them at World Cup level" - Williams Bills Willington.
"Well, we are ready to face any team at the World Cup so, bring them on! Go Black Stars" -
Boakye Yaw Richard.
"Any draw we get is welcome, but at least it should involve the English. I feel they are so overrated, and maybe we can cut them to size" - Ayijoe Emmanuel
TEAMS TO AVOID
"Brazil, because they are the home side and the momentum would be with them, especially in the earlier rounds; Mexico, because they are so strong off the blocks at major tournaments; and the Netherlands because they are quality and always difficult customers" - Boadu Kwabena.
"I hope Ghana avoids Brazil, Japan and the Netherlands, because it might be almost impossible to accumulate any more than two points from those three nations combined" - Opoku Benjamin.
"Besides Brazil, who would draw on home support as hosts, and the Portuguese who have brilliant players like Cristiano Ronaldo, I doubt if any side can cause us much trouble" - Nii Addo Tetteh.
"Argentina's in-form forwards Lionel Messi and Sergio Aguero pose a genuine threat to any team, as do the Mexican pair of Chicharito and Giovanni dos Santos. Those two sides, together with Ronaldo's Portugal, would be fearsome, unwanted contenders for Ghana in any group" - Benjamin Agyekum.
I wouldn't fancy our chances against the pair of Germany and Italy due to the sheer quality of their players, while Mexico could also prove very tough customers. Against these three, we might not qualify" - Daniel Oppong Jnr.
So what do you think, reader? Do share your own opinions in the 'Comments' section below.