SPECIAL FEATURE
By Nana Frimpong
It is quite interesting to observe that for a country whose official colours are red, gold and green, the hues that seem to have done our Under-20s the most favours at the ongoing World Cup in Turkey are orange, white, and grey.
Those are the very colours of the golf shirt Ghana coach Sellas Tetteh has worn in the four matches since the Black Satellites' third fixture against the USA, the said encounter inclusive.
Borbor's choice shirt for the Black Satellites' first two group games was a pale blue type, one that 'oversaw' 3-1 and 1-0 losses against France and Spain. For Ghana's final group game, superstitious Tetteh clearly wasn't willing to take a blind chance on being third time 'lucky'. And so he probably combed through his duffel and picked something more colorful and casual. Needless to say, it worked a treat - at least until Ghana's semi-final defeat to France on Wednesday.
In that outfit, Tetteh first masterminded his charges' passage into the knock-out rounds via a 4-1 victory over the Yankees, then snatched last-gasp wins versus Portugal and Chile with 3-2 and 4-3 scorelines respectively, and thus an ultimately ill-fated date in the last-four with the French. For the latter misfortune, however, it is quite hard to blame that entirely on Tetteh's shirt; for all it has supposedly done for us already, reversing a 2-1 deficit with 16 minutes remaining against a side so formidable proved perhaps a miracle a tad too tough to conjure.
PRECEDENT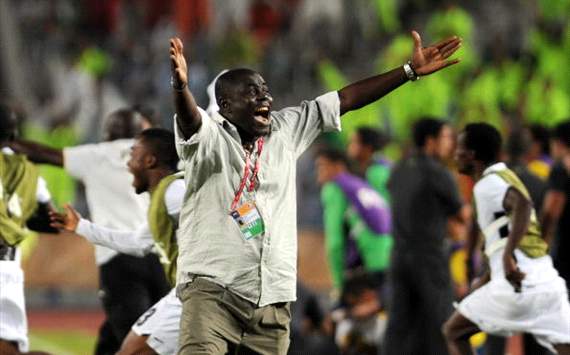 FLASHBACK |
Tetteh wore a beige-brown dress shirt throughout the 2009 tournament
The former Rwanda coach is no alien to shirt-inspired success; those who saw him guide the Black Satellites class of 2009 to the title in Egypt would confirm that much. On that occasion, the norm for Tetteh was a beige-brown dress shirt with the sleeves folded just above the elbows workman-style, which he wore from Ghana's first game at the tournament to the finale against Brazil.
Apparently, though, of Tetteh's touchline dress code from four years ago, only his gold chain with the ball crown made it this time.
Tetteh, in truth, isn't the only one to have shown a fetish for sticking with the same wear throughout a major tournament. Back in 2012, Zambia's French coach Herve Renard donned a simple white shirt over a black pair of trousers as he steered an unlikely course to glory for the Chipolopolo at the Africa Cup of Nations in South Africa.
ONE MORE TIME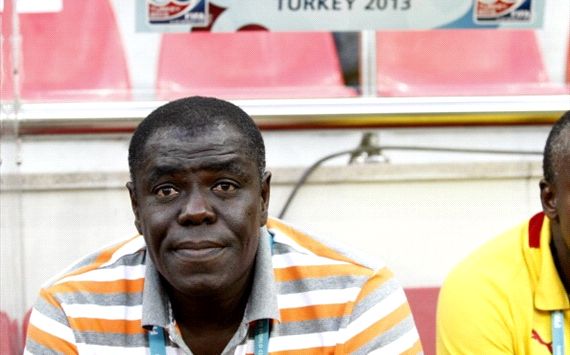 HOPE AMIDST DESPAIR |
The orange, white, and grey shirt can still give us bronze
While not taking anything from a man whose technical nous and man-management is rivaled by few at youth-level football, Tetteh appears a deeply religious and philosophical fellow who would, on face value, give a lot of attention to omens, much like former Manchester United star Gary Neville who never changed football boots and aftershave whenever results were going his team's way. Either that, or he probably received some timely spiritually-motivated wardrobe tips from his famous cleric friend, Nigerian TB Joshua (the one to whom Tetteh just fell short of ascribing his finest hour in 2009 for supposedly prompting and guiding certain key decisions he made en route that conquest).
Now a ticket to the 3rd/4th place decider at Turkey 2013 on Saturday has been secured, Tetteh would have but a few days to take his fancy Puma-branded shirt to the cleaners, mend it where it has grown loose through use, and starch it just fine for the occasion. All that, except perhaps he is some Johnny Bravo - the hunky Cartoon Network character with several pairs of the same set of clothing hanging inside his closet.
And then, perhaps, after the bronze is won, the shirt could be hanged inside one of our country's museums as a national treasure – never suggest those colours should replace Ghana's red, gold and green.
Follow Nana Frimpong on Twitter