COMMENT
By Seth Vertelney
There seems to be something of a consensus developing regarding
Robbie Rogers
's decision to come out of the closet and step away from football at the age of 25. That opinion can best be described as: "Yeah, but..."
Robbie Rogers is so brave for revealing who he truly is.
Yeah, but why is he retiring?
Robbie Rogers coming out is a big step forward.
Yeah, but it would be even bigger if he kept playing.
Robbie Rogers is a hero for the gay rights movement.
Yeah, but why doesn't he want to be Jackie Robinson?
For those waiting for the first active, openly gay major professional athlete in the United States, Rogers stepping away is frustrating. At 25, he's clearly still talented enough to be a major factor for a MLS team. His presence as an openly gay soccer player could be monumental for the equal-rights cause.
But Robbie Rogers has already done enough. And Robbie Rogers doesn't owe us anything.
By coming out in a brave blog post on his website, the winger gave the United States soccer community a chance to respond to the major civil rights issue of our time. And respond they did, stars past and present declaring their support on Twitter.
And ultimately, that will be the biggest take-away from Rogers's announcement.
The 25-year-old exposed the attitude that many of American soccer's biggest names have towards him and the issue with which he is now synonymous. As Rogers came out, the American soccer culture also came out as one filled with tolerance and acceptance.
Though Rogers himself might not be Jackie Robinson, he may have aided in clearing the path for somebody who will be.
Imagine a hypothetical closeted gay player on the Vancouver Whitecaps reading this tweet from team captain Jay DeMerit: "#Courage #Conviction #Truth #Respect ... Proud of you @robbierogers."
And then this one from longtime goalkeeper Joe Cannon: "Sometime the biggest obstacles in life are the most personal. Well done Robbie Rogers for being so brave. Best wishes! #support"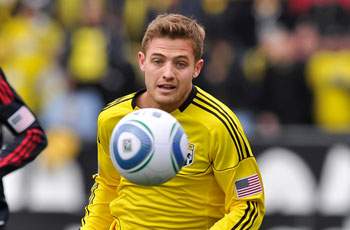 We aren't Robbie Rogers. If he wants to walk away and pursue another passion, who are we to judge him?

Will this inspire this player (or a player in any other team) to immediately come out? Maybe not, but Rogers was able to turn a mirror on the attitude of many associated with American soccer and the reflection bodes well for the future of this issue.
It's important for us to consider the person at the center of this maelstrom. Though he didn't specifically use the word "retire" or "retirement", Rogers seems to be firm in his decision to not play football anymore. "I will always be thankful for my career" is a telling line from his manifesto.
Rogers has just started a job at the UK edition of
Men's Health
magazine and had a strong interest in fashion during his playing days. Many people reading this article are intensely devoted to the beautiful game and would likely give up various body parts to be able to make a living playing the game that they love. To walk away at 25, healthy and with plenty left to give, seems almost sacrilegious.
But we aren't Robbie Rogers. We have to consider the possibility that he will get just as much, if not more enjoyment out of his new career than his old one. If he wants to walk away and pursue another passion, who are we to judge him? Not every professional athlete is obsessed with the sport they play. Some just happen to be really good at it.
Rogers did not make the giant leap forward that many would have hoped. But what he did do was take another step in the long, slow march towards equality.
That, in and of itself, is enough. And Rogers owes us nothing more.
Follow Seth Vertelney on