COMMENT
By Fernando Duarte
Just over two months ago, Corinthians' fans were being hailed for the passion and commitment they showed at the 2012 Fifa World Club Cup in Japan.
Fast forward little more than nine weeks however, and the side's supporters are now in the headlines for all the wrong reasons. The death of a Bolivian boy hit by a flare fired by one of the club's "faithful" during an away Copa Libertadores match against San Jose Oruro has landed the Brazilian powerhouse in deep trouble.
The tragedy has re-opened the discussion over what type of conditions footballers and watching supporters should have to put up with, and prompted some in South America to question whether Conmebol are doing enough to control the fine line between creating an intimidating atmosphere and something much more dangerous.
Certainly, the decision from Conmebol to punish the side by forcing them to play games behind closed doors and stopping fans from buying tickets for away games has been widely received as a positive step towards addressing the malaise that still affects football in South America.
However, it is not just Corinthians who flout the health and safety rules. The death of 14-year old Kevin Espada is a tragedy caused by multiple cuplrits – the supporters who smuggled flares into the Jesus Bermudez stadium, the authorities responsible for the lax job in spectator safety and even Conmebol themselves, for having waited until the death of a child to impose such sanctions.
Yet the Libertadores is still seen as a tournament that requires
cojones
to win. When South American players with experience on both sides of the Atlantic say that winning the tourmament is harder than prevailing in the Uefa Champions League, he is not paying a compliment to the quality of opposition. He is more often than not referring to the toughness of the conditions faced by participants, from playing in altitudes nearing 4,000 metres to the fact that some grounds would scare even old school English hooligans.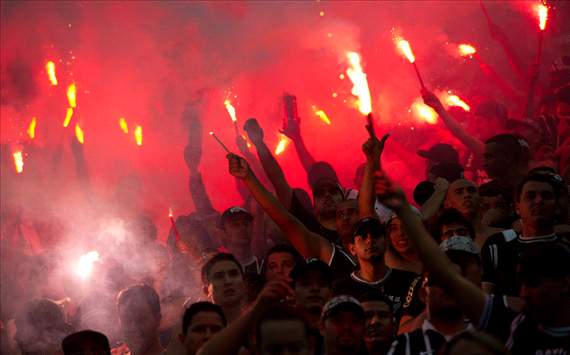 Brazilian Flare | Cortinthians' use of pyrotechnics has landed them in hot water
Although Conmebol has had some success in taming tempers and conditions at matches, South American football is still a disaster waiting to happen. To say that most grounds are inadequate is an understatement. Clubs must also raise their hands, especially those that maintain a more than cosy relationship with ultras and assorted 'organised' supporters who often receive subsidised travel and tickets to games.
And so, back to Corinthians. Not only are they the second-most popular side in Brazilian football (with around 30 million supporters, according to polls), but they can also claim to have the biggest organised group, the Hawks, with over 95,000 associates. Over 15,000
Corintianos
made the trip to the Far East last December and made themselves heard even at Chelsea's semi-final against Monterey - by heckling childhood supporter David Luiz while probably outnumbering English and Mexican spectators.
But they are also feared in Brazil having had countless battles with rival supporters. Last year, the Brazilian equivalent of the Crown Prosecution Service tried to outlaw the Hawks after they caused mayhem on the streets of Sao Paulo before a derby game against Palmeiras which resulted in the death of one of their supporters.
And it is by no means just
Corintianos
. Taking a corner kick at a Libertadores game can be a daunting experience for most away players given the amount of missiles that are likely to descend upon them, which invariably leads to riot police trying to shelter them with shields.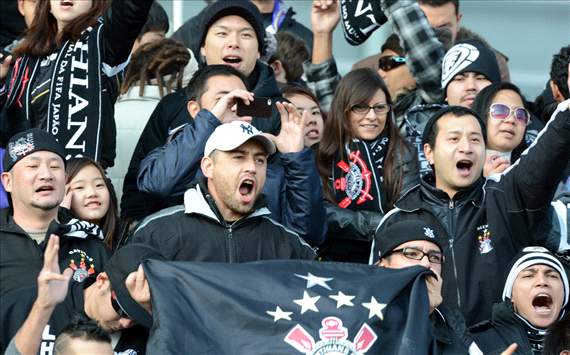 Dedication | Over 15,000 Corinthians fans travelled to support their side in Japan
South American crowd trouble off the pitch is also incited by Conmebol's leniency in dealing with trouble on it. Until last season, the Libertadores didn't even have a suspension system for the accumulation of yellow cards over a series of games. Scenes of players knocking seven bells out of each other are still common and thanks to the increasing popularity of the tournament, the world can now watch these events unfold.
Stadia are also generally uncomfortable for fans and footballers alike, with many grounds still in a pre-Taylor Report state. Indeed, it seems miraculous that something in the proportion of the Lima disaster (when over 300 people died after a riot during a Peru versus Argentina game) has not happened since 1964.
But the absence of large-scale casualties should not diminish the tragic events that surround Kevin Espada's death or stop concerns emerging over the way football is watched in South America - and in the Copa Libertadores in particular. And most of all, it must be hoped that the horror caused by the loss of a young man in his maiden trip to a football stadium will lead to some overdue soul-searching in the football stadiums that criss-cross the continent.