The date is set and now it's time for Tiger Street Football (TSF) to take over Cambodia.
Taking to the TSF pitch to battle for street football supremacy, players will pit their skills against each other under the watchful eyes of newest Tournament Ambassador, UEFA Club Footballer of the Year 2004 and UEFA Champions League winner with FC Porto and Barcelona, Deco – who has earned legendary status among his adoring fans with his dazzling midfield displays.
"It is a great honour for me to be this year's Tiger Street Football Ambassador. There is so much football talent in Asia, and I look forward to contributing to this tournament that enables aspiring players to showcase and develop their skills, while at the same time providing experience and technique for them," he enthused.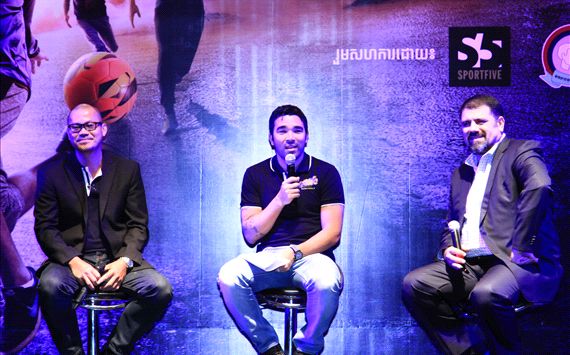 Deco unveiled as the new Tiger Street Football ambassador.

Following a revamped TSF format which will introduce the all-new uncaged and increased in size pitch to enable more creative play, the region's eight best street football teams will also have to battle in three locations for the ultimate Grand Champion prize of USD40,000. The teams will comprise of the finest two street football teams from Cambodia, Mongolia and Singapore, plus one team from Australia and 2013 Tiger Street Football Defending Champions, Dat Vinh Tien from Vietnam.
Hosts Cambodia will be well represented by Anachak Baitong and Daniel FC, already won the top two positions during the Cambodian Tiger Street Football Qualifers held earlier in the year on 30 March 2014 after a fierce battle between the 32 best teams from Phnom Penh, Siem Reap, Sihanoukville and Battambang provinces.
The tournament kicks off in Phnom Penh, Cambodia on 9th August, followed by Ulaanbaatar, Mongolia on 23rd August, and culminates in the Grand Finals in Singapore on 6th September 2014.
Tiger Street Football will be broadcasted 'live' across the region on FOX SPORTS and Hang Meas HD TV from 5pm to 7 pm. Also for the very first time, live streaming of each leg will be made available from the event site www.UNCAGEFOOTBALL.com.