On Thursday night, Warriors FC looked set for victory over Tampines Rovers. But a last-gasp equaliser from the Stags saw them salvage a 3-3 draw, as the visitors left Clementi Stadium with a point despite having held a two-goal lead at the break.
The following afternoon, this reporter is sitting opposite Alex Weaver in the club's office at Choa Chu Kang Stadium as the Warriors coach tells of his disappointment at not coming away with the win amidst an interview about his tenure at the uniformed giants so far.
"Tampines came back really well in the second half but we'd put ourselves in a really good position with a goal in the last minute," he laments. "We could have done more and the players are disappointed that we haven't done more; we've been in positions where we've could have done more [this season] and last night was a classic example."
But Weaver then emphasises how far the club has come already in comparison with the past two years. The Englishman has a fair point, as the Warriors sit second in the S.League after the first round of 11 games with 21 points. At the same stage last year, they only had 11.
Then, the club was under predecessor V. Selvaraj, who was handed the reins following the departure of Richard Bok the season before. The former Singapore international resigned in mid-June with the Warriors second from bottom in the league. Weaver was appointed and subsequently guided them to a more respectable seventh-place finish - the same position they attained in 2012. Those were the only two times the Warriors have ended out of the top four in the league's 18 years of existence.
For a club that has won the S.League a record eight times, it was quite the fall from grace. It is hard to fathom the Warriors faltering that badly again though, with Weaver appearing to have steadied the ship in his first full campaign.

Structure and fluidity

The 37-year-old Englishman with the closely-cropped hair focused on improving the defensive aspect of a side that leaked 38 goals last season, aiming for a solid structure where players were defensively sound and aggressive all over the pitch. It worked: for the first nine games, only eight goals were conceded.
But Weaver also likes his team to be "very positive and very attacking" as part of his playing philosophy, which can be seen with the flowing, fluid offensive quartet of Miroslav Pejic, Nicolas Velez (pictured), Hafiz Rahim and Shi Jiayi (sometimes Irwan Shah).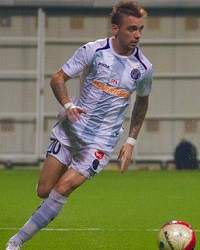 "I sum it up really with the saying called 'fluidity within structure'," he explains. "You have to be disciplined when you play but I also like to see that creativity, that fluidity; so you look at the Warriors team now, we have strength physically and in character."
A work-hard, but also work-smart ethic is another main component in Weaver's style, which is influenced in part by Dutch and Spanish football.

"You look at English football, there's a lot of blood and guts and running around but you look at the national team; they play in international tournaments and they are quite a way off," he points out.
Midfielder Thomas Beattie says the players appreciate their coach's thorough preparation and planning, as well as how they can approach him without reservations.
"He's very organised and methodical," he told Goal Singapore. "The boys know how much he cares for us as individuals and as a team. He's created a culture where players can give him feedback and feel like they can be open."
Supportive management

Weaver praises the "excellent" squad he has assembled this season, saying the players are exactly what he has expected. To that end, he is grateful to the Warriors management for working hard to help him achieve that.
"I've had a lot of quiet support from the management, they've allowed me to do my job and that in itself is huge for a coach," he asserts. "It creates an environment that is easy to work in, so the management owes a lot of credit for doing that simple thing."
It is a contrast to his spell at Hougang United, the first S.League club he took charge of at the beginning of last season. After one win in their first six games, Weaver was removed from coaching duties and reduced to watching on from the stands. He eventually left to join the Warriors a couple of months later.
"I was surprised to experience some of the things that I did at Hougang," he admits. "It was a very difficult time."
Weaver first observed the Warriors players before speaking to them individually, and he could sense that they were craving for change. This made things easier as he was initially a little cautious after his experience with the Cheetahs, where he was not able to put in place the ideas he wanted to.
"It sort of took the pressure off me, really," he says.
Coaching journey
Weaver's confidence in his own coaching abilities stems from his vast experience in the industry. It started when he was 17 and his college physical education teacher encouraged him to sign up for a course at a careers meeting.
"I had a lot of bad experiences of coaches in training [as a semi-professional player]," he recalls. "I sort of fell out of football a little bit because of it, I guess.
"But then I went back because I made a conscious effort to coach; I was thinking that there has to be a lot more to the game than than just kick and run... So that's what got me into coaching, really."
Weaver started coaching youths and obtained his Uefa "A" licence while he was at Stoke City's academy in 2003. He moved on to Manchester United Soccer Schools, spending six years in different parts of the world, followed by a spell in the United States.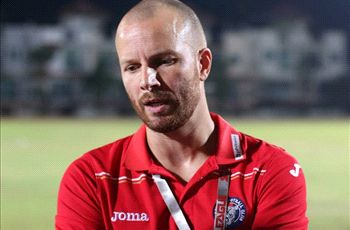 He has worked with former Manchester United coach Rene Meulensteen - a "fantastic" experience - and holds his mentor Dick Bate, former English Football Association (FA) technical director and now Cardiff City's academy manager, in high regard.
Still relatively young in terms of coaching, he recently obtained the FA Elite Coaches Award, which is equivalent to the Uefa Pro Licence. In July 2012, wanting to experience coaching in a different part of the world, Weaver then arrived in Singapore.

Local football

So what does he think of Singapore football? For starters, Weaver firmly believes local players are good enough to play in Europe's lower leagues, naming Baihakki Khaizan, Shahril Ishak, Hariss Harun and even Hafiz Rahim as examples.
"There is a lot of emphasis on foreign players having to set the standards etc.; why can't the local players do that?" he questions. "Why haven't we got local players setting their sights on being the next Fandi Ahmad? We have to believe that Singapore can produce players who can do that. I just think it's a bit of mental obstacle, a block that players have to get over.
"It's about opportunity as well; we need agents to work hard and try to do something to break the stereotype of Singapore or Southeast Asian players [not being good enough]."
Additionally, Weaver feels that S.League clubs could do with a more "curious" mindset by stepping out of their comfort zone to learn from clubs in other parts of the world in terms of management, administration, coaching and dealing with players.
"If we always do what we have always done in Singapore, we are not going to improve," he says matter-of-factly.
Current plans, future aims

For now, Weaver is concentrating his energies on helping the Warriors build on what they have achieved this year as they seek to return to the pinnacle of Singapore football, with an eye on the region.
"My target for the players is to develop a mindset of always wanting to get better and therefore, you always have realistic goals and targets," he elaborates. "You look at the players we have right now and the performances we've put in; on our day, we can beat any team. It's just a matter of being consistent.

"So we are really pleased with where we are right now but there's so much more to come from this team because we are developing and relatively new.
"I'd love to be able to help this club win the S.League, win a cup, get them back into Asia, and do well in Asia."
Weaver is not sure about the future career-wise, but he is delighted with how things are going professionally at the moment, with his family happily settled into life here as well.
"I love Singapore, my wife loves Singapore and so if I achieve those professional goals with the Warriors, then who knows, I might sort of have a long stay here," he concludes.
It's nearing Friday evening as the interview ends, which means a night out with the family for Weaver later. But there's still work to be done before that. As this reporter leaves, he sees the coach walk back to his desk, sit down to his laptop and continue charting his plans to restore the Warriors to their former glories.