Club: Sydney FC
Position: Forward/playmaker
Age: 39
Appearances: 23 (1)
Goals: 10
Assists: 6
What we think:
Del Piero earned 25 votes from our match reporters throughout the regular season, and also impressed in Sydney's elimination final defeat away to Melbourne Victory. Despite his advancing years and almost non-existent pace he was one of the Sky Blues' most consistent presences, making more appearances (23) than any other attacker. Only Ali Abbas, Nikola Petkovic and Vedran Janjetovic, three of Sydney's best players in 2013-14, spent more time on the field.
To illustrate his importance to the team (and perhaps their dependence on or deference to him), the veteran Italian had more shots, scored more goals, provided more assists, took more touches, attempted more crosses and won more fouls than any other Sydney player. Only Thomas Broich and Carlos Hernandez provided more assists than Del Piero, while those two star playmakers and Mate Dugandzic were the only players to create more chances than the former Juventus man.
As a FIFA World Cup, Serie A and UEFA Champions League winner, Del Piero's commercial importance to the competition cannot be understated. Aside from qualifying for three successive World Cups and the launch of the A-League itself, 'Ale' is arguably the most important thing to ever happen to Australian football. He will be missed.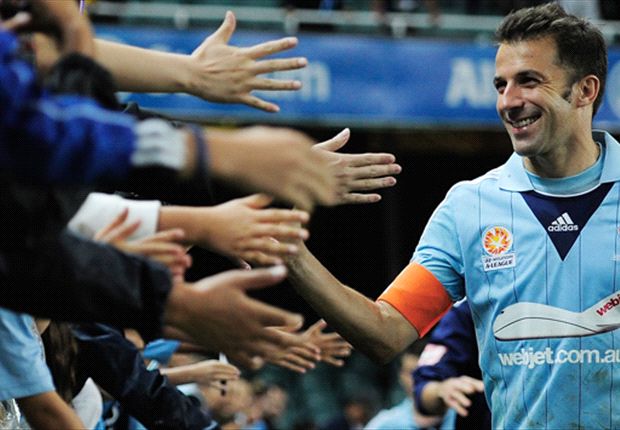 Saying goobye | ADP interacts with the Allianz crowd
What they said:
Sky Blues centre-back Sasa Ognenovski, a candidate to inherit the armband next season, summed it up when he told the FFA website just how hard it will be to fill the void left by Del Piero.
"The next guy that comes in is going to have his work cut out to match what Alessandro has done."
"The influence he had on the team and when he was on song he was unstoppable. Even if he was having a bit of an off day he could still produce one pass that could change the game.
"The next guy that comes in is going to have a big burden to shoulder just because of (Del Piero's) legacy at the club."
Did you know?
Del Piero is Juventus' most capped player and all-time leading goal-scorer. Will anybody ever better his record of 290 goals in 705 appearances?