EXCLUSIVE
Peter Davis
Frederic Kanoute retired from football last week, following Beijing Guoan's spirited 6-3 away defeat to AFC Champions League winners Guangzhou Evergrande.
The result saw the Beijing side exit the Chinese FA Cup at the semi-final stage but, more significantly, end the terrific career of Kanoute himself.
Kanoute has been an important influence in his two-year China spell, his two Uefa Cups, two Copa del Rey trophies and African Footballer of the Year wins, just to name a few, brought an air of experience to the capital side.
Talking with Goal just days before his departure from Beijing, the 36-year-old Kanoute reflected on the last move of a career that saw him turn out for Lyon, West Ham United, Tottenham Hotspur, Sevilla and Guoan.
"There was a big chance this would be my last station in football because of my age and because I was leaving Europe, which is the highest level of football, and I was just trying to find the best place to end my career and that's why I came here," he explained.
"Now, it's over."
Kanoute struggled in his first 10 games in China but nine goals in 24 games during the 2013 Chinese Super League season helped Guoan to a third-placed finish and the last 16 of the AFC Champions League.
"I wanted to stop when I can still deliver the kind of performances I want to give and the fans still see me the way I would like them to see me," he said.
"This is not just about football but it's also about your family, what you want to do in life and if you have other projects."
With Dario Conca also departing Chinese football, some media outlets have been quick to dismiss Chinese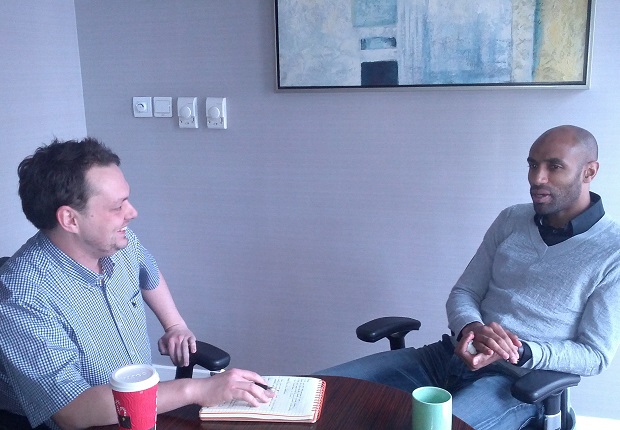 football as an easy ride. That is an idea Kanoute is keen to dispel.
"It's difficult [playing in China] and more so than people expect because it's a game you play with 11 players, you cannot do it all yourself and you cannot play the game just the way you want to," he asserted.
"You have to adjust to a bunch of people, the way they are playing, their culture and a lot of things on and off the pitch. The key is the ability of each person to adapt and to adjust to the way they play in China.
"If you come from Europe thinking you are the best player and that everyone needs to adjust to you then you will lose because you are 10 or 20 against 1 and you won't gain anyone's respect."
2013 saw Kanoute adapt his game to support attacking players like Peter Utaka and Joffre Guerron, who scored 10 and 11 goals each respectively for Guoan. Playing the supporting role was certainly something Kanoute was comfortable with and has been since his trophy-winning time in Spain.
"I didn't come to China to say I would score all the goals and I have not always played a typical striker's role; even when I was at Sevilla I was playing a little bit behind with [Luis] Fabiano and I was seeing more of the ball and participating more in the playmaking of the game," he recalled.
When asked which Chinese player at Beijing Guoan could make the big step to Europe, Kanoute was quick to praise 22-year-old attacking midfielder Zhang Xizhe, who has recently been linked to Scottish Premier League side Celtic.
"Talking about quality, intelligence and understanding of the game, Zhang Xizhe is a clever guy and when I was playing with him, even though I don't speak good Chinese and he doesn't speak my language either, we could understand each other very easily; he has that natural ability," Kanoute praised.
Keen to move into football academies now that his career has ended, Kanoute points to China as a country that really needs to develop its own ideals to encourage youth, something that is not wholly solved by money.
"You have to work on the base with youth, with academies and rethinking the process of training kids which is a long process," he said.
"It's not because you invite Beckham or if you have a few famous players, it's about the kids too and it's important that they aren't playing on a Playstation or something like that, they need to get out and play football in the streets."
Frederic Kanoute discusses Africa's influence on him and politics in part two of this exclusive interview on Goal.
Beijing-based Peter Davis has followed Chinese football since 2008 and is a regular contributor to the popular Chinese football blog Wild East Football. Follow him on Twitter at @peteydavis