The veteran ex-Singapore international was in capital Phnom Penh for a brief visit and gave his take on the sport's development in the Southeast Asian nation
Former Singapore striker Aleksandar Duric believes football development in Cambodia is on the right track and things are looking good for them.
The Tampines Rovers forward
flew in to capital Phnom Penh last week
at the invitation of local gaming and entertainment giant NagaWorld to pass on his vast experience and football know-how to Cambodian footballers.
Duric dropped in on the country's Under-19 footballers, local team Phnom Penh Crown's Academy and players from Naga Corp.
The 43-year-old was impressed with what he saw, noting modern facilities like an artificial pitch, which he believes is an indication of a "bright future" for Cambodia, who have always been regarded as footballing minnows in the region.
"It is my first time here in Cambodia and I think it's great to see these young boys training together," Duric told Phnom Penh-based online news,
Thmey Thmey News.
"I think some of them will definitely be the future of Cambodian football. For myself, I enjoyed training with them today very much and I gave them some tips. Looking at them, I think definitely Cambodia football have a bright future.
"I think there are probably a few countries in which football wasn't that big [before], but now I think it's going really fast [in Cambodia] and if they progress like they are doing now, if they train properly, and with the boys probably more professional than before, it's definitely looking good for Cambodia's future."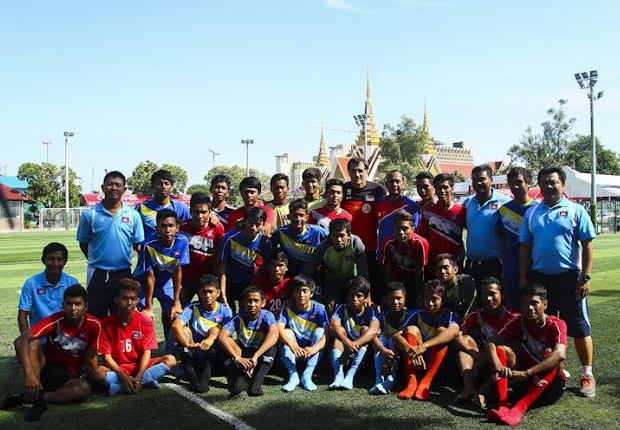 Duric warned that staying focused would be key to these youngsters' chances of making it to the top, but believes that what is needed to help them succeed is already in place.
"They have a good coach, an assistant coach and the set up is perfect," he pointed out.

"I didn't have this when I was younger so you can see that there's improvement and that is good. You must have equipment, a field etc and I can see that there's everything, so it's really good."
The Bosnian-born player also emphasised that investment in the sport is key to ensure future success.
"You can see already there's lot of involvement in companies, who are backing the football here and that's what you need, you need money," Duric explained.
"Don't forget that football is the only sport that can unite a country. I'm sure many Cambodians, like many other countries, are patriotic when their team plays. It's a good opportunity for companies to invest, and also for the future generation; you need investment so they have better opportunities to learn and train."
Duric, who confirmed his retirement at the end of next season earlier this month to Goal, is looking forward to his next step in life: coaching.
"I am going to get my professional [coaching] license by next year and I am looking forward to a new chapter in my life," he said.
"That will be staying in football and trying to coach, trying to give the younger generation some experience not only in football but in life. They think once they step onto the football pitch they are already stars, but they are far away from being stars."
With football's biggest tournament looming next year, Duric also gave his take on the 32 contenders in Brazil.

"My team, which I follow every World Cup, is Italy but because my country where I was born is Bosnia and it will be their first World Cup, so I have to say yes (to supporting them)," he responded when asked about who he will be backing.
"The favorites will definitely be South American teams like Brazil and Argentina (because of home advantage) and the final I can probably see Brazil and Germany in it, so that's my prediction."
With a long and illustrious career behind him, Duric is the perfect example to young boys who want to make their mark, and he is more than happy to do so on this trip.
"I am really happy to be brought here to share some of my experience with these young boys and hopefully they will see me as some role model for them to work hard and to become professional, big players in Southeast Asia," he concluded.