Manchester United Soccer Schools (MUSS) has announced its new course in Kuala Lumpur will start on November 29 focusing on the specific techniques of Manchester United's dynamic trio of strikers.
The 'Make it Count' player development course will teach youngsters how to perfect football techniques mastered by the likes of Rooney, Hernandez and Van Persie, whose goals fired United to their 20th English league title last season. The course lasts for three days and is open to boys and girls aged between seven and 16.
Andy Dixon, head coach of MUSS in South East Asia, said: "Manchester United has a proud history of playing exciting and attacking football and we have witnessed some incredible goals already this season. All players, no matter what their age, enjoy scoring goals and this new course will teach the techniques demonstrated by these three world class strikers.
"The feedback and response from parents and children who attended our previous course in Kuala Lumpur has been fantastic and we are very much looking forward to another exciting and successful course in November", added Dixon.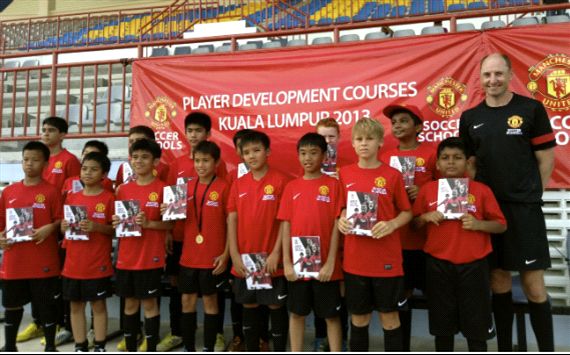 The course will teach children how to score goals like a Red Devil.
All children enrolled will take part in the MUSS series of skills challenges. The top performers will be selected to participate in the MUSS South East Asia Skills Final where the winner will receive an all-expenses paid trip to Manchester to compete in the MUSS World Skills Final at Manchester United's Aon Training Complex, as well as the world-famous Old Trafford stadium, in October 2014.
Featuring on-field coaching by certified MUSS coaches from the UK, each course costs MYR1,250.00 per child and includes an exclusive Nike Manchester United Soccer Schools training kit, giveaway pack, player evaluation and certificate. Courses will take place at TNB Sports Complex, Bangsar, Kuala Lumpur.
One of the most respected soccer schools in the world, MUSS has been conducting seasonal courses to SEA children in Singapore, Indonesia, Malaysia and the Philippines since 2008 and as of 2013, now delivers year-round programmes in Singapore. To learn more about the MUSS programmes in Malaysia, call +6019 214 1270 or send an email to enquiries@muss-sea.com. For online registration, visit www.oneunitedasia.com.