| | | | |
| --- | --- | --- | --- |
| VEGALTA SENDAI | 1 | 1 | BURIRAM UNITED |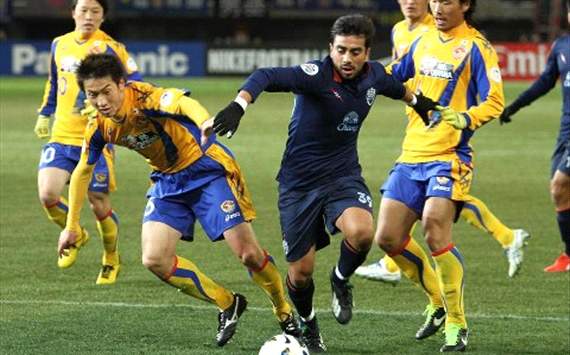 FEB 26, 7:00PM
SENDAI STADIUM

BURIRAM'S OSMAR ATONES FOR PK

Buriram United may have taken just one point but they deservedly felt like winners after drawing with hosts Vegalta Sendai. On a chilly night at Sendai Stadium both sides had trouble establishing a rhythm; Vegalta strikers Yuki Muto and Shingo Akamine had their share of missed chances while United's front combination of Ramses Bustos and Kai Hirano did not shy away from physical encounters.
After a scoreless second half, Buriram left back Osmar committed a handball in the box which led to a penalty kick by Vegalta captain Ryang Yong-Gi. But Vegalta was unable to expand their lead, and the Spaniard did not hesitate to put his team back in the game with a header off Theerathon Bunmathan's service in the 76th minute. The visitors were more than happy to settle for honours even, and Vegalta hardly seemed pressured to challenge in the remaining 15 minutes of play.
| | | | |
| --- | --- | --- | --- |
| FC SEOUL | 5 | 1 | JIANGSU SAINTY |
FEB 26, 7:30PM
SEOUL STADIUM

VISITORS GET HARSH WELCOME TO ASIA

The away team did not do nearly as well in Group E's second match, as Jiangsu Sainty were thoroughly demolished in their first Asian showdown against FC Seoul. The hosts got off to a quick start with a goal by Dejan Damjanovic in the 9th minute, followed by Yun Il-Lok's brace on either side of half-time.
Sainty wasted several set-play opportunities in the first half, much to the disappointment of their dedicated travelling support. After Damjanovic completed his own double on the hour mark, Hamdi Salihi's consolation goal in the 80th minute gave the CSL underdogs a bit of hope before Mauricio Molina made it 5-1 with minutes to go in regulation. With superior statistics in the possession and shooting categories, the South Koreans clearly established themselves as the team to beat in the group.
| | | | |
| --- | --- | --- | --- |
| GUANGZHOU EVERGRANDE | 3 | 0 | URAWA REDS |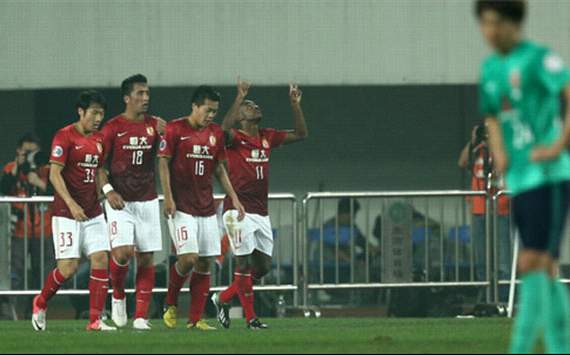 FEB 26, 8:00PM
TIANHE STADIUM

TIGERS MAUL UNPOLISHED DIAMONDS

Playing in unfamiliar green third uniforms, Reds players seemed equally unfamiliar with each other as they sustained a 3-0 thrashing courtesy of hosts Evergrande at a packed Tianhe Stadium. The 2007 ACL champions' three-back line were woefully ineffective against Guangzhou's trio of foreigners, who seemed able to bring the ball into the final third at will.
The hosts needed just 16 minutes to open their account, with Muriqui shredding the Reds defenders will a brilliant demonstration of skill before passing the ball to a waiting Lucas Barrios who summarily stuffed the ball into the net. The visibly frustrated visitors made several forays into the Evergrande end but were rarely able to mount a consistent attack.
After a first half that mercifully ended with just one goal, it was Muriqui who struck again in the 66th minute following a clever bout of pass-exchanging with team-mate Rong Hao. Reds had little wind left in their sails despite the introduction of off-season acquisition Kunimitsu Sekiguchi and rookie Toyofumi Sakano, and it was midfielder Keita Suzuki whose poor clearance resulted in an embarrassing extra-time own goal to seal three points for the Chinese Super League holders.
| | | | |
| --- | --- | --- | --- |
| MUANGTHONG UNITED | 2 | 2 | JEONBUK MOTORS |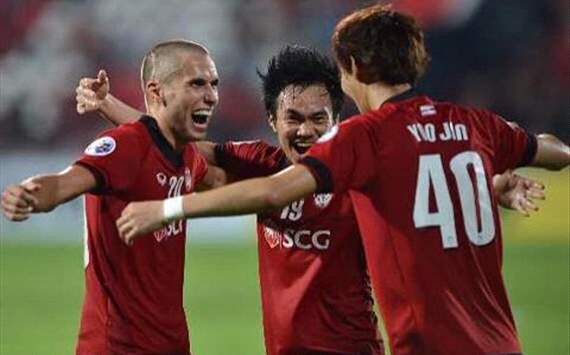 FEB 26, 7:00PM
THUNDERDOME STADIUM

THAI CHAMPS GIFTED LATE OWN GOAL

The final match of the night took place at Thunderdome Stadium, where Muangthong United will consider themselves very lucky to take a point away from their 2-2 draw with Jeonbuk Motors. The hosts were thrown into trouble early on after Seo Sang-Min drew a sixth-minute penalty converted by veteran striker Lee Dong-Gook.
Satisfied to attack on the counter, United entered the game slowly but pressured the 2011 ACL runners-up several times through Mario Djurovski's set pieces. They found their equaliser on the penalty spot after Teerasil Dangda was brought down; Djurovski tapped the ball past Jeonbuk keeper Choi Eun-Seong to send both sides into the locker room deadlocked.
After a half-hour of even play, Jeonbuk's Kevin Oris headed home his debut goal for the club to give the visitors a 2-1 advantage. But their celebrations would not last forever; a late United corner kick was deflected off of Jeonbuk striker Jyung Hyuk to give his own debut a sour note.