With the continent's top tournament kicking off in four countries, here's our run-down of tonight's action.
All times local
| | |
| --- | --- |
| VEGALTA SENDAI | BURIRAM UNITED |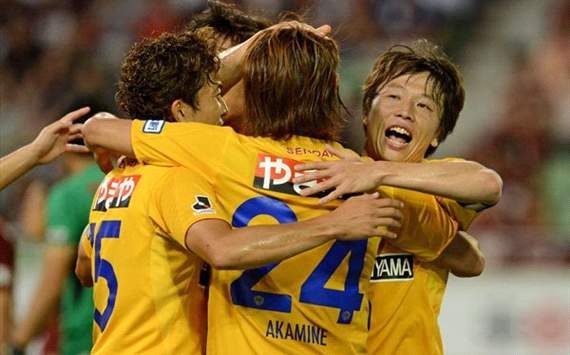 FEB 26, 7:00PM
SENDAI STADIUM

PROBABLE LINE-UPS

VEGALTA SENDAI Hayashi
Tamura, Watanabe, Ishikawa, Hachisuka
Tomita, Kakuda, Sasaki, Ryang
Wilson, Akamine


BURIRAM UNITED Sivaruck
Suree, Pratum, Osmar, Theeraton
Anawin, Charyl, Surat, Anthony
Hirano, Bustos
In their maiden ACL match, Vegalta Sendai will host Thai qualifiers Buriram United. The hosts have looked to improve their passing in the off-season with a training match against 2012 champions Ulsan Hyundai yielding promising results. Training for this match has been hampered by snowfall, with Buriram's training session cancelled as a result of the weather.
"We don't want to play in the snow," manager Makoto Teguramori told reporters, "but our mental attitude will give us the advantage."
Meanwhile, the Thunder Castle played in a charity match against Muangthong United shortly before coming to Japan and are looking to be in good physical fitness. For a team unfamiliar with playing in the snow, it will almost certainly be tough goings, but coach Attaphol Buspakom is already familiar with Vegalta having faced them one year ago in Thailand.
"Last year we felt that they had a lot of strong players," he said in Sendai. "And this time we'll have to try even harder to win."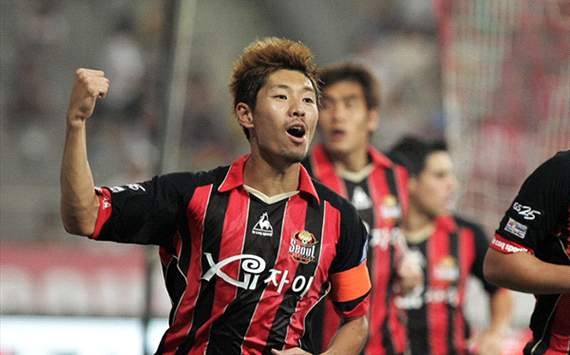 FEB 26, 7:30PM
SEOUL STADIUM

PROBABLE LINE-UPS

FC SEOUL Kim Yongdae
Adi, Kim Jinkyu, Kim Jooyoung, Koh yohan
Choi Hyuntae, Hah Daesung, Koh Myungjin
Molina, Dejan, Choi Taewook



JIANGSU SAINTY Deng Xiaofei
Ren Hang, Eleílson,Kamoliddin Tajiev, Zhou Yun
Ji Xiang, Lu Bofei, Liu Jianye, Lu Bofei, Sun Ke
Aleksandar Jevtic
After winning the 2012 K-League, Seoul manager Choi Yong-Soo adopted the mantra of 'if it's broke, don't fix it' in refraining from any major off-season transfers. Well-versed in Jiangsu's strengths as a team, he will be looking to get off to a good start as Seoul look to capture their first ACL title.
"Jiangsu became much more organized after [manager Dragan] Okuka came," Choi explained on Monday. "They only lost four matches in 30; it means they're good at defence and counter-attacking. I want FC Seoul to play a good match against a quality team at our home ground."
Opposing coach Okuka has also done his homework, pointing out Molina and Hah Dae-sung as threats. Jiangsu will have to survive without striker Cristian Danalache after a severe injury, and as a result Aleksandar Jevtic may have to play up top as the lone forward.
| | |
| --- | --- |
| GUANGZHOU EVERGRANDE | URAWA REDS |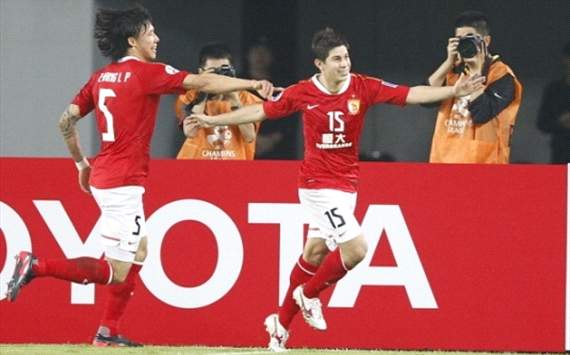 FEB 26, 8:00PM
TIANHE STADIUM

PROBABLE LINE-UPS

GUANGZHOU EVERGRANDE Zeng Cheng
Sun Xiang,Kim Young-Gwon, Zhang Linpeng, Rong Hao
Huang Bowen, Qin Sheng, Zheng Zhi
Muriqui, Barrios, Conca



URAWA REDS Kato
Moriwaki, Nagata, Makino
Abe, Suzuki, Umesaki, Ugajin,
Kashiwagi, Marcio Richardes
Haraguchi
The most explosive encounter of Tuesday night will be at Tianhe Stadium where CSL champions Guangzhou Evergrande host Urawa Reds. Evergrande acquitted themselves well against Japanese teams in the 2012 ACL, winning twice and drawing once in three matches. They will be without Chinese international Zhao Xuri due to injury.
"[Manager Marcelo] Lippi hasn't told us how to play against Reds," striker Gao Lin told reporters. "In a way that's his strategy so that follow his instructions. They're a quality side, but we're playing at home and I don't think any team can be confident enough to beat us."
In addition to a roster that includes Samurai Blue international Tomoaki Makino and veteran Yuki Abe, Reds will be bringing around 700 travelling supporters. As many as 10,000 police are expected to be mobilized at the stadium as a result of the tense relations between Japan and China.
"I've heard about Urawa's 2007 ACL title," Abe told reporters, "but that's old news. We want to start as a new Urawa Reds. We'll do our best as representatives of Japan."
| | |
| --- | --- |
| MUANGTHONG UNITED | JEONBUK MOTORS |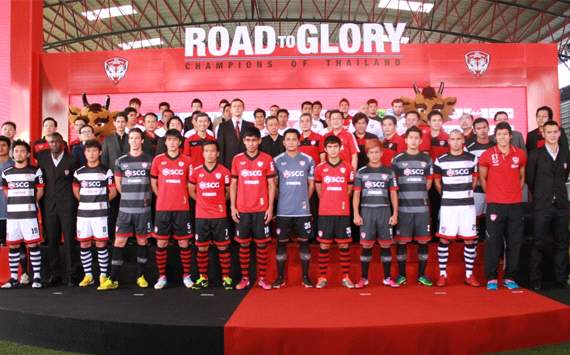 FEB 26, 7:00PM
THUNDERDOME STADIUM

PROBABLE LINE-UPS

MUANGTHONG UNITED Veera
Bantao, Kim Yoo-Jin, Panupong, Mongkol
Jakkraphan, Datsakorn, Pichitphong, Gjurovski
Teerasil, Linz


JEONBUK MOTORS Kwon Suntae
Park Wonjae, Jung Inhwan, Lim Yoohwan, Lee Kyuro
Kim Jungwoo, Jung Hyuk; Eninho, Lee Seungki
Lee Donggook, Kevin
Last year's undefeated Thai champions are also making their ACL debut this evening, and are lucky to be able to host the first match. But the recent loss of Kawin Thamasatchan due to injury leaves United hurting at goalkeeper. The Teerasil Dangda-led side have played against several Asian sides this off-season to prepare themselves for the rigours of continental competition.
Opposing Jeonbuk Motors have had a busy off-season with the signings of internationals Lee Seung-Ki and Jung In-Hwan especially notable. The 2011 ACL runners-up are looking to take the last step this season, and interim coach Fabio has stressed the need to start strong without conceding any goals.
"We have signed many quality players this winter," Fabio said in his pre-match press conference, "But I don't expect only one or two players to perform well; our overall attacking power has been upgraded.
"I'm not focusing on how many goals we can score, but how many points we can get."