SPECIAL REPORT
By Greg Stobart
Manuel Pellegrini will, at some point on Wednesday night, glance across the touchline and see Pep Guardiola organising the Bayern Munich players. The Chilean will know that, had Manchester City's executives got their way, the Spaniard would be in charge of the home team for the Champions League clash at the Etihad Stadium.
Guardiola was wooed and pursued, wined and dined, at least to some extent, by a number of Europe's leading clubs during his sabbatical last season, including Manchester United and Chelsea.
Yet in the end, it essentially came down to a straight choice between City and Bayern Munich.
VIEW FROM SPAIN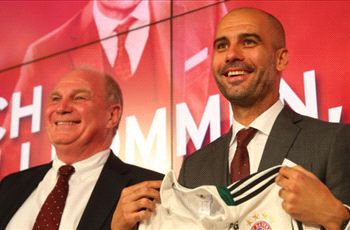 By Pilar Suarez
According to various reports in Germany and Spain, it was Pep who made the first move towards taking over at Bayern back on July 26, 2011, when he was still in charge of Barcelona.

Karl-Heinz Rummenigge and Uli Hoeness were seated at the VIP restaurant in the Allianz Arena, when Pep arrived and took a seat alone at another table. Rummenigge approached Guardiola and the Spaniard said: "May I speak with you both?" The three of them ordered coffee and Guardiola added: "Your philosophy is very interesting. I can imagine myself training Bayern."

He wrote his phone number on a piece of paper and gave it to Rummenigge before leaving the room. After that, he told his brother and agent Pere: "I've given my number to Rummenigge, I think he will call me."

Later, Pere Guardiola called Giovanni Branchini, one of the most famous agents in Italy, and told him to make Bayern aware of his brother's interest. In the autumn of 2011, Pep told Sandro Rosell that he may not renew his contract with Barcelona. In January 2012, Branchini met with Rummenigge and told him about Pep's interest. Pere wanted to move his brother to the Premier League, particularly to Manchester City, but Pep was focused only on Bayern by this point; his mind was made up.

In November 2012, Pep called Rummenigge from New York and told him: "I want to train Bayern." The following month, Hoeness took a flight to New York and presented Guardiola with his contract.

Why did Pep prefer Bayern to City? Because he was in love with the philosophy of the team and believed he would only have to make two or three modifications to achieve perfection.
While Bayern were willing to ruthlessly oust Jupp Heynckes to bring in the most sought after coach in world football, City tried to play their game behind the scenes, refusing to make a definitive decision on the future of existing manager Roberto Mancini.
Guardiola now brings the Champions League holders to the Etihad Stadium knowing he could have been tasked with improving the English club's dire record in two seasons in the competition during which they have failed to progress from the group stages.
Bayern were the club who made the move for Guardiola and saw the Spaniard as the man to build on recent success and build a dynasty, to dominate domestically and in Europe.
It was the same brief that City's Abu Dhabi owners have given the club's hierarchy. City's power brokers, chief executive Ferran Soriano and director of football Txiki Begiristain, have made a shrewd appointment in Pellegrini, especially given his excellent record in Europe in comparison with Mancini.
But Pellegrini does not have the reputation or the proven track record to even compare with Guardiola, who won 14 trophies in four years in charge at Camp Nou after being appointed by Soriano and Begiristain.
The three enjoyed a close relationship at Barcelona - especially Begiristain and Guardiola - and held several informal conversations about the former midfielder taking over at City and how they could achieve success while pursuing the parallel target of a self-sustainable business model with focus on the Academy.
City could afford Guardiola's wage demands with little trouble and the man himself spoke of his desire to coach in the Premier League and experience a new culture.
But in their first season in Manchester, the two Spaniards in the City boardroom were eager to appear sensible and cool-headed in relation to Mancini.
The Italian had, of course, just won City their first title in 44 years and was popular with the club's supporters, but his days were numbered following the executive appointments and he knew it, despite just signing a five-year contract.
They ended up with a messy divorce as they failed woefully to defend their league title and lost the FA Cup final to soon-to-be-relegated Wigan, while the dissenting noises about Mancini's management style reached deafening volume.
By that point, the game was already up and Mancini had to face the humiliation of answering questions about Pellegrini's proposed appointment while he was still in charge of the club.
Had Soriano and Begiristain gone with their instincts and pulled the trigger earlier, they could have landed the man they really wanted and continued with their carbon copy of the Barcelona blueprint. A shift on the pitch has already begun under Pellegrini, with the La Masia-inspired Etihad Campus, opening next summer, designed to instill a new footballing philosophy at the club.
It is, after all, a long term project in east Manchester, and one in which the City power brokers can still privately foresee a significant role for Guardiola. They will be watching him and Bayern closely.
Tweet Owen Hargreaves!
Send your questions to former Bayern Munich and & Man City midfielder Owen Hargreaves via @Heineken using #sharethesofa on Wednesday evening
Pellegrini, a huge inspiration for the Bayern boss, will be able to implement the vision of Soriano and Begiristain at the club over the coming years but, aged 60, cementing a legacy will be difficult.
At the perpetual motion machine that is City, who are regenerating an entire area of Manchester, never mind just a football club, the outlook is decades ahead, not just a game at a time.
As such, although Guardiola will arrive at the Etihad Stadium on Wednesday the enemy, the club's kingmakers haven't finished with him yet. Manchester City and Pep Guardiola is one that won't go away.
Follow Greg Stobart on