COMMENT
By
Wayne Veysey
at Stamford Bridge
No player better exemplifies
Chelsea
's split personality than
David Luiz
: Ridiculously talented yet error-prone. Capable of rare brilliance but not entirely trustworthy.
This is the character of the modern Blues, whom some fans are comparing with Arsenal - and not in an entirely complimentary way.
Owner Roman Abramovich craves fantasy football but he also demands silverware. Every season.
DAVID THE GOLIATH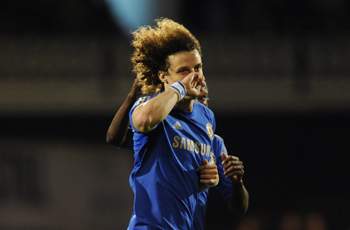 PLAYER RATING v BASEL






Perhaps did not boss the midfield as he had done in the first leg, particularly in the first half, but buried a magnificent 30-yard effort with his left foot to put the tie to bed.
FROM OUR LIVE! COMMENTARY


GOAL! Game over at Stamford Bridge as Chelsea get a third goal! Eden Hazard plays a lofted ball towards the 'D' of the penalty area for Frank Lampard. The crowd urge the midfielder to shoot but instead he lays the ball off for Luiz, who hits a remarkable left-footed strike into the top far corner. Impeccable finish.
He spent £90 million last summer, mostly on technically gifted attacking midfielders. Demba Ba was then signed from Newcastle in January to finish off the attacks created by the legion of exciting youngsters playing behind the centre-forward - Juan Mata, Eden Hazard, Ramires, Oscar, Victor Moses and the lesser-spotted Marko Marin.
Ostensibly, Luiz fits into the jigsaw as a ball-playing centre-back who can fashion attacks from a deep starting place. Yet, as a defender, his principal role is to stop the opposition from scoring goals.
He is getting pretty good at it, too. Physically strong, committed, dominant in the air and quick across the ground, Luiz has all the tools of the trade. His awareness and reading of the play has also improved substantially from his early days in English football, when Gary Neville famously described him as a "PlayStation player controlled by a 10-year-old".
Nonetheless, Luiz is as far removed from the traditional, heavy-limbed, uncompromising English-style centre-back as could be imagined.
There have not been too many of those who have scored match-winning free kicks in European semi-finals, dispatched 25-yard wonder goals with their 'wrong' foot or embarked on 60-yard dribbles upfield. All within the space of a few games. While playing out of position.
Exuberant and capable of the sheer unexpected, his Brazilian-ness seeps out of every pore. It is evident in his untamed bubble curls and an infectious personality which is said to make him one of the most extroverted and popular players at the club.
Rafael Benitez believes that Luiz has ironed out some of the flaws to his game over the last six months but the player still possesses an erratic and raw edge. A studs-up challenge on Philipp Degen earned him a yellow card in the first leg of the Basel semi and he would have missed the final had he been booked again in the return fixture.
What was notable about the former Benfica man's head-turning display in the home leg was that he started in central midfield for the third consecutive match.
It was a positional switch that Benitez briefly tried in December – and with some success – but was then abandoned as the Brazilian was restored to the defence.
Pressed into emergency action further afield following an injury to John Obi-Mikel and the return of Gary Cahill, Luiz has once again looked an assured figure in midfield, capable of controlling a game as well as seizing and shaping it.
His technical gifts, wide passing range and ball-striking make him a valuable creator and finisher, as he demonstrated with a quite brilliant first-time strike from outside the box to seal Chelsea's path to the Europa League final. It was one of those goals that looked better each time that you watched it on the replay.
It was also not the type of strike that you could ever imagine Chelsea midfield anchormen in the mould of Mikel or the hallowed Claude Makelele attempting, never mind executing.
However, you could also not recall too many occasions where Mikel or Makelele attempted an ambitious 60-yard square pass in the final third, got caught upfield and left their team-mates to dig them out of a hole, as Luiz did in the second half.
In Thursday's Chelsea programme, Mikel outlined the importance of positional and mental discipline in the defensive midfield role. "It is a very difficult job, because the team needs you to be there every time," the Nigerian said. "It doesn't matter who else goes forward – you have to be there."
Luiz has demonstrated growing positional discipline as a centre-back this season but whether he would be willing to apply himself to be the defence protector in the long term is another thing.
It will be fascinating to see how the 26-year-old will fit in under Jose Mourinho
when the Portugese, as expected, takes over as manager at the end of the season
.
There has been talk of interest from Barcelona in Luiz and Chelsea would have little difficult in recouping the £25m that they paid for Luiz in January 2011 - but the Blues need his multiple talents and Mourinho should covet him, too. He is the emblem of the riskier, contemporary Chelsea, far removed from the more mechanical team built to steamroller the opposition by the Portugese from 2004-07.
Luiz is also a player around whom Mourinho can build the team. Approaching his peak years and settled in English football, he is a huge asset to the club.
Chelsea's hole in central midfield will get even bigger if Frank Lampard leaves this summer, opening up a positional space where the squad already looks a player or two light. There is plenty of evidence to suggest that the coaching staff should consider making the Luiz midfield experiment a permanent arrangement.
Follow Wayne Veysey on