COMMENT
By Jay Jaffa
Manchester United cannot defend set-pieces. That's the latest out of Old Trafford. The most enduring news (or maybe that should be 'olds', it's been going on for a while) is that the club have still not rectified their central midfield problem.
Luka Modric, Thiago Alcantara and Cesc Fabregas have all been pursued in the past few years before Marouane Fellaini squeezed himself into United red in the final minutes of this summer's transfer window.
David Moyes sought out the Belgian after failing with bids for Thiago and Fabregas in one of the more uninspiring big money transfers. Fellaini is a good footballer; he can be an effective box-to-box player, adds muscle and presence to United's midfield and can weigh in with goals - that's the theory anyway - but he is not the schemer United indicated they were pursuing when news broke of moves for the Barcelona pair.
THE VIEW FROM GERMANY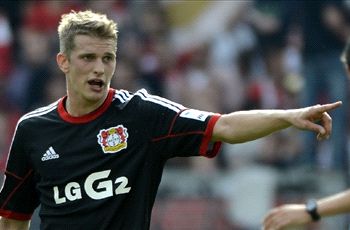 Falko Bloeding | Goal Germany

Bender signed a new contract at Bayer Leverkusen at the end of October. This was a surprise, because there had been no sign of negotiations in public and his original contract ran until 2017. So far there has been no suggestion that the new contract contains an exit clause.

In the summer of 2012 Bender could have joined Bayern Munich. Jupp Heynckes, who knew Bender from his time at Leverkusen, wanted him, but the western club put their foot down and Bayern signed Javi Martinez instead.

I would not exclude another move for Bender fom Bayern in the future; sporting director Matthias Sammer is a big fan of the midfielder. Obviously, though, Bayern have many good players in his position right now, and Bender will be expensive. No other German club could afford him or is willing to pay that much money for him.

English football would definitely suit his style. His workload is huge and he has great vision.

From everything he has said recently, though, there is no reason to belive he will leave Leverkusen next summer. It would take a big offer to lure him away. Will a big club make an offer like that for him? I'm not sure about it.
It's hardly revelatory to point a stick at United's midfield and question their options, it's been done to death for close to three years now. Carrick's rise to prominence is well noted and he has established himself as a cornerstone of the first-team, but the fact is he is relied upon far too heavily.
It is hard to believe that Moyes, given his extensive scouting work at Everton, or United's own network, is not aware of Bayer Leverkusen's roving destroyer, Lars Bender. And Wednesday gives the Scot the opportunity to run the rule over the central midfielder he should have signed instead of Fellaini.
While Carrick's defensive stats continue to impress - in the Premier League he (40) sits just behind Mile Jedinak (48) and Youssouf Mulumbu (45) in interceptions (and Carrick has played two games fewer) - his creative instincts have been dampened. He sits deeper than he did in his younger days at West Ham and Tottenham and his creative talents are going to waste.
Over in the Bundesliga, 24-year-old Bender, twin brother of Borussia Dortmund's Sven, is justifying the interest of Bayern Munich. He led the league last season in tackles (134), which worked out at 4.1 per game. He is a terrier of a midfielder, an all-action hound snapping away at the heels of opponents, with great vision to boot - given Anderson's continued faltering and Darren Fletcher's illness, he is a player United just don't have.
It is almost given as fact that, when fit, United play Wayne Rooney and Robin van Persie up front together. The club has been established in the modern era through its faith in 4-4-2 (or 4-4-1-1 as Sir Alex Ferguson would insist) and that is unlikely to change too drastically. It also means the two central midfielders need to be finely tuned. A diamond would be wasteful, such is Rooney's habit of dropping deep and as Shinji Kagawa has found out, so harmony needs to be established - something the Fellaini/Carrick combination has yet to produce.
While Carrick received considerable praise for his 2012-13 season at United, Sir Alex Ferguson's final campaign, his best numbers came in 2008-09 where he racked up four goals and eight assists in 43 matches. That season he primarily played alongside a fit and on-songFletcher, though Anderson and Paul Scholes also featured heavily. Then, alongside Fletcher, Carrick was afforded the freedom to gallop forward and make a mark in the final third - Bender would unlock that potential again.
Carrick's his speed of thought is intact and his vision as incisive as ever - he has carved out 12 chances this season - more than Cleverley and Fellaini combined.
Over in Germany, Bender's numbers this season are interesting; on paper he is a destroyer. In the Bundesliga he has made 26 tackles in nine matches at 2.9 per game, while picking off interceptions 12 times. The opposite is true of Carrick, who has made 19 tackles and 40 interceptions, while Fellaini stands at 9 tackles and 12 interceptions in seven appearances. The potential is there for a ferocious ball-winning, smothering machine. Bender wreaks havoc, Carrick collects. Both can play.
The German is at odds with Fellaini, Carrick and Cleverley when you look at what he does with the ball, though. Bender has fewer touches (46.9 per game) than all three United midfielders and a lower pass completion percentage (76.4%) as well. However he has embarked on a whopping 15 dribbles in his nine Bundesliga appearances, eight more than closest challenger Fellaini. He is an entirely different prospect to the options Moyes has at his disposal - bar Fletcher who is an unknown after his long-term absence from ulcerative colitis.
The picture of Bender therefore is of a tenacious tackler capable of repelling opposition surges before taking off and probing at the heart of the opposition. Despite his eye for a pass he does not quite provide the craftsmanship of a Thiago or Fabregas, but he would represent something of a Fletcher 2.0 (perhaps 3.0).
Arsenal were reportedly interested in Bender in the summer before Leverkusen tied him down to a deal running until 2019; United, not for the first time, may have missed their chance.
Bender was introducted after the hour mark in the group game at Old Trafford, but still made five tackles and plenty of passes in his short, impressive time on the pitch.
Now the Red Devils can secure a place in the Champions League last 16 with victory on Bender's turf, but with Carrick injured and United's other midfielders in poor form, the German can really show Moyes what he's missing.
MasterCard is excited to present episode three of the Priceless Memories UEFA Champions League video series. See what Manchester United legend Andrew Cole had to say!