DEBATE
It was testimony to the professionalism and fitness levels of 37-year-old David Beckham that as he was preparing to make his debut for Paris Saint-Germain at a snowy Parc des Princes in mid-February, the slimmed-down-yet-still-rotund figure of Brazilian legend Ronaldo, now 36, took the ceremonial kick-off.
The debut of the Englishman, which lasted quarter of an hour, was largely hailed as a success. Since then he has played two further matches for Carlo Ancelotti's side, yet these were a mere dress rehearsal for Wednesday evening's Champions League clash against Valencia, which is seen as the real acid test of his abilities.
Beckham's presence in Paris has drawn a great polemic, and with this in mind, Goal.com's Robin Bairner and Alec Fenn go head-to-head to debate whether the former Manchester United and Real Madrid man is still Champions League quality …
"Beckham floundered when PSG needed him most"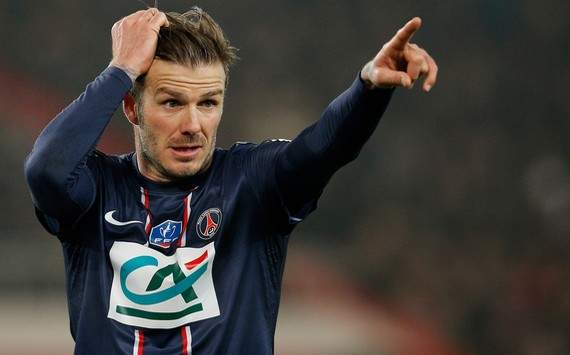 By Robin Bairner
Since QSI took over the running of PSG, their aim, even surpassing short-term success on the field, has been to create a brand identity for the club. Over the course of the last 18 months, the Parc des Princes outfit are almost unrecognisable from the poorly-run side they were before, with vast wealth injected, star players added, a high-profile coach appointed and the badge even changed.
In January, the newly polished PSG achieved perhaps their most spectacular coup as they added free agent David Beckham on Deadline Day. That they chose to hurry the deal through on January 31, when the glare of the media is at its height, was telling in itself as the Englishman, as a free agent, could have signed even after that date. Declaring that the player's wages would go to charity was another tactical masterstroke both for Beckham and the club, who unsurprisingly have many detractors locally.
Of course, it has been vehemently argued by his new employers that 'Becks' remains a potent and useful force on the field. Although his debut against Olympique de Marseille passed off positively, fuelled by the intense media interest, the fiery feeling of the encounter and the partisan nature of the home crowd, there were more concerning signs during a cameo against Reims last weekend.
"We are not made to play these types of games," sporting director Leonardo, grumbled to
Canal+
after the 1-0 defeat to relegation-threatened opponents who played nearly half the match with only 10 men.
Beckham, it has been argued by his supporters, was brought in to add his experience in exactly these clutch situations, though. When his side needed him to be at his best, the Englishman floundered. His trademark passing was not on cue and he was regularly found dallying on the ball for such periods that it allowed a hungry opponent to pinch it from him.
Already the veteran must be acutely aware that he will have to play in a higher gear both physically and mentally than was called upon him when he starred in the MLS with LA Galaxy.
He is five weeks into his short-term contract and is still building his match fitness and sharpness – by the time
les Parisiens
see the best of what's left of Becks, it may be too late to leave a meaningful legacy on the field.
Former PSG boss Vahid Halilhodzic was certainly too scathing in his comments to
Le 10 Sport
when he said that "today, Beckham is anything but a footballer", but his sentiments are widely echoed in France, and it is up to the Englishman, who has been exemplary in his PR work for his new club, to prove them wrong.
"Beckham has been proving doubters wrong for 20 years"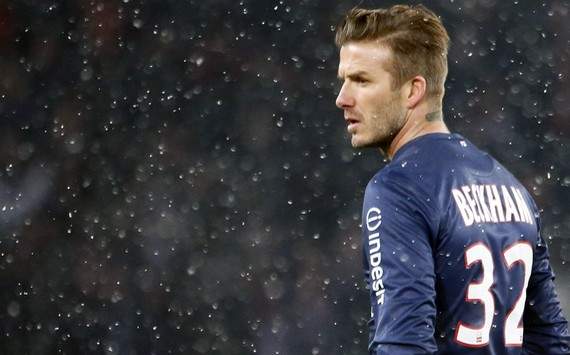 By Alec Fenn
Cynics say it is the final pit-stop on brand Beckham's global tour and a mere vehicle to transport Paris Saint-Germain along football's worldwide landscape.
But look beyond the Parisian politics and football remains at the heart of David Beckham's whistle-stop stay at Parc des Princes.
For all the glamour associated with PSG's beauty pageant of summer signings, experience remains in desperately short supply in Carlo Ancelotti's armoury.
The 11 players who started against Valencia in the first-leg of their last 16 Champions League clash had an average age of just 25, while seven of that side are experiencing their first taste of the continent's premier competition.
Only three members of that line-up - Maxwell, Alex and Zlatan Ibrahimovic - have won a league title in Europe. And having missed out on the Ligue 1 crown to Montpellier by just three points last season, Beckham could well bring an air of calm to guide them over the finishing line this time around.
Ancelotti did his best to distance himself from the arrival of the former Manchester United and Real Madrid man in January. But the Italian – who brought the midfielder to AC Milan for two loan spells in 2009 and 2010 and made an unsuccessful attempt to buy him on a permanent deal – knows only too well of his possible value.
At the age of 37 and though seen by many as semi-retired under the Los Angeles sun for the past five years, Beckham's technical prowess remains intact.
Pace has never been his forte, but there are still few players in world football that can hold a candle to his range of passing and ability from deadball situations. He could effectively become PSG's quarter-Beck and their Plan B when the going gets tough as the campaign hits the home straight.
Described by Zinedine Zidane as a "truly great professional", Beckham's footballing legacy could last well beyond the five months he spends in Paris and breed a new crop of winners.
The next generation of Lucas Moura and Marco Verratti will learn conduct, class and professionalism, and add strings to their respective bows while they share the same pitch as their new team-mate.
After 20 years of proving the doubters wrong, Beckham might just pen one final classic in the city of love and help to announce Paris Saint-Germain as a force to be reckoned with once again.