COMMENT
By Peter Staunton
There is an inevitability about
Willian
's departure from
Shakhtar Donetsk
. Five years, four league titles, three domestic cups and a Uefa Cup on from his arrival as a hugely promising Brazil youth international, the time has come for Willian Borges da Silva to take a fresh challenge.
"I would like to move from Shakhtar, my work here is complete," he said after Shakhtar defeated Chelsea last month. He was holding a Chelsea shirt as he said it. "My dream is to play with the Selecao at the World Cup in Brazil and I will have more chances to realise the dream if I play for a big team." That, in brief, is why Willian needs to leave Shakhtar Donetsk.
Despite Shakhtar being 12 points clear in the Ukrainian top flight, despite being top of their Champions League group after three matches, undefeated, eastern Ukraine still does not register on Mano Menezes' radar. Willian, Fernandinho, Ilsinho, Luiz Adriano, Douglas Costa and Alex Teixeira can all have legitimate gripes with the Brazil coach considering that Shakhtar, largely due to the extensive and brilliant contributions of their Brazilian contingent, are among the best teams in Europe.
Only Fernandinho and Willian among Shakhtar's Brazilians have featured in the national team under Menezes and Willian has not been summoned in a year. His fleeting Brazil career, so far, has taken in two friendly matches against Egypt and Gabon. Indeed, it could be argued that his Brazil career would be fortified by a move home considering the number of Brasileirao-based additions Menezes has made to his squad since taking control in 2010.
WILLIAN | Shakhtar Donetsk, Attacker, 24



SHAKHTAR STATS

Appearances
212
Goals
31
Titles
11

PLAYER FILE

Contract expires
2014
Price tag
€25m (£20m)

He's a bit like
Ronaldinho

Despite the rising standards at home, however, and the rewards on offer, Willian is destined for the top of the pile in western Europe. His ability and his determination to forge a successful career in one of the old continent's more mainstream leagues will put him high up in the esteem of Menezes but he needs a move, sooner rather than later, in order to meet his self-imposed 2014 deadline as a starter for his country. Even Kaka has edged again ahead of the 24-year-old in the pecking order, as has Oscar, whose international career began while playing for Internacional and has endured through his short Chelsea career so far. Willian must look at that and wonder. He needs to be in the spotlight every week not only six times before Christmas, as the limited exposure of the Champions League group stage brings.
"I would like to play in a big team in a big tournament, like the Premier League or Serie A," the player said. "I like Chelsea, Milan and Inter."
Milan are patently no longer the force they were a few seasons ago while Inter are not even in the Champions League this season. That leaves Chelsea chief among his favoured destinations and the Londoners have already had bids turned away. Shakhtar chief executive Sergei Palkin revealed in January that the side then coached by Andre Villas-Boas had seen a £16.5m offer refused.
WILL TO WIN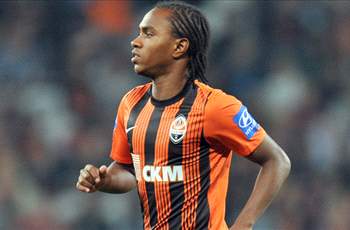 PLAYER RATING VS CHELSEA







Was a genuine threat all night for the home side, giving Chelsea problems every time he had the ball. Should perhaps have had a goal of his own, but was the heartbeat of Shakhtar's attacking moves before being replaced by Douglas Costa.
FROM OUR LIVE! COMMENTARY

"It looks like Willian may not have been joking when he said Chelsea were interested in his signature. If they chose between him and Victor Moses then they made the wrong choice. The Brazilian was excellent throughout."
They tried again in July and the Shakhtar board's parrying of the offer frustrated Willian. "Regardless of the price, it is clear that the desire is great to play at a club like Chelsea, the champions of the Champions League," he told
Globo Esporte
. "I'm really upset with the board for not letting me leave. It would be good for me and also for the club." Maybe good for the bank balance but on the pitch Shakhtar will be left hugely deficient.
The initial sum offered by Chelsea is not much more than Shakhtar paid to Corinthians for Willian's services in 2007; a huge outlay, indeed, a huge risk for a 19-year-old. Since then, however, Willian has adapted seamlessly into Shakhtar's bright and exuberant style of play, becoming a focal point in a multi-faceted team full of drive, verve and initiative. He is an efficient and lively dribbler, is capable of accurate through passes and providing assists. He chips in with the odd goal or two as well.
His most eye-catching performance las season came in the Champions League last 16 second-leg win against Roma. In a 3-0 victory, Willian ran the show. He dictated the tempo, played tricks, scored and made goals. From a Shakhtar point of view, the performance was probably too good because he has not been out of the transfer gossip pages since. Villas-Boas knew what he wanted to achieve at Chelsea and under Roberto Di Matteo, ironically, the Portuguese's vision of bright, quick, intuitive attackers is coming to fruition. Willian would have accelerated that process by six months and could have kept Villas-Boas in a job. Chelsea's transition from formidable to fantasia has been abrupt and pleasing and there is no doubt it would be augmented by the acquisition of Willian.
The Shakhtar coach Mircea Lucescu has assured Willian he is free to leave should his transfer value be met; according to reports they would trade for £20m. "Willian was far away from Chelsea. They didn't even get anywhere near to our requirements, having done nothing to make my promises to Willian come true," Lucescu told the press ahead of the Chelsea match.
"Speaking specifically about the amount, they officially offered the sum for which we had bought him as a young player. I would really like them to highly appreciate his true value tomorrow and realise that they made a big mistake."
That mistake guaranteed that Willian would play against Chelsea at least twice more. In the first group stage encounter, he was decisive. The second could provide the Blues with all the evidence they need to be convinced of his signature. And Mano Menezes just might just be keeping an eye on the television too.
Follow Peter Staunton on