COMMENT
By Iain Strachan
At the end of the 2002-03 season, Harry Kewell had the football world at his feet. The flying winger was expected to spurn the advances of
AC Milan
and
Barcelona
to join newly crowned
Premier League
champions
Manchester United
, and had been earmarked as a replacement for
Ryan Giggs
on the left flank at Old Trafford.
Fast-forward 11 years and Giggs is miraculously still putting in a shift for the Red Devils, albeit at a substantially reduced intensity and with some coaching duties thrown in.
His once-supposed successor, meanwhile, called time on his playing career in front of a packed press conference at Melbourne's AAMI Park on Wednesday, aged 35.
He had already become the youngest Socceroo in history before entering the world's spotlight at Leeds United and, during the last decade, Kewell has continued to write himself into Australian football history, with moments like the goal against Croatia at World Cup 2006 and or the equally dramatic red card against Ghana four years later, with plenty of other highs and lows thrown in before, during and after those landmark events.
But the sad truth is that, outside Australian shores, Kewell may as well have hung up his boots on the day that he left Leeds in 2003.
The succession of injuries that plagued his career meant that - to a global audience - the most promising player ever produced by Australia never lived up to that billing.
Instead, throughout five years at Liverpool, three at Galatasaray and a nomadic existence thereafter, the appearances became less and less frequent and his pace largely dried up, robbing him of his explosive acceleration and forcing him to become a different type of player.
There is no doubt that he remained supremely talented and still produced occasional flashes of game-changing brilliance but they happened away from the main stage. When chances to stamp his mark on a major occasion arrived, his body denied him a chance to seize it, most notably in the 2005 Champions League and 2006 FA Cup finals.
Every Australian football fan has their favourite Kewell moment. Unfortunately, for most people elsewhere in the world, the most enduring image is of him limping off at the Ataturk Stadium in Istanbul, with an uncharacteristic consoling arm offered by Liverpool manager Rafael Benitez. Subbed off with a torn abductor muscle 28 minutes into the biggest match of his club career.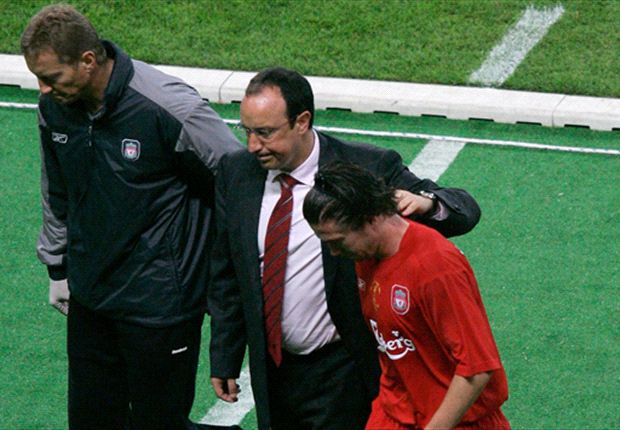 Let's get you a nice ice pack | Rafa puts an arm around the winger's shoulder
Twelve months later it happened again, a torn groin forcing him off at the Millennium Stadium 48 minutes iton the game against West Ham.
Worse still, these were two of the best finals in the modern history of the respective competitions. Both were settled on penalties after 3-3 draws and, each time, the Australian was already on the treatment table, the prospect of another long spell on the sidelines ahead.
Make no mistake, this is Kewell's legacy to the football world, outside Australia. The player himself acknowledged it this week, when asked if he felt in any way unfulfilled upon hanging up his boots.
"I do sit there with my wife and my close friends and wonder, what if?" he told the press. "I wonder, if I didn't have those injuries, what could have been?"
We will never know now. Australian supporters can console themselves with Kewell's star turns in green and gold down the years, while Liverpool, Galatasaray and Leeds fans will have some fond memories.
But for the neutrals, the question is the same as that which may nag at Kewell in the recesses of his retired mind. What could have been?