COMMENT
By Ewan Roberts
After a pace-infused, five-star performance against
Benfica
had wiped away the indignity of becoming the first
Premier League
outfit to lose to a side from
Major League Soccer
,
Arsenal
's pre-season campaign crashed back down to earth with a 1-0 defeat by
Monaco
that thwarted their hopes of ending a four-year wait to lift the Emirates Cup in their own back yard.
The off-season has nevertheless been encouraging for the Gunners, even if that optimism is primarily based on their activeness away from the pitch. The club moved swiftly to replace Bacary Sagna, brought in a young, versatile and hugely promising Englishman, found cover and competition for Wojciech Szczesny to keep the Pole on his toes and, in Alexis Sanchez, made the undisputed signing of the summer.
Yet it feels like there is still one piece of the puzzle missing. The squad boasts a vast array of options, with both youthful exuberance and steadfast experience in the back line, while the newfound blistering speed of the attack is teamed with the more seasoned, understated vision of the club's batch of delicate playmakers. One thing which they are still without, however, is a thoroughbred, specialist defensive midfielder.
Last summer that particular void was artificially filled by free agent Mathieu Flamini, a player whose aggression and hot-tempered attitude can disguise his unnaturalness in shielding the back four. The Frenchman is an all-rounder whose tenacity is mistakenly taken as a token of his defensive awareness, when in fact eight players in the Arsenal squad averaged more tackles per game than the 30-year-old, while Yaya Sanogo (50 per cent) was the only outfield player with a lower tackle success rate than Flamini (64.1%).
Instead Arsenal's primary ball-winner for the last three seasons has been Mikel Arteta. The former Everton skipper moved to the Emirates Stadium as a cultured, creative force but was redeployed in a deeper, more destructive role to good success. No Arsenal player has come close to matching the 500 combined tackles and interceptions Arteta has made over that three year period (5.3 per game) while he is also the team's most prolific passer.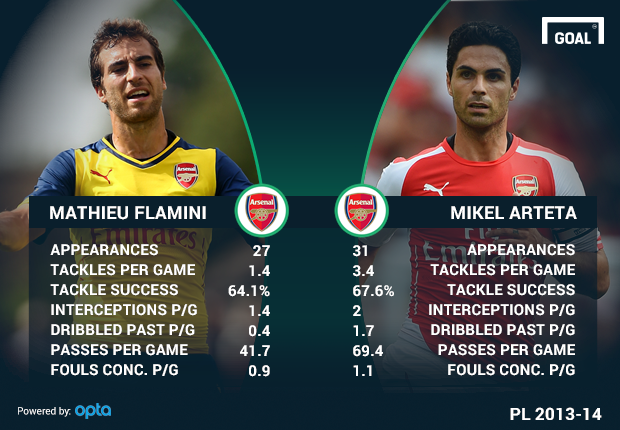 WHERE'S THE PROTECTION? | Arsenal's primary holding midfielders, Mathieu Flamini and Mikel Arteta, fall some way short of the best defensive midfielders in Europe
But the wizened Spaniard is far from a true defensive midfielder – his reading of the game merely remoulded by Arsene Wenger – and there are serious question marks over his mobility and athleticism. The 32-year-old is the side's most dribbled-past player and lacks the speed to devour the space Arsenal's into which style of play allows opposing teams to break, which in turn can expose the leaden-footed Per Mertesacker.
Humbling collapses against the likes of Liverpool and Chelsea last season were brought about, in large part, by a lack of solidity in the middle of the park. Games became too open and stretched and the serenity with which Arteta & Co. can operate against lesser sides was blown apart as waves of electrifying counterattacks pierced through a pliable midfield barrier.
Neither Arteta nor Flamini have the pace needed to cover the advances of Arsenal's attack-minded full-backs, nor the stamina to press opposition playmakers for 90 minutes, which exposes the side's higher line to teasing through-balls in behind and has made them incredibly vulnerable on the turn. A hallmark of their maulings last season was watching an exposed and isolated centre-back pairing hurriedly scurry backwards as streams of runners bore down on goal.
It is curious, therefore, that Wenger has yet to sign a player capable of curing this weakness and seems so reticent towards signing a powerful, tough-tackling midfield patroller – especially odd when you consider that the club's imperious Invincibles side were anchored by the leggy Patrick Vieira and the destructive Gilberto Silva.
MIXED FORTUNES | Despite keeping the second-most clean sheets in the Premier League last season, Arsenal conceded 22 goals in eight games against the rest of the top five
Aaron Ramsey, too, would benefit from such a player. The Wales international was in sensational scoring form last season and his line-breaking, energetic forays forward during pre-season suggest that his appetite to attack remains as strong as ever. But that instinct is best utilised alongside a disciplined holding midfielder who can grant Ramsey the freedom to burst into the box and roam forward, rather than having to spend time tracking back and helping out his defence.
Wenger, though, considers the 23-year-old a player capable of filling in as a holding midfielder when required and, despite links with William Carvalho and Morgan Schniederlin, is happy with his options in that area. "We have Flamini who can play there. Last season we played with Arteta and Ramsey there in many games in that position," said the French boss, batting away suggestions of needing to bolster his midfield core.
It is possible that Wenger sees his midfield as a fluid, interchanging entity – he has previously said that "we try to find the defensive balance collectively ... we are more versatile going forward because everyone has the potential to go forward" – which the presence of a specialist defensive midfielder would likely hamper, and perhaps he saw Liverpool's surprise title bid last season as a sign that attacks, not defences, are responsible for winning and losing Premier League matches.
The rampant Reds were not overly concerned by solidity or defensive strength but blew teams – including Arsenal – away with their unrelenting and rapid attack. Steven Gerrard, more
regista
than water-carrier, was the closest thing to a defensive midfielder in the side, though the arrival of Emre Can has addressed a weakness that ultimately cost them the title and which remains conspicuously exposed at the Emirates.
So, after another summer in which Arsenal have made a marquee signing and with the squad bolstered by both new recruits and returning loanees, the Gunners feel well placed to launch a title challenge.
But that they remain without a specialist holding midfielder, even one to be used sparingly and in specific situations, seems like an oversight. In the absence of such a player they risk both hamstringing their dynamic Welsh talisman and leaving an often vulnerable back line exposed to the lightning transitions that stopped them in their tracks last season. Then again, with so much firepower in attack now, they will cause plenty more problems than they encounter.