The Brazilian ace has emerged as the pick of readers' from 10 football legends in past World Cups for his goalscoring feats in 2002 as he led the Selecao to a record fifth title
Just over two weeks ago,
Goal Singapore
began a series that featured 10 players who have played key roles in their countries' World Cup victories, in conjunction with
Gillette Singapore
.
From 1974 to 2010, all these Players of Passion have displayed their Inner Steel in helping their sides to lift the biggest prize in international football. From the likes of Gerd Muller and Diego Maradona to Zinedine Zidane and Ronaldo, all are legends in their own right.
Then, we asked readers to vote for their favourite player and now, the choice has been made clear: Ronaldo Luis Nazario de Lima, nicknamed
El Fenomeno
, is the runaway winner.
The Brazilian ace notched a majority 48.6% of the votes, beating Zidane comfortably into second place, with the latter garnering 20%. Maradona polled third with 17.1%, with Romario taking 5.7%.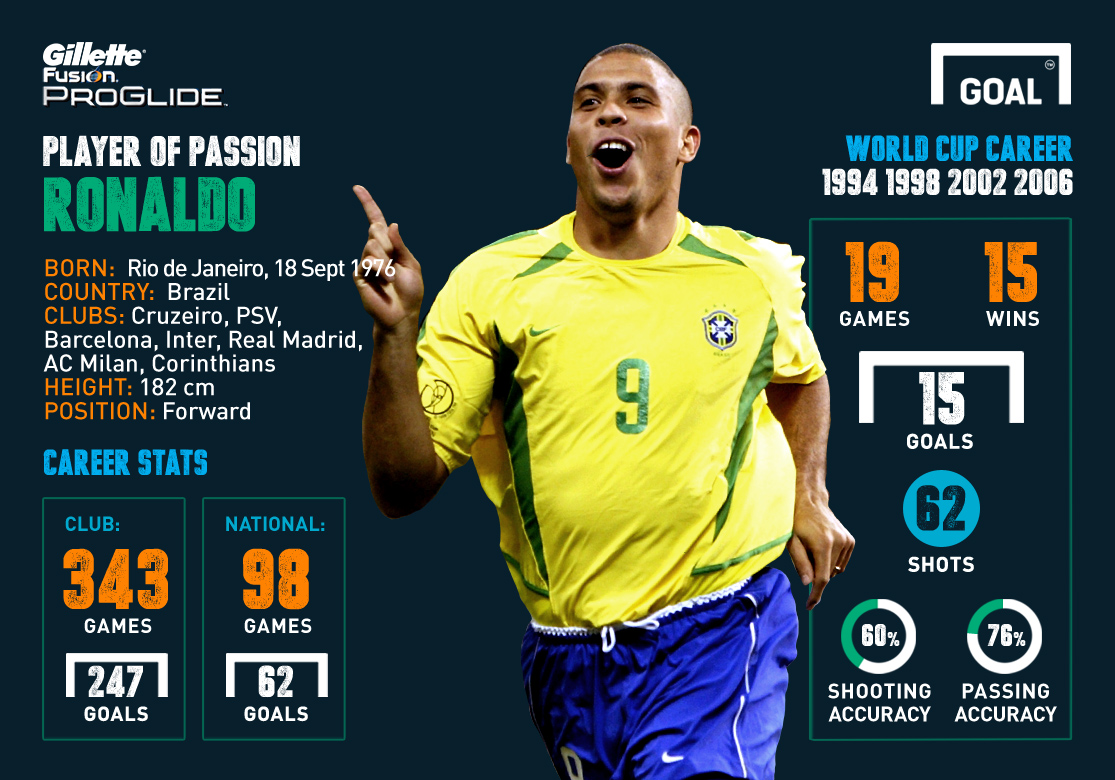 Perhaps it was Ronaldo's feat at the 2002 World Cup that helped win over readers. Having barely played for two years prior to the start of the tournament due to a ruptured cruciate ligament, the then 24-year-old went on to have an astonishing campaign.
Ronaldo struck against every opponent the
Selecao
encountered - except in the quarter-final against England - as he won the Golden Shoe with eight goals and led Brazil to a record fifth title triumph. In the process, he also tied legend Pele's record of 12 career World Cup goals.
It was a truly remarkable show of Inner Steel from Ronaldo, especially after the ill-fated events of France '98 four years ago. The marksman went on to win his third Fifa World Player of the Year award later that year and scored thrice more in 2006 to become the top scorer in World Cup history at his last tournament.
In football, just as in shaving, the best outcome is determined by precision. When the smallest details make the biggest difference between winning and losing, a mental and physical toughness is needed – a true show of Inner Steel. For football fans who are driven by their passion and their own inner steel, Gillette introduces the Special Edition Brazil Team Razor - available at stores nationwide now for a limited time only.
To find out more about the Gillette Special Edition razor, fun in-store activities and details of prizes to be won, visit www.facebook.com/GilletteSingapore.