Feature interviewBy Iain Strachan
One of the few survivors from Holger Osieck's regime to hold a key role in Ange Postecoglou's optimistic new
Socceroos
set-up, Aurelio Vidmar refuses to entirely condemn the decisions made during the German's divisive tenure.
Despite guiding Australia to a third successive
World Cup
finals, Osieck departed the national team's top job with his standing among supporters and the media in tatters.
Having relied heavily on a core of undeniably talented but aging players to guide the Socceroos through their qualification campaign, the 65-year-old stood accused of failing to plan for the team's future.
Successive 6-0 defeats to Brazil and France sealed the fate of the former West Germany assistant coach, ushering in the Postecoglou era to considerable fanfare.
And while many feel the generational change introduced by the new head coach was long overdue, Vidmar knows first-hand that making the tough decisions in football is never quite so black and white.
"In hindsight it's always easy," he told
Goal Australia
.
"The last manager, Holger, had his ideas. Part of his brief I'd imagine would be to qualify for the next World Cup. And that's what he did.
"He had his views and strongly believed (in them). He was very loyal to those players that qualified. And now we've had a lot of changes. So (as for) when the timing is right, who knows? That's the individual's choice and that was the choice of Holger, to do it that way."
Now a fully paid-up subscriber to Postecoglou's progressive vision, Vidmar feels the extent to which the head coach has aggresively acted within his 'new broom' remit is plain to see.
"Obviously it's pretty clear to everyone when you have a look at the squad how much it has changed," he said.
"We've had some great players like Mark Schwarzer and Brett Holman who have retired, and obviously Lucas (Neill) hasn't made this squad. We've lost a great deal of experience in those three players alone. It's very young but quite fresh."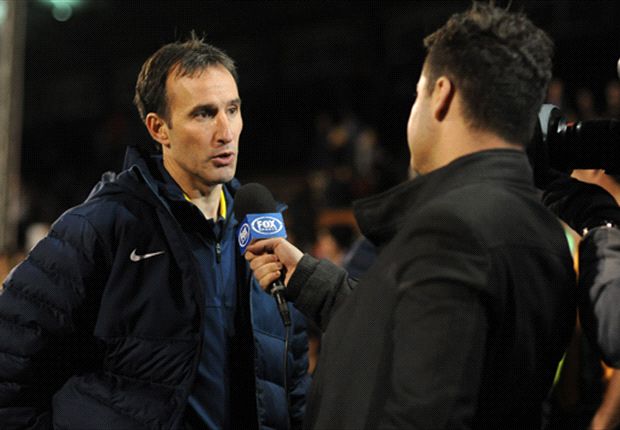 Thrust into the spotlight | Vidmar takes over against Canada after the France debacle
Vidmar's status as one of Osieck's trusted lieutants exposes him to accusations of being complicit in the stagnation of the national team.
And while the former Adelaide United coach claimed to have had a frank exchange of views with Osieck over his decision to stick with the veterans, the German remained unmoved.
"We had conversations about lots of things, (including) injecting the younger players into the squad," Vidmar said.
"He was a firm believer that you really had to deserve as a youngster to get into the squad, not just (receive) a free ride into it. That's not a criticism.
"Prior to him was Pim (Verbeek), there could have been some changes there as well. It's an evolution, when you think players are ready to jump in."
That unhappy chapter in the recent history of the national team is now closed, with Vidmar able to have a say in writing a new and exciting future for the Socceroos.
But as a young team - far more inexperienced than they should be at international level - prepare for the toughest matches of their careers, the spectre of Osieck's divisive reign can more banished more easily by some than others.