WORLD CUP SPECIAL
By Sammie Frimpong

Goals, they say, are the currency of football, and this has certainly proved true in the history of the Fifa World Cup. There have been some spectacular strikes over the years, among them several that have been notched by African footballers. Goal handpicks five of the most memorable.
PIERRE NJANKA: Cameroon 1-1 Austria (France '98)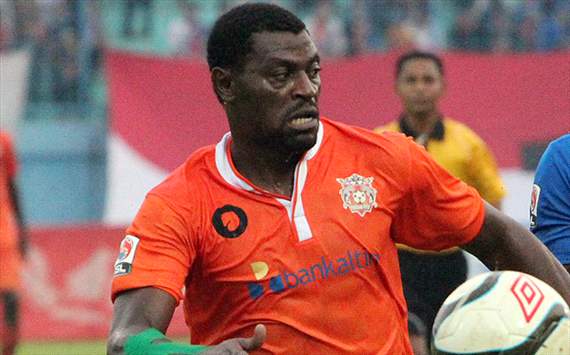 Pierre Djaka Njanka-Beyaka was something of a wanderer during his 20-year playing career, not staying long enough at any of the clubs he played for - well over 14 of them - to leave a lasting impact. The one memory the world would have of the defender, though, is as vivid as any. It came at the 1998 World Cup in France, 78 minutes into Cameroon's opening Group B game against Austria. With the scores pegged at 0-0, No.6-shirted Njanka picked the ball not too far from the centre-line in his own half. He had options to place a pass but took none. Instead Njanka sent the Austrian players on a trajectory close to the left flank, sprinting past some and beating those he could head-on. A clever dummy in the box saw another opponent slide hopelessly across, before Njanka struck past Austrian goalkeeper Michael Konsel, the ball nestling in the top corner. Never a frequent scorer for his country, it was little surprise Njanka's team-mates initially stood as much in awe of that rare goal as the opposition themselves.
SUNDAY OLISEH: Nigeria 3-2 Spain (France '98)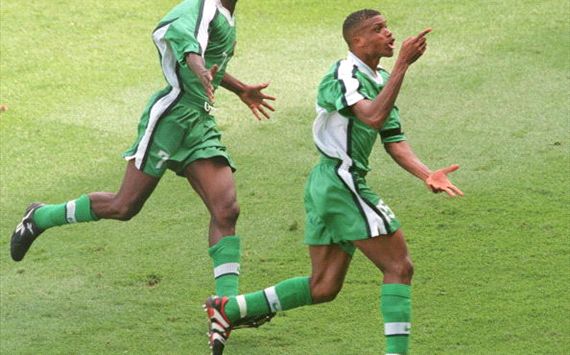 Nigeria had come back twice to hold Spain in their first match at France '98, hosted in Nantes. Just when it seemed the plucky Nigerians would be content with a 2-2 result against a La Roja side that had had Fernando Hierro and Raul Gonzalez score for them, former Super Eagles skipper Sunday Oliseh, then a fresh-faced 23-year-old, delivered an early contender for Goal of the Tournament. Boy, was it a stunner! A long Nigerian throw-in that could easily have passed for a corner-kick was headed clear by a Spanish defender. Oliseh picked up the loose ball and, from all of 25 yards, struck a venomous pile-driver that gave the west Africans a great result. Spain - particularly their keeper Andoni Zubizarreta - never quite knew what hit them.
FRANÇOIS OMAM-BIYIK: Cameroon 1-0 Argentina (Italy '90)
Some goals aren't remembered for their exceptional beauty or some extraordinary technique of the scorer. Much like Ole Gunnar Solskjaer's toe-poke that clinched glory for Manchester United in the 1999 Uefa Champions League final, however, François Omam-Biyik's unglamorous header that undid then reigning world champions Argentina in the opener of the 1990 World Cup wouldn't be forgotten in a hurry. From a rather poor freekick on the left that was flicked teasingly upwards just onto the edge of Argentine goalkeeper Nery Pumpido's area, Omam-Biyik outjumped three opponents - who did little but stand and gaze - and thumped the ball downwards with his head. There was a bit of good fortune just before the ball trickled over the line, with Pumpido failing to handle properly. Cameroon wouldn't mind, though, would they? Omam-Biyik's goal - to which even Diego Maradona couldn't provide an answer - would prove to be just the tonic for a remarkable run for Les Lions Indomptables at that Mundial. The goal itself was a summation of Cameroon's display on the day: ugly, but thoroughly deserved.
ROGER MILLA: Cameroon 2-1 Colombia (Italy '90)

The next entry belongs to another Cameroonian at the same tournament, albeit one who did infinitely more to set Italia '90 alight. Roger Milla almost didn't make it to the showpiece, and didn't even start in the opener against Argentina, yet he did make the remainder of the competition his own when his chances did come. The last of his four goals saw him exploit an eccentric goalkeeper's folly and adventurousness, prior to slotting in what could qualify as the easiest finish of his career. Colombia glovesman Rene 'El Loco' Higuita, in extra-time and with his side a goal down, strayed far outside his area to indulge in a pointless exchange of passes with a team-mate, only to be robbed of the ball by an advancing Milla. The two-time African Footballer of the Year, then aged 38, raced past Higuita with all the energy of one younger in years to double Cameroon's advantage. Colombia did pull one back to set up a nervy finale, but Milla's fortuitous second proved truly decisive. "He wanted to dribble past me. You don't dribble past Milla," came the gloating African legend's belated cautionary message to Higuita, the man he had so spectacularly humiliated earlier in that Round of 16 meeting.
ASAMOAH GYAN: Ghana 2-1 USA (South Africa 2010)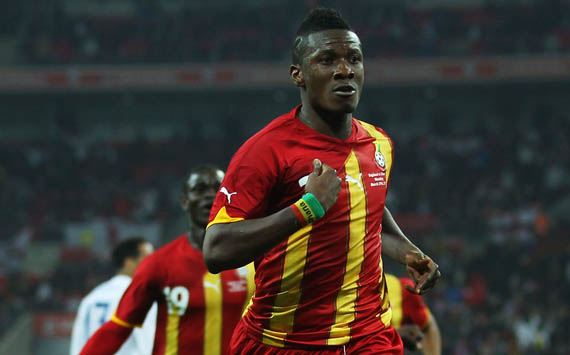 Ghana had let slip an early 1-0 lead and allowed a first knock-out round tie against the USA at South Africa 2010 to spill over into extra-time. Cagey as the match had grown, it required something really special from either team to tilt the outcome in their favour. Three minutes into the added 30, America caved and Ghana pounced, with Asamoah Gyan, the Black Stars' lead striker, providing the solitary difference. A long punt upfield into USA territory was chased by Gyan, himself almost sandwiched by two Americans. Gyan shrugged the pair off, though, controlled brilliantly on the chest, allowed the ball to bounce twice, and then hooked it with a left-footed half-volley US goalie Tim Howard didn't have a chance of keeping out. It was enough to send Ghana through to the last-eight, where Gyan turned villain against Uruguay under the most extraordinary circumstances. Still, his goal against the USA made the BBC's Top 10 for the tournament, such was its class.