"Fun" is a term that Jamie Yeo uses repeatedly to describe her experience as a presenter on LionsXII matches this season during our chat last week at a cafe in Holland Village.
The 37-year-old made her debut during the 2-1 home loss to Kelantan FA and is enjoying her new role on television so far, after being first contacted about the opportunity in late February by Astro content editor Dez Corkhill.
"I thought it'd be good for me to take on something that I hadn't done before, that would train me for further things down the road," Jamie explains. "I thought 'okay, this will be a challenge but it'll be really fun as well', so I said I'd do it."

As Jamie had hosted football-themed shows during her time at ESPN under Corkhill, she was an easy choice for the latter to approach to fill the void.
"As well as the obvious glamour - and she is as gorgeous in real life as on camera - Jamie has a really good work ethic," he told Goal Singapore. "She cares about getting the information and presenting it in the best way. She's a really solid TV professional."
Surprisingly, the seasoned presenter still gets nervous doing live presenting even now, but Jamie makes sure to do her research well before every game to ensure things flow smoothly on television. Jamie believes that she brings a "feminine touch" to the table, but it does not mean that she is simply a pretty vase either.
"I've done enough work to have a bit of credibility so, you know, I don't come across as a 20-year-old going 'hi'," she says, referring to her four years at ESPN.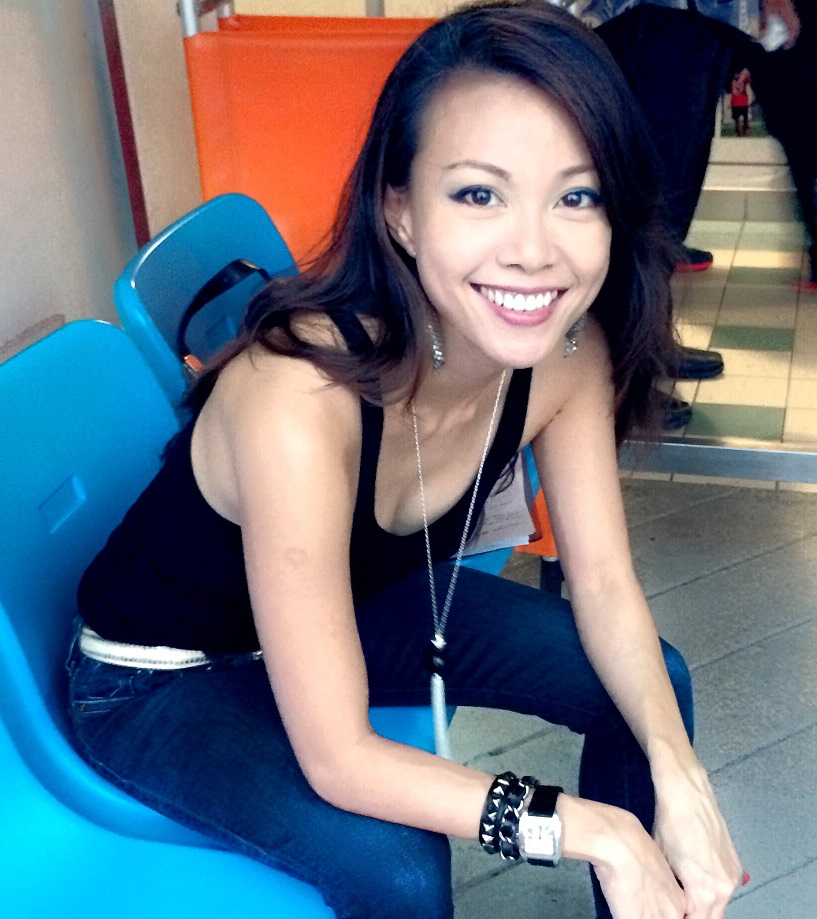 Jamie admits to not having known too much about the LionsXII before taking on the job, but as Corkhill pointed out, in-depth analysis of the game is not what she is there for.

"Our intention is always for the analysts to be the experts and Jamie's role is to coax the relevant information out of them; she does that really well," he explained.
Fandi's smile and the LionsXII season
As testament to her ability, Jamie managed to bring a smile to Fandi Ahmad's face when she spoke to the LionsXII coach after their defeat to Selangor FA last month.

The Singapore legend had just witnessed a disappointing 1-0 loss and was clearly looking downcast as the post-match interview started, with Jamie's first question being about the game. Then, instead of following that up with another match-related query, she changed tack and asked Fandi how his debut season in charge of the LionsXII had been. The 51-year-old broke into a instinctive grin, responding with "it's been great" in a genuine moment on live television.

"At the end of the day, how many times can you ask a manager what can be done, where are your weaknesses," Jamie points out. "Obviously I'll have to ask him again [in future], but you know what I mean? Just keep it light - he's already down - and that's what I did and that's when he broke out, and he surprised me with that expression as well."
Despite the team's mixed results this season, Jamie believes that Fandi deserves a chance to prove himself, especially with a much younger squad compared to last season's title-winning one. While some might feel that the former Lions striker has been given some leeway due to his name, Jamie thinks that even if that was the case, Fandi has done enough to deserve it.

"He's Fandi, we all love him and obviously we are not going to be so hard on him," she muses. "He will need time to show results, I think, but I also think he hasn't done a poor job."

Similarly, while the LionsXII could have done better at times this season, Jamie feels that thus far it has been a decent campaign for a young side, especially one that is all-local as compared to some other more experienced teams with foreigners.

As for the criticism levelled at the LionsXII for some of their performances this season, Jamie asserts that the players simply have to buckle down and take it in their stride, being the professionals they are.
"You have to learn how to ignore it," she says, citing Real Madrid superstar Cristiano Ronaldo as an example. "He doesn't bow down to pressure and that's the mark of a good sportsman. So our boys just have to learn that, they have to take the criticism and be better and shut them up."
When asked to name players whom have impressed her, Jamie went for defender Safuwan Baharudin and goalkeeper Izwan Mahbud.
"They all generally do make an effort but if you want me to pick out one, it's Safuwan, you can always count on him to make the difference," she elaborates. "Izwan is very good as well. I like the way he has the guts to come out and grab the ball,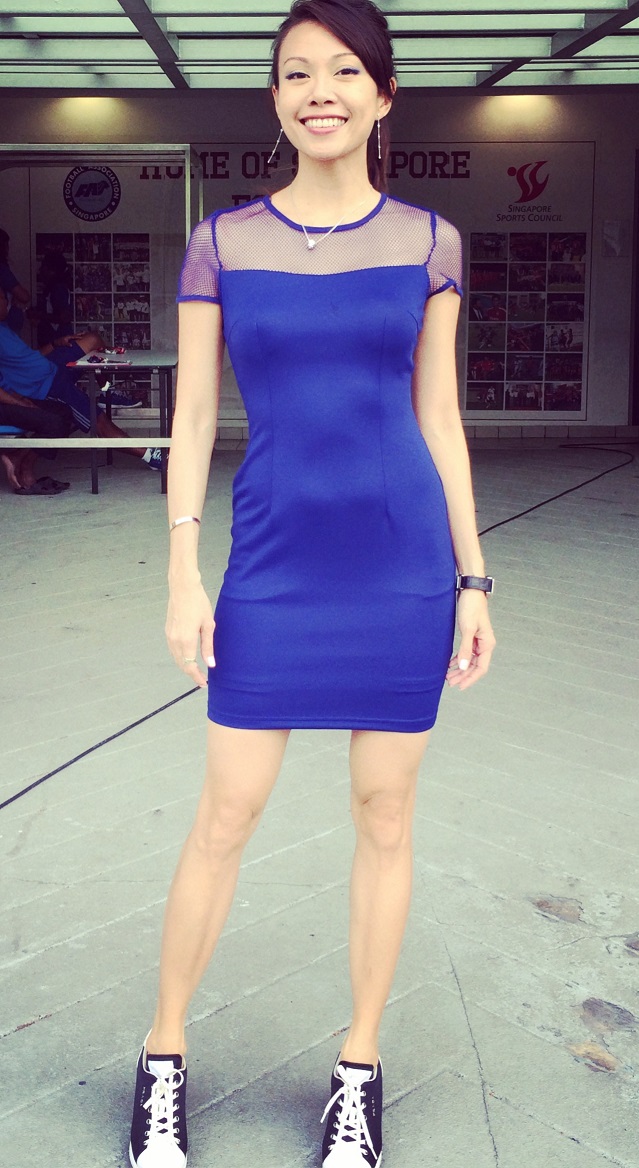 he puts himself out there; I feel that his judgement is very good."
The LionsXII project has divided opinions since it was started in 2012, but Jamie believes that playing in front of huge crowds has helped to develop the young players, in addition to the support from local fans.
"I think it's great to see so much passion for the LionsXII, although I think the line between the LionsXII and the national team is very blurred," she acknowledges. "Why the LionsXII works is because we are always playing against Malaysia and the rivalry is very thick."
Jamie noted that such territoriality is not so pronounced in the S.League, saying: "Nobody has that kind of rivalry here, we don't cultivate it anyway; we see ourselves as one whole country."
While the exuberance of Malaysian fans has made her trips for away games a fun experience, Jamie's favourite part of the job is when the LionsXII score and win at home, because it makes for an "amazing" atmosphere inside Jalan Besar Stadium.
The future
Outside of the LionsXII, Jamie is kept busy by her daily weekday morning radio show at Power 98, a hosting gig for InsiderTV videos and running an online business called mums.sg, as well as freelance emceeing and hosting jobs.
All added up, it's almost as if she's working full-time, which leaves her with little time to watch as much football as she used to, especially the English Premier League. With LionsXII games on most Saturdays, Jamie does not even get to rest much on a weekend as she also has to take care of Alysia, her bubbly and active three-year-old daughter.
"Now, it's like a lot of good matches are on Sunday nights and I have to sleep early," she says wistfully. "If I'm tired on Monday, it's like the whole week I am just tired, so I just read a lot of match analyses instead."
Despite the draining schedule, Jamie wants to carry on for "as long as people want to see or hear me", adding that hard work and taking care of one's health helps to ensure longevity. Maintaining an image is important as well; to that end, she wears high heels most of the time because it looks better on site, despite the cameras never panning to her feet.

While she is considering scaling back on future away LionsXII assignments as it takes up a sizeable amount of time, Jamie is not setting a definitive date to retire as she loves what she does.
"No, I don't have one, unless I strike lottery!" she smiles. "But I would still do something even if I did, you know, because I do like it."