Connor Wickham is turning out to be a cult figure for Sunderland.

After scoring two goals against Manchester City at the Etihad Stadium in a 2-2 draw early this month, the striker scored the equalising goal as Sunderland beat Chelsea 2-1 at Stamford Bridge, the first Premier League team to do so under Jose Mourinho's reign.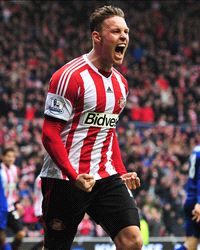 And the 21-year-old continued his rich vein of form as his double helped the Black Cats beat relegation rivals Cardiff City 4-0 on Sunday to register their biggest win of the season.

More importantly, the win finally lifted Sunderland out of the relegation zone with three games left to play. With five goals in three games, the Wickham has been a key component of the Black Cat's resurgence in recent weeks.

In the game against Cardiff, the Englishman opened the scoring in the first period with a beautiful looping header from a corner, before his persistence forced Juan Cala to a mistake, resulting in him tugging the striker and earning his side a penalty as Cala got sent off.
Wickham then rounded off the scoring with another header from a corner kick a few minutes before the final whistle to send the Stadium of Light into raptures.

Such a remarkable feat has definitely earned him the right to be awarded this week's Goal Singapore EPL Player of the Week.