After
Goal Singapore
's previous
Footytalk episode with Gary Yeo
, there is another sprinter in the house for our current one: meet Lee Cheng Wei, who is also the first
Real Madrid
supporter to be featured in the series.
The 27-year-old, who has been practising his sport for 14 years, is part of the quartet that holds the current 4x100m national record of 39.45 seconds. Lee is also an experienced SEA Games campaigner and has brought home a silver from each of the last three editions.
You've said yourself that it isn't that common to support Real Madrid. How did that come about?

Lee
: I started supporting Real Madrid in 2000. I remember that I was really impressed with Fernando Redondo and Raul, and they went on to win the
Champions League
for that season.


Interesting! Well, they are currently involved in one of the tightest La Liga title races in ages. They are now third and three points off the top with six more games to go. Do you think they can eventually win it?

Lee:
They definitely have a chance to come back to win it. I feel that their season has not been that great so far, especially considering the two losses to
Barcelona
, which were really disappointing. However, they have put up some very strong attacking displays and I hope that it will continue for the final few weeks.


Right. Speaking of Barcelona - the Clasico must be the biggest game on the calendar for you as a Real supporter then?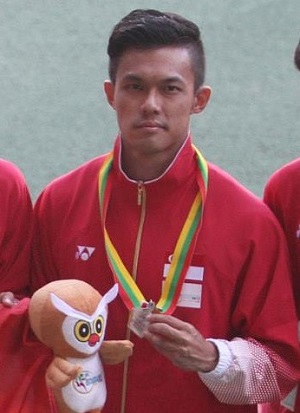 Lee:
Yes it is, unless they qualify for the Champions League final, which will then be the biggest game!
El Clasico
is is definitely a footballing showcase for me as it brings out the best in players (most of the time from Lionel Messi, sadly for Real fans haha!). It also shows football passion at its highest and players giving their all. On the other hand, it definitely does bring out the worst in players from both sides and certain unsportsmanlike behaviour.
I have to say some players really do channel their inner diving tendencies. With all the Real talk, I almost forgot to ask: how did you fall in love with the sport?Lee
: I started playing football in primary school with my friends. I still play football leisurely on Sundays currently. I have always thought about being a footballer when I was young after watching all the football stars on television and wanting to follow in their footsteps!
We have all dreamt of doing so at some point in our young lives I'd reckon! So who's your favourite player?Lee
: My current favourite Real player is
Cristiano Ronaldo
. My favourite player ever is Ronaldo from Brazil!
Both those Ronaldos are certainly amongst the best to have ever graced the game. Speaking of Brazil, I must ask you about the World Cup. Are you excited about it, with around two months left to kick off?Lee
: Yes I am! Brazil is my pick to win it as they are playing in front of their home crowd and they have a talented squad and an experienced manager.
They will be up there for sure, with the likes of Neymar and Thiago Silva. How about local football? I hear that the track athletes went down to support the Under-23s at their games during the last SEA Games, where they won the bronze. What did you make of their displays?Lee
: I felt the
team
showed plenty of fighting spirit. They went down early against Thailand from a penalty but they never gave up trying to fight back. I felt the team matched up to Thailand, who were the eventual champions, in many aspects and even threatened to equalise on many occasions. They should be proud of their performance. I think Singapore football is currently picking up after a period of decline. Since the formation of the
LionsXII
, we are receiving more news of our local footballers and how they are doing. We do hope that they will continue to do well and win the
Malaysia Super League
again.
That is the hope for most supporters, though this looks like it will be a tough season for them. Away from the football, what are you up to currently?Lee
: I am currently still in NIE. I am doing my final practicum and after which will be my graduation.
We've come to the end of the interview. Thanks for your time Cheng Wei! All the best for practicum and your athletic career, and we hope you go on to inspire many others!