FEATURE
By James Ezimoha
It's been a tumultuous campaign for some Super Eagles stars at their various clubs in Europe.
A summary of their season—one that began on a promising note (fresh from lifting the AFCON title) and hope (towards the fast-approaching World Cup)—is a compilation of depressing narratives.
Victor Moses's uneventful sojourn at Liverpool has been too well-documented for me to go over it again, so, looking to the future—since his time at the Merseyside is only temporal, and a return to parent-club, Chelsea, looks increasingly unlikely—where else should the former Wigan star look to restart his ailing career?
In the opinion of this writer, the answer rests in Lucky Dube's hit track: Back to my roots.
Goal's Solace Chukwu recently asked: "How worried should Nigeria be about Victor Moses?" In truth, as the quadrennial showpiece draws closer, hearts are pounding, tongues are wagging and fingers are pointing.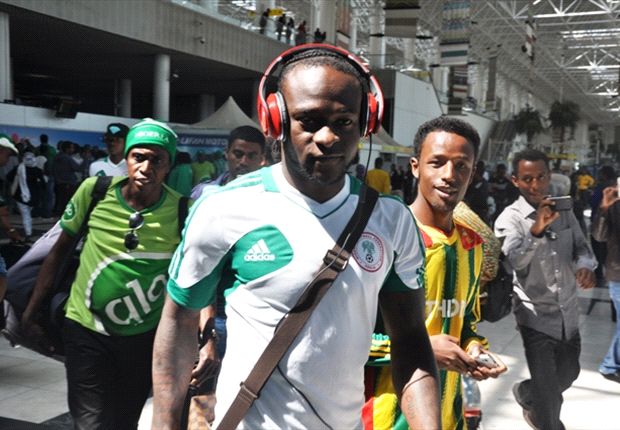 Can Music provide Moses with an answer?
Many Super Eagles fans have attributed Moses's surprisingly lacklustre displays at Anfield to behind-the-scene unrest, while others have blamed Brendan Rogers for being biased towards Raheem Sterling; aiding his quest to make the England squad.
Regardless of the contortions, it is crystal clear that the joy (of finally being coached by a long-term admirer) and optimism (of continuing his development) hoped-for during his induction as a Liverpool player has dwindled drastically.
It is therefore wise, since the relationship—as the Jamaicans would say—is no longer 'irie', to declare, like the reggae legend Lucky Dube, "I'm going back to my roots yeah yeah."
By 'roots', I mean being reunited with the man who provided the platform for that night in Lancashire when the unsavoury put on the cloak of plausibility, and a 21-year-old Victor Moses announced himself to the world; Roberto Martinez.
The current Everton boss has been a long-term admirer of the stylish winger. It was this firm admiration that prompted his outburst over the non-invitation of Moses to the national team by the England FA, despite making over 30 appearances for England youth teams.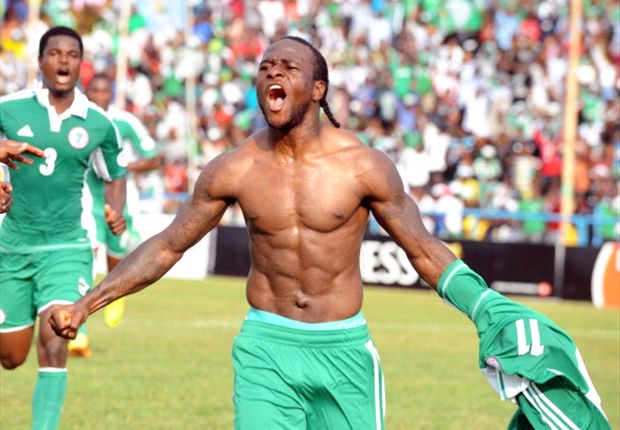 Despite playing for England youth sides, Moses has made his name with Nigeria
However, Victor Moses has since established himself as a mainstay in the Super Eagles team; winning the AFCON title, Nigerian Player of the Year, Europa League title (with Chelsea), and helping Nigeria qualify for the World Cup in Brazil.
Roberto Martinez, on the other hand, has won the FA Cup with relegated Wigan, and moved on to Merseyside club, Everton.
Yet, in a tale of twists and turns, somehow, their destinies might be set to collide, again.
The acquisition of Gerard Deulofeu, 20, on a season-long loan from Barcelona B not only confirmed Martinez's penchant for having a strong, pacy winger in his team, but also for grooming young talents—as is the case with Romelu Lukaku, 20, (one of Chelsea's 'wasted' young talents) who has so far scored 12 goals for Everton.
The Spanish under-20 winger despite enjoying an impressive season in England has expressed his desire to move back to Spain at the end of the season. "I am working hard every day to get back to Barcelona next season," he told Catalunya Radio. "My dream is to find a place in the Barcelona attacking line-up and to do that I am progressing in the Premier League."
This is not just a window-sized opening for Moses; it's a whole door.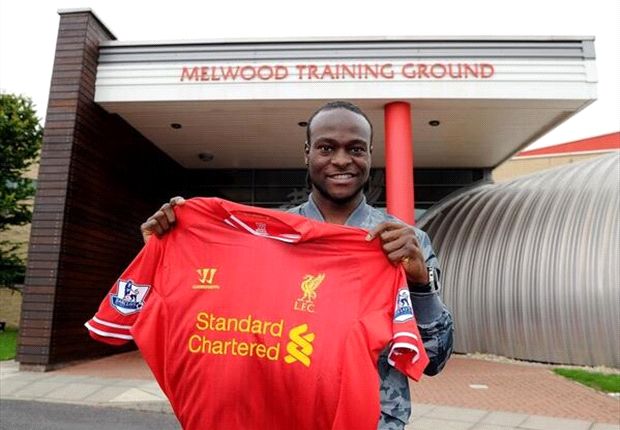 The smiles have been few and far between on Merseyside
The possibility of the assumptions adds a pinch of salt to a sad tale.
If Deulofeu leaves at the end of the campaign, Martinez has a tested and trusted lieutenant to take charge of the wings; Victor Moses. Martinez and Everton will certainly pick up from where they left off last season in their attempt to land the Nigerian winger.
It is not difficult to see why Moses's ambitions as a player have sky-rocketed after spending a season—and tasting European glory—with Chelsea.
If all goes well for Everton—and terribly wrong for Arsenal—Martinez's men could, against all odds, secure a priceless top four spot at the end of the season. Meaning that Moses could still achieve his goal of playing for a top (four) English side. His Champions League and Europa League experience would certainly be a welcomed addition in the Everton setup.
The prospect of playing for Everton, under a manager who admires and appreciates his style represents a win-win situation for the beleaguered Nigerian.
Moses, as has become evident, thrives when managers have faith in him and give him confidence, and in Roberto Martinez, he is assured of an over-dose.
The World Cup will provide the grandest audition stage. With Moses featuring for Nigeria, Roberto Martinez, and others, will be watching with keen interest.
Hopefully, Chelsea won't be too greedy and Everton won't be too stingy; paving way for a blissful reunion and progressive future for player, club and country.