1. Adelaide back on track as Sydney stumble again
(Steve Barrett @ Coopers Stadium)
Adelaide United's 3-1 triumph over Sydney FC was a welcome return to form for the Reds at their Coopers Stadium fortress after a winless fortnight on the road. United were sublime at times but finished the game somewhat banged up in the face of some physical Sky Blues attention. A nine-day break is a bonus for the Reds but with two wins from 12 away matches, this Sunday's clash at Westpac Stadium against Wellington Phoenix, hurting after a 5-0 hiding in Newcastle, is far from a sure thing.
Sydney FC were the round's biggest loser, slipping from fifth to seventh. Their bid for an away win at Hindmarsh was undermined by some sloppy, costly mistakes and ill-discipline in a subpar, frustration-filled display. The Sky Blues certainly have the ability to bounce back this weekend at AAMI Park against Melbourne Victory, whom Sydney beat 5-0 in their last meeting on Australia Day, but inconsistency remains a major headache for Frank Farina's men.
2. Jets thrive on cow paddock, in a good cause
(Iain Strachan)
For the first 30 minutes or so it was pretty poor fare at Hunter Stadium, and very hard for anyone to look past the absolutely abysmal condition of the playing surface. Other grounds share a pitch with NRL or Super Rugby and seem to be able to get the turf back in a fit shape for the round-ball game, so what are they doing wrong in Newcastle? With Asian Cup games to be staged there in January, the ground staff need a kick up the collective backside. It all turned out ok for the home side though, who helped to raise a significant sum of money for a grassroots club with $1000 donated by a benevolent company for every goal scored in their 5-0 thrashing of Wellington Phoenix, on top of a base amount of $1000. Ernie Merrick and his injury hit squad were certainly feeling charitable.
@IainStrachan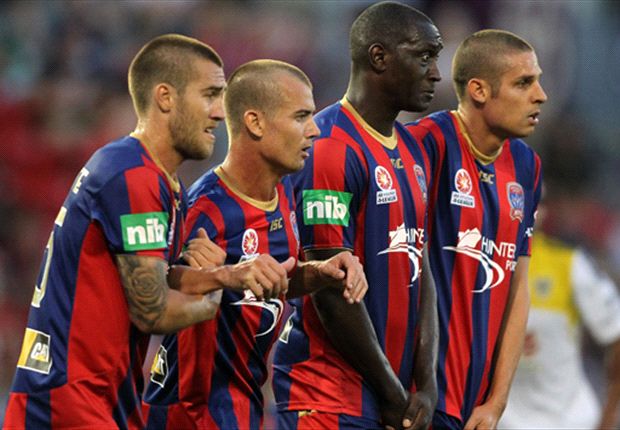 'Look at those lumps!' | The Hunter Stadium surface is understandably worrying
3. Roar rightful premiers, Victory make a statement
(Dan Colasimone @ Suncorp Stadium)
The Roar confirmed what we all knew; that they have been the best team over the course of the season, with a dramatic win over the Victory. It was a superb game in terms of quality, and if the Victory had managed to hang on for a draw it would not have been a terribly unfair result, even though Brisbane dominated possession and created the better chances.
And Kevin Muscat's side may have lost second place on the table, but the way the match was played will give him some confidence that if the teams meet again in the finals series, the Victory are good enough to go toe-to-toe with the Roar.
Mike Mulvey was understandably in high spirits after the game, and although he insisted there would be no 'taking the foot off the pedal,' he now has the luxury of concentrating on the finals series coming up. Special mention should go to Luke Brattan as well, who, aside from being a match-winner, has been instrumental to the way the Brisbane machine has operated all season.
@ArgentinaFW
4. Anything Rooney can do, Engelaar can do better
(Iain Strachan @ AAMI Park)
You wait years and years to see a goal from half-way, and then two arrive at once. That's how it seemed on Sunday, with Wayne Rooney upstaged by Melbourne Heart marquee man Orlando Engelaar. It wasn't enough to win the game, as an increasingly organised, effective Mariners side rode their luck and nicked the winner late on. It remains to be seen if the team hastily assembled by Phil Moss has enough about them to make an impression in the finals, but at least now they don't look like going down without a decent fight.
@IainStrachan
5. Glory not real test of Wanderers' mettle
(Simon Furey @ Pirtek Stadium)
A dominant performance by the Wanderers returns them to second spot, but the quality of opponent will be far greater in coming weeks and during the finals. Perth were thoroughly outplayed and with avoiding the wooden spoon the only goal left to play for, Kenny Lowe may have trouble getting his Glory side up for the next few weeks.