Goal features a young Liberian player, whose inspiring story from the bone-dry fields of Monrovia is making waves in Sweden as he hopes to become the next George Weah
PROFILE
By Kent Mensah
He is the odd one out in the Horton family. Abel Lucky Fizzo Horton is born into a family of musicians, but he opted to go the other direction – football.
That decision did not come easy. His parents were not in favour of it. They wanted young Horton to go through the mill of education and become an accomplished musician too or end up in any 'decent' profession other than football.
He kept his focus. They persisted with their aim to let him lose his appetite for the beautiful game. But an undaunted Horton had no plans to sever the umbilical cord of his ambitions. "Things were tough," he admitted to Goal Ghana. "I had no money to board car to go for training. Money to buy boots was not coming."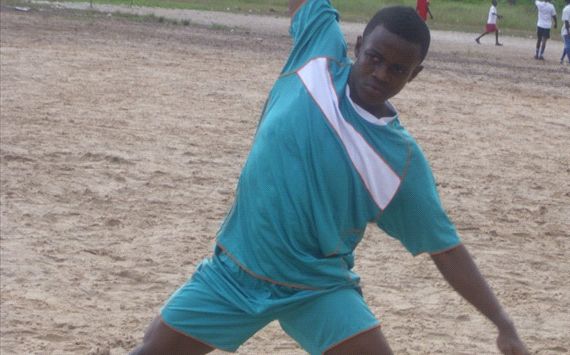 Grassless | Horton remains hopeful despite the lack of facilities in Liberia
Horton had to fall on benevolence to nurture his football talent. He played barefooted on arid lands in Monrovia defying the searing sun with his sweaty bare chest. "I love football. It is part of me. You take it from me and you kill the other half of me."
The attacking midfielder's labour paid off. His exploits with a community club called Children's Stars did not go unnoticed. At the age of 14 his dream of becoming a football superstar began to glow. Horton joined Young Valencia then to Emman FC in Monrovia and won the Liberia top-flight with LISCR FC during the 2011-12 season and had the chance to play in the Caf Champions League.
- FACTFILE -

NAME:
Abel Horton
DATE OF BIRTH:
March 7, 1995
PLACE OF BIRTH:

Monsterrado, Liberia
NATIONALITY:
Liberian
POSITION:

Right Midfielder/attacker
NATIONAL
Under-17 & 20
The utility player as he prefers to describe himself, caught the eyes of the Liberia FA. Luck smiled at Horton. No wonder he bears it as one of his middle names. He had the honour to wear the armband of the Liberia Under-17 national team. It was a quintessential story of from grass to grace unfolding in the life of little 'Fizzo'.
"I was speechless and my eyes were filled with tears of joy when I realised that's where God has elevated me to," a very calm, humble and fluent speaking 19-year-old Horton opined. "I had to keep my eyes on the prize because God has been good to me."
Indeed, God has been good to him. The young national hero went on to captain the national U-20 team too. "I pray a lot," a very religious Horton revealed when asked what keeps him going.
"I spend a lot of time watching video clips of Derek Boateng, Ronaldinho and Cristiano Ronaldo – these are my guardian angels. They are dedicated. I love Ronaldo's mindset and style. They motivate me."
Horton is a gifted player. Just place him on the field and he will never fail you. He is not only skillful and creative with the ball and his legs. He is gifted with aerial prowess and his sense of judgment is high. He is got speed. A set piece expert in the making and very disciplined. He encapsulates his abilities succinctly: "I make the impossible, possible."
Horton is currently based in Sweden hoping to continue where he left off in Liberia. The pitches are pristine and he is already courting club managers and scouts. He admitted he will forever be grateful to his manager Sheriff Modad for believing in him and taking him this far. "I'm also thankful to my parents and all family members and friends for their prayers. I promise not to let them down. It has been a challenging but an exciting journey. Everyone played a part and I must keep my eyes on the prize."
Horton, who believes he can be Liberia's next George Weah – the only African to have won the world best player diadem – dreams of wearing the prestigious Real Madrid or Barcelona shirts along his career path. However, he knows that won't come painless – it will take a great deal of hard work.
"I believe in myself. I know one day I'll get to their level or even do better than them. My dream is to win the African Cup with Liberia. It won't be easy. Facilities are poor. The war has affected us badly but we'll get there."
Surely, the future looks bright for a young player who started barefooted on the grass-free throw of Monrovia and now finds himself on the immaculate fields of Sweden. He knows what to do to realise that dream – "I need to work hard, pray and be disciplined on and off the pitch."
Follow Kent Mensah on