COMMENT

By Joe Wright
In the 65th minute of the 1962 European Cup final, holders
Benfica
were awarded a penalty. The man who had earlier made it 3-3 against
Real Madrid
picked up the ball to take the spot-kick, when his 19-year-old team-mate politely asked if he might have a go instead. His wish was granted; two goals later, he had won his side the trophy, and captured the attention of the globe.
That young man was Eusebio, in his first major final. His gracious team-mate, his inspiration, was Mario Coluna.
These two icons of Portuguese football, who trod remarkably similar paths in their careers, both sadly died within less than two months of each other at the beginning of 2014. Tributes poured in for Coluna, who was 78, from Lisbon to his native Mozambique where his funeral was held in a national day of mourning - but much of the coverage centred on the timing of his death, so soon did it come after Eusebio's, rather than focus on the legacy of the man himself.
In truth, Coluna was often overshadowed by the precocious talents of the forward who asked for the ball in Amsterdam. Eusebio is rightly hailed as one of the greatest players in history, his goalscoring exploits – 733 in 745 games – surpassing those of even his hero Alfredo Di Stefano, who played in that final in '62. Coluna, a deeper midfielder, was kept on the edge of the limelight as the Black Pearl shone brightest on the global stage. And yet, but for Coluna, the world may never have even met Eusebio.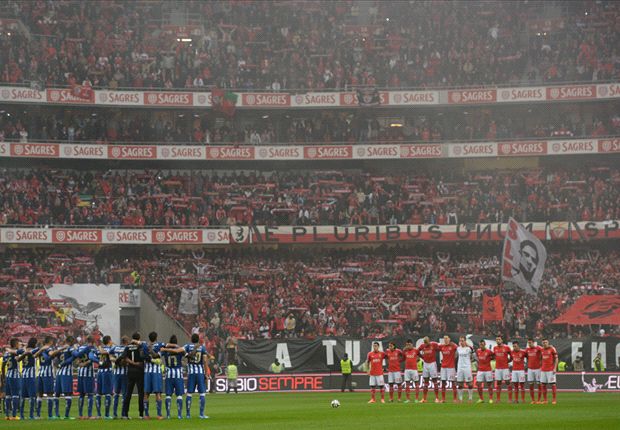 Legends of the Luz | Both Coluna and Eusebio were given heroes' send-offs by the club's faithful
Born in Mozambique, in the region today known as Maputo, Mario Esteves Coluna was an athlete to be reckoned with even in infancy. From scrambling up trees in front of his anxious parents as a child to breaking the national high jump record as a youth competitor, Coluna's strength and agility was clear for all to see. When he scored seven goals in the second leg of a cup tie for his first club Desportivo, he proved he had the footballing skills to match.
"He was a sportsman of excellence. We mustn't forget he was an athlete and a high jumper – something which led directly to Portugal's best-ever showing at the World Cup, in 1966," said former
Seleccao
striker Humberto Coelho, recalling Coluna's indomitable performances as he captained Portugal to third place in the finals in England.
Despite his prodigious talents, Coluna found it hard to settle in Portugal. He spent his early period in temporary accommodation, and could find little better success in slotting into the first team, with Jose Aguas the undisputed first-choice striker. Coach Otto Gloria, determined to find a way to marry Coluna's athletic prowess and technical skill, opted to deploy the 19-year-old in midfield. The impact was instantaneous: he bagged two goals on his debut in 1954, and never looked back.



"It is said we are born equal, which is not true. Mario was born different, for the better, much better."





- Luis Filipe Vieira

Coluna went on to score 150 times in 677 games for the Eagles, orchestrating Benfica's golden era from the very heart of the side. Ten league titles followed over 16 years, along with seven domestic cups, but it was in Europe where the 'Sacred Monster' truly bared his teeth, smashing home the winner against Barcelona in the 1961 final before netting the equaliser against Madrid a year later.
The nickname was an ironic token of endearment for Portugal's humble maestro. "I remember him as a team-mate, a man, and a friend. For all this, I thank you, Mr Coluna – you were indeed a gentleman," said Coelho. "I won't forget the day I arrived at Estadio da Luz and was greeted by Coluna. He made me feel welcome," added Toni, another rising star to pay tribute to his guidance. Even Eusebio - both when asking over the penalty or for the chance to get Di Stefano's shirt after the match - addressed him as "Mr Coluna".
After retiring in the early 1970s, Coluna took the post as the president of the newly-independent Mozambique's Football Association before later serving as sports minister. But even in the halcyon days of his career, his homeland was never forgotten. When his mother wrote to him to ask him to watch over young Eusebio as he embarked for Lisbon, he didn't hesitate to lend a hand – whether it was with settling in, tactical advice, or asking for his hero's jersey.
"Mario is part of Portuguese and Mozambique heritage," remarked Benfica president Luis Filipe Vieira. "It is said we are born equal, which is untrue: Mario was born different, for the better, much better. He never renounced his roots and won admiration from those who saw him play, and respect from those who didn't."
Coluna was never the poster boy for Benfica's golden era; he will not be remembered for the same dazzling skills and incredible statistics as Eusebio. But in trailblazing a path from humble beginnings to the pinnacle of sporting excellence, and for his dedication, ability and unwavering humility, he left a truly great legacy in the game. And for that, Mr Coluna, we thank you.
Follow Joe Wright on