FEATURE
By Sammie Frimpong

It is indeed hard to consider any Ghanaian professional footballer having a better time at present than midfielder Kwadwo Asamoah.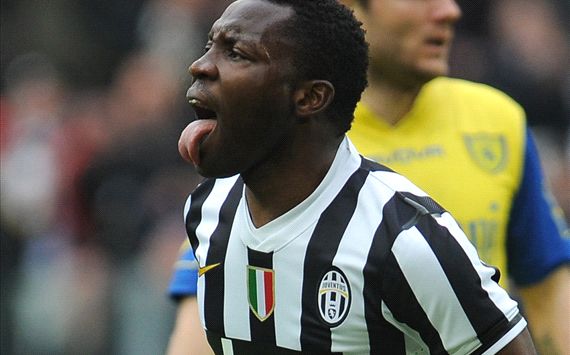 MAN ON FIRE | Kwadwo has been 'awesomoah' in the Serie A this season

The Juventus employee is certainly riding on a crest, with all pieces seemingly falling into place just in time for his second - and perhaps most important - appearance at a senior Fifa World Cup.
The 25-year-old's form since the beginning of the current Serie A term has been impressive, with successive impeccable performances marking him out as one of Juve coach Antonio Conte's most essential tools, even in a season that has seen the reigning Scudetto holders and runaway league leaders have a number of performers stand out.
Just weeks after his goal helped Juventus to a 3-1 victory over Chievo Verona, Asamoah scored another over the weekend to secure a win over domestic rivals Fiorentina, giving the Old Lady a giant boost and a head start against an opponent they would face twice more before the month runs out. Asamoah's 42nd minute finish - which capped a great individual performance, by the way - was a beauty; every bit worthy of being the match winner it eventually proved. Finding himself surrounded by four defenders in the opposition's box, Asamoah extricated himself from that tight situation with a smart drag-back, before striking the ball into the top corner with his weaker foot. A goal of sublime technique, yes, but apparently inspired by a certain brilliant Italian tactician as Asamoah revealed in a post-match interaction:
"The coach keeps telling me to cut in and try shooting from that angle," he told Sky Sport Italia. "It's the first with my right foot and I am very happy."
Happier would Asamoah be, though, with the latest highlight of an excellent season: the fresh contract he was offered - and duly consented to - earlier this week. The new deal might only extend his stay with Juventus for a year, yet the fact that it keeps him in Turin till June 2018 shows just how well he fits into the club's long-term plans, bar any unforeseen obstacles.
Perhaps picking Goal's inaugural Ghana Player of the Year award in late 2013 has propelled him to greater heights, no?
Now to the World Cup in June, Kwadwo.
Being arguably Ghana's finest footballer heading into the Mundial (and it is almost a given that you would be called up by coach Kwesi Appiah) means a considerable weight would lie on your shoulders, once action in Group G commences and the USA, Germany and Portugal (in that order) line up to be dealt with. Ghanaians - the very people who have occasionally criticized your performances for the Black Stars as being some notches below what you are capable of when at full throttle - would count on you to help lead the charge for glory. Please don't disappoint when the time is due.

For now, though, enjoy life's better moments to the fullest, and may your bubble never burst till...


Goal Ghana has its own

and

account, so for all the latest news and features on Ghana football follow us by clicking on the above links