COMMNET
By Julian Bennetts
The
Arsenal
fans in the top tier of the Allianz Arena left no room for doubt.
'Wemberlee, Wemberlee,' was the chant; they had travelled 570 miles to sing about a stadium on their doorstep.
It was not that they wanted to exit the Champions League at the last 16 stage for the fourth successive season, but rather they knew the limitations of their team and where their chance for success lies.
ANONYMOUS OZIL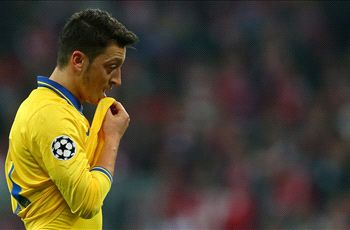 PLAYER RATING VS BAYERN MUNICH




Struggled to get into the game from his position wide on the right and was replaced by Tomas Rosicky at half-time after suffering a hamstring injury. A night to forget.
FROM OUR LIVE! COMMENTARY


Here we go again! One change to report at the break, as Rosicky replaces Ozil for the visitors. No surprise, as this is not the type of game for Arsenal's record signing who exits in disappointing fashion. The less cerebral but more energetic Rosicky will help to push the tempo.
After nine long, arduous years without a trophy Arsenal just want to win something. Anything. Even the Emirates Cup would be a starting point, as would a Capital One Cup triumph – and an FA Cup victory would do very nicely.
With Wigan, Hull City and Sheffield United the only teams standing in their way it would be genuinely embarrassing if they do not win the trophy for the 11th time in their history.
Yet Tuesday night in Munich presented both an opportunity and an obvious danger.
If Arsenal came through with flying colours – even if they went out of the competition – then it would bode well for the real tests that are to come, starting at Spurs on Sunday.
Yet if they collapsed at the Allianz Arena then you would not have backed this injury-ravaged squad to recover.
So despite the travails of Mesut Ozil it will have given Arsene Wenger great heart that his side proved up to the test in Bavaria. A 1-1 draw was perhaps slightly fortunate, but in the performance of his defence and in particular a stunning display by Alex Oxlade-Chamberlain there were genuine reasons for optimism.
There are still huge tests on the horizon – and with Tottenham, Chelsea and Manchester City to come in their next four Premier League games their league ambitions could be limited to securing fourth spot by the end of the month – but there is more resilience about them, more steel.
The catalyst came from this fixture a year ago. Arsenal went into the game with Andre Villas-Boas' declaration they were in "a negative spiral" ringing in their ears – and they have proved the Portuguese spectacularly wrong.
But they are still not capable of challenging the best teams in Europe. Wenger spoke before the match in Munich about there being "two tiers" in the Champions League.
"You have eight to 10 clubs who can win the European league and the rest has no chance," said the Frenchman.
That Arsenal could not name a striker on the bench due to injuries to Yaya Sanogo and Nicklas Bendtner proves they are not among those eight to 10, as does the fact they have not made the Champions League quarter-finals since 2010.
To get past Bayern, Real Madrid and Barcelona on a regular basis requires investment and time will tell if £42m signings are a one-off or a regular feature.
Yet what they do have is a resolute defence, some fine creative midfielders and an excellent work-ethic. Now they need a deadly goalscorer, more depth and an end to the run of injuries that seems to afflict them more than any other side.
They must also rid themselves of the albatross around their necks – the lack of a trophy.
Few things annoy Wenger more than being asked about those failures over the past decade, particularly after the collapse against Birmingham City in the 2011 Capital One Cup final that so spectacularly derailed the side of Cesc Fabregas, Samir Nasri and Robin Van Persie he had spent years grooming for the top.
This is the first time since then a trophy has felt within reach. To call the Champions League a distraction would be ludicrous, but Arsenal now have only Everton to play in the fortnight before the FA Cup semi-final against Wigan, rather than having to squeeze in both legs of a potential European quarter-final as well.
With Olivier Giroud and Oxlade-Chamberlain visibly tiring as the match went on in Munich an easing of their workload will help a side that does not have sufficient strength in depth to compete on all fronts.
Perhaps it will also give Ozil time to recover from his hamstring injury and rediscover his mojo. The German could blame the muscle problem for his first-half display, but to call him anonymous would be kind. Some time away may do him some good and Wenger may now consider such a course of action.
Motivating those around Ozil is what counts now. Arsenal need at least £80m of investment to trouble a Bayern side who did not look as invincible as we have been led to believe.
But what they can do is win a trophy and keep the heat up on Chelsea, City and Liverpool – although it is very difficult to see them overtaking all three and claiming the title.
The FA Cup and a third-place finish – crucially taking away the need for a Champions League qualifier – would be a huge step in the right direction.
Champions League quarter-finals are wonderful, but that is not where Arsenal's focus is right now – which is why 4000 of their fans travelled to Germany just so they could sing about a patch of turf in north-west London.
Wembley, they're coming.