COMMENT
By Shikharr Chandra
In his book, Sir Alex Ferguson pointed out those signings made by Kenny Dalglish during his Liverpool tenure that 'haunted' him at night. Jordan Henderson was among those mentioned. Sir Alex apparently passed up the opportunity to sign the former Sunderland midfielder due to his style of running.
"We looked at Henderson a lot and were enthusiastic about him but noticed that he runs from his knees while the modern day footballers run from their hips. We thought this might cause him a problem in his career later on."
- Sir Alex Ferguson
At first, it seemed like an unnecessary criticism from the former Manchester United boss back in October and one he could have avoided, but that could well have played a key role in Henderson's resurgence this season going by the player's response on the pitch.
The young Englishman has had a hard time at Liverpool since he signed for the club three years ago. As part of the re-building process under Dalglish, the £20 million fee then seemed a tad too much for a player who was yet to showcase his abilities on the big stage.
Pressure seemed to get the better of Henderson who was finding it hard to settle in at the club.
"At times it was painful watching him,"
said the
Liverpool Echo
. The fans shared the newspaper's sentiments, calling for his head which could have happened had Brendan Rodgers decided to move for a swap deal with Fulham which would have seen Clint Dempsey arrive at Anfield. That deal was eventually called off.
"He told me that he wanted to stay here and fight,"
Rodgers recalls.
That seemed to be a key moment in the resurrection of Henderson's career at Liverpool.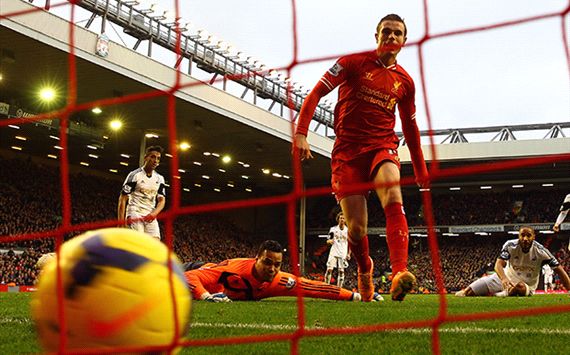 Finding his form | Henderson turning out to be a key factor in Liverpool's title hunt
This season, Henderson's rise has been remarkable. From being just another fringe player in the squad, the former Sunderland midfielder has quickly established himself as one of Liverpool's regulars. He ranks third only behind Steven Gerrard and Simon Mignolet in the number of minutes played for the Merseyside club this season.
He has started every Premier League game for the Reds this season. His impressive contribution both on the attacking and defensive side of the game, has provided Liverpool with some much needed depth in an area in which they looked short.
This season Henderson has played as an attacking midfielder, on the flanks and as a more defensive minded central midfielder in the absence of Lucas Leiva. But despite being moved around so much, Henderson's form has not suffered.
He has matured into a more focused and confident midfielder of late. The sight of him tormenting Tottenham Hotspur's midfield in Liverpool's 5-0 rout of the London side at White Hart Lane has been without doubt his finest performance till date for the Reds.
In the absence of captain Steven Gerrard, Henderson took over the mantle of orchestrating the play from the middle scoring his first league goal of the season and providing an assist as well.
"The most improved player in the Premier League this season"
was Rodger's assesment of the 23-year old.
Much has been made of Liverpool's striker force this season with both Daniel Sturridge and Luis Suarez leading the Premier League goal scoring charts, but Henderson has made his presence felt in the side as well.
In Liverpool's 2-1 defeat against Arsenal in the FA Cup, the Reds were overrun in the midfield and looked short of ideas against the Gunners, the same side they had thrashed 5-1 a few days ago. The only difference between the two games was Henderson's absence from the side in the FA Cup clash.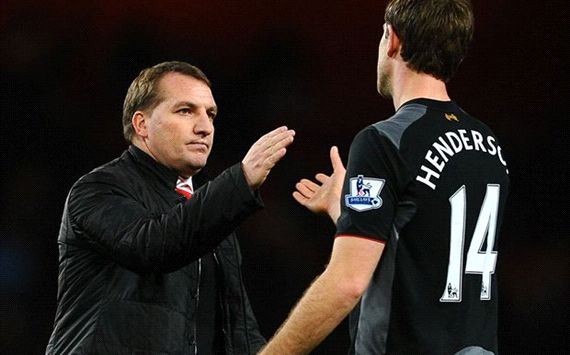 Learning from the master | Rodgers has played a key role in Henderson's resurrection
Henderson has flourished under Rodgers this season. Be it in a three-man midfield or a two-man midfield, he has played an integral role in the side. Against Arsenal at Anfield, he covered 11.9 kilometers, the most by any player in the game.
This season, he has managed 3 goals in the league so far which is far less than the tallies of other midfielders in his position but his goals have come at crucial times. His late strike against Swansea City in the club's 4-3 win kept their title ambitions alive. His tally of 6 assists rank second at the club while he boasts a pass completion rate of 89% and has averaged 2 key passes per game.
Henderson's blistering form comes at the right time for Roy Hodgson. The England manager is under much pressure from the media and the fans who have not seen their country win a major competition for decades and although they still remain underdogs in the upcoming World Cup in Brazil, Henderson's good form will be a welcomed boost when Hodgson selects his final squad.
With the likes of Tom Cleverley and Frank Lampard not starting regularly for their respective clubs, the chance to go with a more settled and understanding midfield pairing in Gerrard and Henderson will be a risk worth taking.
Over the years, the club has failed to find a player that can eventually fill the boots of the influential Gerrard but if Henderson can build on his form, Liverpool might just spare themselves having to break the bank for a replacement.