ANALYSIS
By Kolade Oni
Enyimba halted what would have been another sad weekend for Nigerian football when they managed to qualify for the next round of the CAF Champions League in Lome at the expense of Anges de Notse. However, there are still many hurdles yet to be crossed by the People's Elephant if they are to become one of the frontrunners in this year's tournament.
As last year, when none of the country's representatives made it to the group stage, 2014 was almost going the same way before Enyimba squeezed through to the first round after their recent aggregate victory. Kano Pillars had previously lost out to DR Congo's Vita Club in the preliminary round of the competition a day before the tie in Lome. It was the fourth-consecutive time the Sai Masugida would perform poorly after their bright start in 2009.
They got to the semi–final that year before being bundled out by Heartland in an all-Nigerian clash. But after their inspiring debut in the African clubs' competition, they have appeared well off the pace.
That Enyimba picked a ticket to the first round is no longer news, but the real intrigue is in asking where the club go from here. What to they need to do if they are serious about their resolve to storm Africa in style?
The People's Elephant have to work on the following points before the first-round first-leg clash against AS Real Bamako of Mali on Sunday in Aba.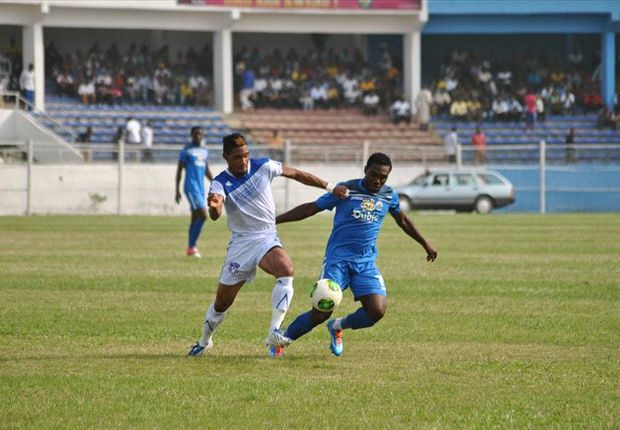 Enyimba overcome Anges in Lome
Inexperienced Players
Though Enyimba qualified for the next round despite losing 2-1 in Lome, they still have to work on many of their players who, at present, are still too inexperienced for the CAF Champions League.
There is a difference between having players that are making significant progress in the domestic league and having those with sufficient experience to cope with the continental assault.
When Enyimba played Anges in Togo last Sunday, they started with players like Abdulrahman Bashir, Mfon Udoh, Semiu Liadi, and Bobby Sokari, among others who failed to raise the level of their game during the tie because of their inability to cope with the demands of such high-profile matches. Bashir and Udoh were practically not in the match at all as they barely made up to three accurate passes. They were far from their best because they allowed stage fright to cage them.
The only solution to this is for Enyimba to return to some of the experienced players that they registered for the competition. Nzube Anaezemba, Michael Okoyoh, Paul Godwin, Chijioke Ejiogu, Ayo Saka, Ifeanyi Edeh and Sibi Gwar can all be given more playing time to improve results.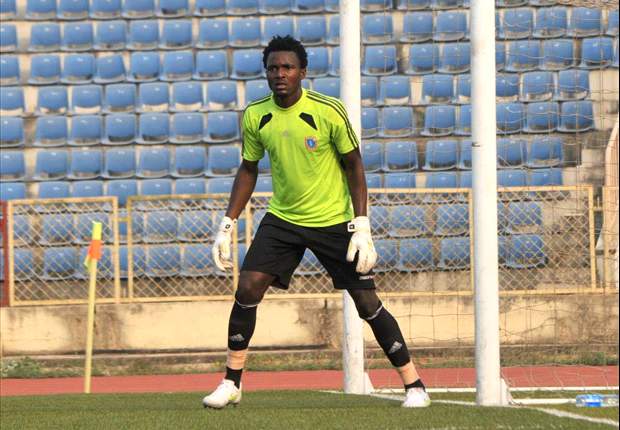 Thomas | A Weak Link?
The Defence
Goalkeeper coach, Shuaibu Suleiman should also be told to see the good in the side's backup goalkeepers: Paul Godwin and Chijioke Ejiogu, perhaps also giving them more time to prove themselves during match situations. The current over-reliance on first-choice, Femi Thomas may be counter productive in the long run. Every goalkeeper has
his areas of strengths and weaknesses and Suleiman needs to study them well to know when it is ideal to field them if he wants to get the best out of them.
Enyimba should have rested Thomas in Togo following his reported off-colour outing in the first leg in Aba. The decision to include him in the first eleven did no good to the club's aspiration to progress in the lucrative tournament. He struggled to impress throughout the encounter and was in suspect for both goals conceded against Anges.
There is still a second chance for Thomas and the goalkeeper trainer, Suleiman, to right the wrongs of the past.
Thomas is a good goalkeeper, but he has shown that his inability to cope with sustained pressure from the home team. This we have noticed in many of his games either for Enyimba or his previous clubs. Let the goalkeeper trainer and other coaches review his Togo adventure and then reconsider how best to use him.
Chijioke Ejiogu, otherwise called the Arugo Monkey, has proved his ability in very volatile matches previously and should have been the preferred choice against Anges. Paul Godwin, currently the third choice, could also be another consideration if he has
recovered from his error-prone performances of the past.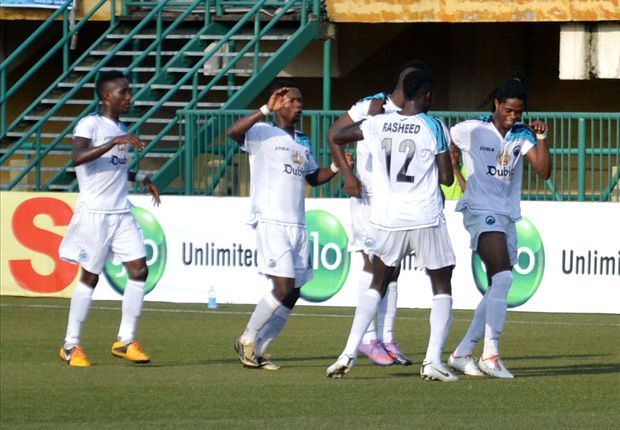 Will Enyimba be celebrating once again?

Prompter Reports of Fan Intimidation
Following what transpired in Togo, where Enyimba's players and the accompanying officials were physically assaulted before and during the match, it is time for the club to devise means to get their grievances correctly reported to CAF. The world is now a global village and information can be assessed immediately from any part of the world and tardiness on the part of the victimised may lead to misplacement of justice if the oppressor acted faster.
The inhuman display of their Togolese hosts was managed adequately, but things could have been better done than they were.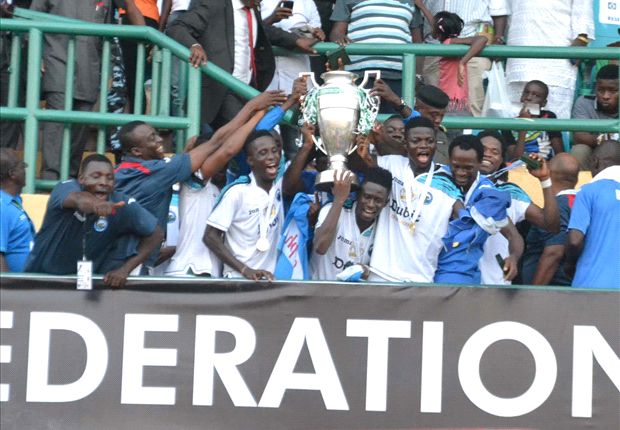 The People's Elephant | Dreaming of Better Days
Anyansi's Influence
Goal praised Enyimba Chairman Felix Anyansi Agwu for the role he played at ensuring that the club's players and officials overcame Anges's intimidation. They wanted to camp
Enyimba's players at a Conference Centre infested with mosquitoes and only suitable for animals, but they received a five star hotel while the accompanying officials also had a better comfortable alternative than the one the hosts offered.
Anyansi also ensured that he arrived in Togo about two days ahead of the match to see for himself Anges's antics. His decision to arrive early arguably saved the team from defeat.
He made more than sufficient arrangements right from when the team arrived in Lome Airport until they returned to Nigeria on Monday and Tuesday last week respectively.
Profiting from Home Advantage
It is vital that Enyimba make the most of home advantage to kill off the tie. When they welcome Mali's Real Bamako, they should score as many goals as possible to give themselves a cushion before heading to Bamako, where another hostile reception might be waiting for them.
The initial target for Aba Millionaires should be how to find their way to the group stage of the Champions League before they can start talking about making further progression in the competition.