Lead singer Jon McClure talks about his band's new album, Stuart Gray's progress and his fond memories of the 1993 FA Cup semi-final triumph at Wembley over rivals Sheffield United
Goal
sat down with Jon McClure from Reverend and The Makers, whose new album 'Thirtytwo' is set to be released next week, to talk about all things Sheffield Wednesday.


Who is your favourite player at the moment?

JM:
Kieran Lee. He is like the Championship's answer to Andres Iniesta. He's just an absolute player. When he moved, Dave Jones wouldn't ever play him; he kind of left him out a lot, but all the Oldham Athletic fans were always like 'You've got to play Kieran Lee, he's amazing.'
He's so composed on the ball and his work rate is incredible. I love him. Since Stuart Gray has come in, he has sort of built his team around those sort of players. So yeah, definitely Kieran Lee; I love him.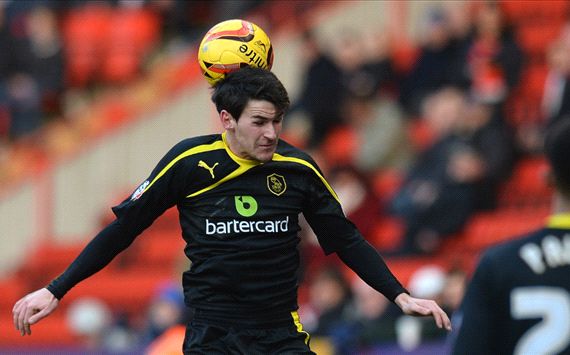 "Kieran Lee is like the Championship's answer to Andres Iniesta."


Stuart Gray has been in charge for a while now. How do you think he has faired so far?

JM:
I think we've had 14 matches and like 11 unbeaten. We've improved massively; we've gone shooting up the league. We've lost the last two; 3-0 to Wigan and 1-0 to Derby but that's not too bad.
Obviously we're having this incredible cup run so we're hoping that if we beat Charlton we're going to have a dream quarter-final [against rivals Sheffield United].

What do you think of the prospect of an all-Sheffield FA Cup quarter-final?

JM:
Well on paper we should smash Charlton shouldn't we? On paper we should be beating them. Then there is the extra incentive of playing the Blades in the quarter-final. And really, from there on in it's a trip to Wembley isn't it. So it's a massive occasion. I'm really hoping that we'll do the business.
I'm going to be there on Monday night; I'm taking my auntie. When we got to the cup final in 93 she was a bit of a good luck charm for us. She always brings a flask that has a little bit of whisky in so I'm hoping she'll do the business for us and we'll have a win.


What's your best memory whilst being a Wednesday fan?

JM:
I sat down in my seat aged 12 at Wembley in 1993 against Sheffield United and just as I sat down Chris Waddle pinged one in the top corner; a free kick from 30 yards. I mean, I wouldn't like to lie to you about this, but it's on a par with your wedding day, that; you know, just massive.
We love Waddle because he is just a living God. So, yeah that is definitely the biggest moment of my life full stop, really.


And did you ever play football before the music?

JM:
I did. I played for a team called Crosspool Juniors. I was a dirty centre half; a bit of a Tony Adams-type character.

I've seen your skills on Soccer AM. Do you ever get a chance to play football now?
JM:
I do occasionally. I play the odd charity match. I played in one recently where I tried to slide tackle someone and he completely nutmegged me. Yeah, that was a bit of a moment. But I haven't really got the legs for it any more; I'm 32, mate, it's catching up with me.

United are currently nine points away from the relegation places. Do you think you're safe now or is there still work to be done?JM:
We're not safe yet, we've still got a bit of work to do. But I think a couple more wins and we should be alright. Obviously then there is the attention towards the FA Cup. Hopefully Milan [Mandaric] will put his hand in his pocket and we'll earn a few more wins. If we had a couple of boss strikers, we'd be having it.
We've had [Connor] Wickham on loan; we've looked like a different team. We've got Benik Afobe on loan from Arsenal at the moment, but we just need to get a bit of money in and I think we'll be alright for next season.
| | |
| --- | --- |
| | As I sat in my seat, aged 12, at Wembley in 1993 against Sheffield United, Chris Waddle scored a 30-yard free-kick. That's on par with your wedding day. |
Moving on to music, you've got your new album coming out soon...JM:
We have. 'Thirtytwo', it's out on February 24. It's my Dad's favourite number on the lottery and it's also the number of a bus I used to catch in Sheffield. Conveniently, it's also my age so it all works out nicely.
Talking of 'Thirtytwo', you've also played 32 house gigs right?JM:
It was total, total mania. We had police vans turning up, we had people falling through glass windows; I had a dog named after me in Grimsby. When I got to Stoke it was a fella in his girlfriend's house and I flippantly said between songs "are you two married?" and he said no, I said "We'll have to play at your wedding"; next thing you know he's on one knee proposing to his missus. She accepted and everyone went nuts.
I think people underestimate the power of music. That's why I love footy; the word of mouth amongst fans and people are in to cults and footy and music and clothes and it just spread. If you play a terraced house on a Sunday night it's going to spread pretty quick, you know.
I think it's been a good vibe and I hope things have contributed to the fact that we're going to be top 10 in the charts next week when the album comes out. So, yeah, all good.
Going back to football, you've had your single 'Shine the Light' on Fifa 13, and it also won the right to be the first FA Cup anthem. As football fans, that must have been so exciting.JM:
It was amazing. Obviously, we were voted for by the public, so a real affirmation that we've got a lot of fans that loves us. That's why I love football fans because they're loyal.
Same sort of thing with us. There is so many bands that have sold many more records than us but they've fallen by the wayside, but we've managed to keep it going. Its songs about real life, and I think that's why football fans naturally gravitate towards it.