Following last week's episode of
Goal Singapore
's Footytalk with Stars,
where Final 1 champion Farisha Ishak was featured
, this week we have another past winner of a reality competition as our guest.
Meet
Suria
actor Firdaus Abdul Rahman, whose career took off after he won the Best Actor/Presenter award on
Juara
in 2002. Since then, he has starred in dramas like
Cinta Bollywood
and
Selamat Malam Maria
and plays a fearless detective on the hunt for a ruthless serial killer in his latest show,
9Nyawa
.
Firdaus, who does theatre as well, is an avid
Manchester United
supporter and he shares his thoughts on the team, as well as the
Malaysia Cup
.
Well, Firdaus, let's get straight down to it. Has the season been a complete disaster for Manchester United so far?
FR: They are definitely the worst United team I've seen, as far as I'm concerned. To lose back to back to lowly teams just shows how bad they are. I think it's not just down to the way David Moyes is managing the team, but it's also the players' fault too.
Interesting. How so?

FR: We can see that the players are losing the drive to win matches. Maybe they were trying to do so during the start of the season but as they moved along, the focus and concentration has gone off as well. It's quite sad to see my favourite team lose to the likes of Swansea and West Bromwich Albion when they would have easily killed the game under Sir Alex Ferguson. I think finishing fifth is good enough, but I pray hard that a miracle happens and they qualify for the Champions League!
A damning assessment indeed and as a fellow Red Devil, I feel you. What do you think of Moyes?
FR: Just let him finish his first season, then after that, they should get someone with European experience and honours like Jose Mourinho, Pep Guardiola, Carlo Ancelotti etc.
Right, now that we've got those grievances out of the way, tell us how your love for football came about.
FR: Football has been in my blood since I was in primary school; Primary Four, to be exact, as that was when I was selected to play for my school, Lee Kuo Chuan Primary. And every weekend, I will have my usual void deck soccer session, until I was 16. I still have my own suka-suka (for fun) team, whom I will play for during friendlies at least once a month.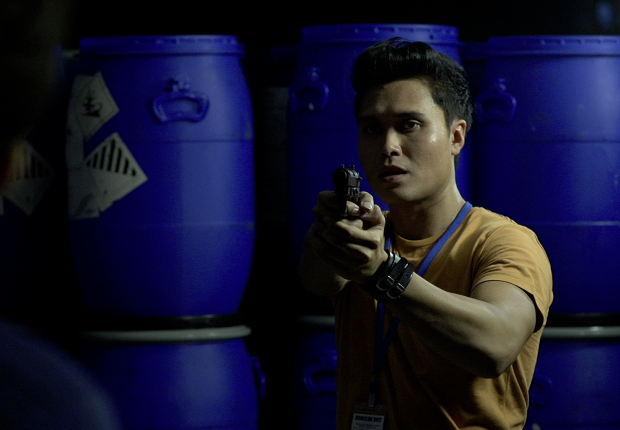 You certainly started young! We all have our favorite players when we first started getting into the game. Who is yours?
FR: My favourite player of all time is Ryan Giggs. I think he's the most gifted left-footer in the game. Unfortunately, I have never been to Old Trafford but it's definitely in my future holiday plans!
Good choice; Giggsy is simply a legend, isn't he? Do you get to catch him in action regularly?

FR: I have a hectic filming schedule, but I will try my best not to miss any of United's matches. I do watch other teams as well to see if they drop points to give way to United, haha! I just watch the Premier League in general, although my other favorite team is Real Madrid.
Let's turn the topic to local football. Do you follow any S.League side? And does the LionsXII playing in Malaysian competitions excite you?

FR: Sadly, I'm not into our local league. I am rooting for the LionsXll though and I sometimes go to Jalan Besar to watch them in action. But for me, the Malaysia Cup now is far removed from the glory days of Fandi Ahmad and Abbas Saad, and definitely not in the ranks of the era of Dollah Kassim and Quah Kim Song.
Those were the good old days indeed. One wonders whether Singapore football will hit such heights again, but that's a discussion for another time. Moving away from the football, how are things going for you at the moment career-wise?
FR: My next big project for this year is a feature film due to be shot from October onwards in Australia and Singapore. Apart from that, there will be a few dramas and tele-movies along the way for Suria.
That sounds like a film to look forward to, Firdaus! Thank you for coming on our Footytalk series and we hope you get to catch Giggs in action at the Theatre of Dreams before he retires!

You can catch Firdaus Rahman in action as investigating officer Detective Rizal Roslan on 9Nyawa every Monday from 9.30 to 10.30p.m on Suria.